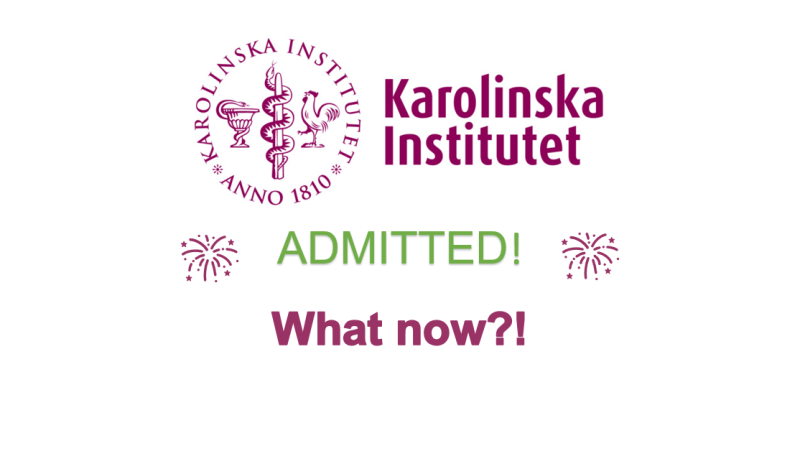 4 things I wish I'd known after I got into KI
First off, congrats for getting into KI! 🎉 When I got accepted to the master's programme a year ago, I was of course very excited and started planning my arrival, but that is not to say that there weren't things that in hindsight I wish I'd done differently or earlier. So here are some tips and good-to-know information that I think will be useful for new students.
1. Start with finding housing! 🏠
Finding a place to stay in Stockholm is the first obstacle to overcome! There are several posts from current and previous bloggers with their tips and reviews of the different options. My tip is to get started early! Importantly, as of 1 January 2023 bachelor's and master's students coming from an EU/EEA-country or Switzerland will no longer be able to apply for KI housing. This is due to a new ordinance passed by the Swedish Government. Fee-paying students are still eligible for KI housing. Check out more information about the housing options on KI's website.


My other main recommendation is to register with SSSB to start collecting points even before you arrive at KI.
SSSB is a Stockholm-wide student housing system that is one of the most common student accommodation options. It runs on the basis of how many days you've been in the queue. To better your chances I recommend to register in the queue, even if you found accommodation for the beginning of the 1st semester. You can register up to 90 days before becoming a member of a student union, which is the Medicinska Föreningen (MF) in the case of KI. When you reach 90 days, you can freeze the number of collected days and then reactivate, once you are registered with MF. And I highly recommend doing the 90 extra days to increase your chances of securing a room or an apartment in the future.
2. There are several emails heading your way 📧
You'll get different emails and guides throughout the spring and summer time from KI, so keep an eye out for these as they include a lot of useful information from the pre-arrival guide to notification of important approaching deadlines. On top of this you'll get more information about your specific programme and your new classmates as well as how to sign up to free Swedish lessons offered during the introduction week or the first semester.
3. You can request to have a call with a current student 📞
This is something that completely escaped my attention in one of the welcoming emails in the spring as I was busy with my final exams. In hindsight, I'd highly recommend signing up for a call, as the current students have more experience and insights into the everyday life as well as practical tips such as the easiest way to get to the city from the airport. So don't miss out on this chance!
4. Figure out your travel options 🛫🛥️🚂
This may sound a little obvious, but have a look at the possibilities to get to Stockholm in August and the price ranges. These can vary massively, of course, depending where you're travelling from, but I highly recommend buying tickets sooner rather than later, as typically (not always though) the prices will only increase with time.
I hope you learned something new and useful to make the pre-arrival process easier for you! As always feel free to message me with questions and I'll try to help as best as I can! 😊

I am Karolina and I am a digital ambassador and a blogger for the Master's Programme in Translational Physiology and Pharmacology here at KI. I was born and raised in Estonia, but for the past five years I have lived in the UK where I studied biomedical sciences with a focus on pharmacology. Outside of school I like baking with friends as well as doing water sports. When the weather starts to get warmer, I look forward to kayaking through Stockholm's world-famous archipelago.