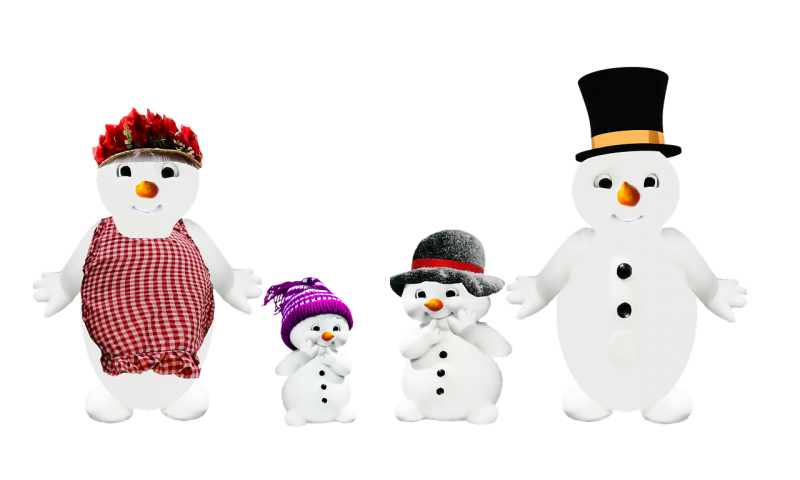 What if I bring my children during my study at KI?
Reading time: 5 minutes
"Home is where your family is. Wherever you are, it's about the people you're surrounded by, not necessarily where you lay your head", an old proverb said so. And I completely agree to it. So here I am, bringing my-two-children from my 10,000-kilometers-away-of-homeland to Sweden.
This five-year-old-girl and three-year-old-boy don't look cute and sweet on the photo only, but also in real life. These guys are my best supporters and that is why I never had the idea of living separated from them for a long period of time. So, just after I got the news that I was admitted to the Master's Programme in Health Informatics at Karolinska Institutet, the first thing that came to mind was: What exactly could my children do in Sweden during my study period?
I tried to find the answer by going through many blogs and websites, also by asking some KI alumni. But since not many people have had this experience during their study period, thus the information was limited. But then, after a long struggle and extensive preparation (which I will share with you in another blog), I was pretty sure that the children would also have great experiences and good memories in Sweden. And indeed, within just one week after we arrived, they said that they loved being here =)
Perhaps, some of you reading this blog are in a similar situation. To help convincing you that your children might have a good time in Sweden, I will share the daily activities that the children could do in Sweden.
1. Going to school
Obviously, this was my biggest concern most of the time. How will they study when I bring them to Sweden? Can they go to school, just as they did in our country? Fortunately, school wasn't something I had to worry a lot about when bringing my children here.
In Sweden, it is very possible for children to enroll in school from age 1. For children age 1-5, they will be enrolled to förskola (sometimes they are called dagis). Förskola is a preschool, also a daycare, with lots of educational activities.
My children go to förskola under Huddinge Municipality. Here, they have a general rule that if one of the parents stays at home, the children have a right to go to förskola from 9 am to 2 pm. Meanwhile, if both parents work or study, the children could be dropped off earlier and can be picked up later, we just have to fill in the online schedule form. In my case, since I am doing a full-time master programme in KI and my wife is studying a full-time Swedish course, the children usually stay in förskola from 8 AM-3 PM.
There are various activities at the förskola, the day there usually starts with breakfast, fruit time, outdoor play, art activities (painting, drawing, molding clay), mushroom picking in the forest, gymnastic activities, doing projects based on the children's interest, lunch, reading books, snack time, and much more. All the activities in the förskola are very enjoyable to my children!
For registering the children to the school, you need your children's personnummer. You have to login to the e-service for children education, choosing school according to your housing area, then wait for the municipality office's decision about the school availability. If the school is already full, the municipality will suggest another school that is still vacant.
2. Going to the open preschool (Öppna förskolan)
Sometimes you have to queue for several months until the children can enroll to förskola. Or if the children are not entitled for the personnummer, which is the case when the parents will study in Sweden for less than a year, they could be not eligible for förskola.
In this kind of situation, still, you don't need to worry a lot. Besides förskola, the Swedish government also has a lot of open preschools (they are called Öppna förskolan), educational group activities for children 0-5 years who are not enrolled in förskola.
Similar to förskola, öppna förskolan has educational activities, a lot of toys, and spacious rooms for children. They will not get bored spending a whole day there. But different from förskola, at least one of the parents should accompany the children in öppna förskolan. And also, you have to bring your children's food by yourself when visiting öppna förskolan.
Öppna förskolan is not only for the children. It's also a place for parents meeting up, getting to know each other, and sharing parenting tips. Sometimes, when my wife wants to meet other moms, they meet up there. While the children are playing, the parents can also have time for relaxing and some chit-chat =)
3. Spending time in parks
Before I arrived in Sweden, I thought that the idea of spending time with children in the park is only an imagination, something displayed in the children's books or novels only. But after I arrived here, I just realized that spending time in the park can be so real and fun, especially for the children. The parks here are not only an open space but also offers various public scenery and activities.
My children's favorite park in Stockholm is Parklek Humlegården. They would spend the whole afternoon there. Note also that it is not far from KI Solna campus =)
The park has a large playground with different sections assigned to different age groups of children. Aside from that, during the weekend, usually special activities were held there. We joined a charity run there and a public activity where they provided the visitors with some carpentry equipment to make your own craft. I recall me and my children making wooden car toys from scratch and it was very interesting.
4. Enjoying the library
The library is often associated with the serious bookworm. Well, being a bookworm is not bad at all. But actually, rather than a serious thing, visiting the library in Sweden can be a fun activity for children.
Stockholm has many libraries (they are called bibliotek) and most of them offer lots of good materials for children, colorful pictures, simple and easy to understand sentences, and positive messages.
There are not only books in the library. You can also find CDs and DVDs. The library has already selected the contents and grouped them according to the viewers' age. So if you want to loan a DVD suitable for your 3-year-old son, just find them in section "DVD for children 0-3 year".
Some libraries also provide board games that can be played inside the library. As most of the board games there focus on teamwork rather than competition in order to complete the game, I always encourage my children to play with the board games whenever we visited the library.
Those are some ideas of daily activities the children can do in Stockholm (Oops.. I almost forgot to tell you that all the activities mentioned above are free). Besides that, there are some non-routine ideas that surely the children will enjoy such as visiting the museum, free traveling by boat, walking in the forest, and so on. But I think, it will be too long if I write all of them here =).
Lastly, maybe you are wondering whether I could study optimally with the children around. The answer is: yes, of course! I can still manage my time well for studying and for the kids. Sometimes I have to stay up late at night for my assignments, but it doesn't really matter for me. So up until now, we have managed to keep everything on track and all of us cherish the time we have here. Until the next blog!
Related blog:
What If I Bring My Spouse During My Study at KI?
Contact me at:
email: winner.ng@stud.ki.se
LinkedIn: Winner Ng