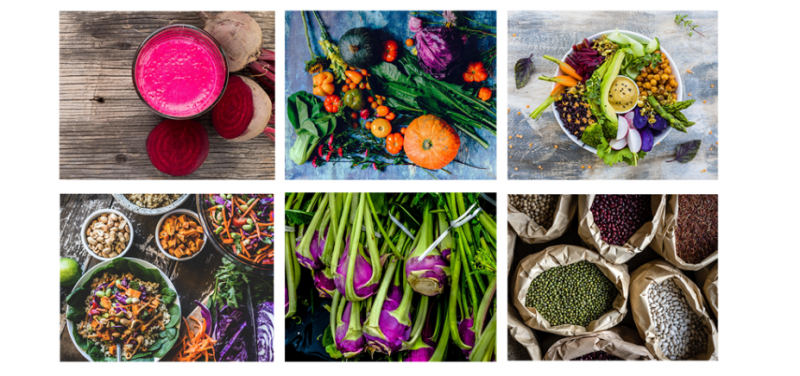 The very first KI Sustainability Day 2019!
KI as an institution is well-known for its wide variety of educational, scientific, entrepreneurial and other kinds of conferences and events that occur with different frequencies (yearly, monthly or even weekly!). However, the event that I am going to write about today turned up to be the very first of such kind 🙂
KI Sustainability Day 2019 was born as a result of active initiatives from 5 partnering organisations: KI Council for Environment and Sustainable Development (Miljörådet), Akademiska Hus, Karolinska Institutet Universitetbiblioteket (KIB), KI Health Promotion and MF's Climate Committee (Klimatföreningen). After some weeks of lively discussions, intense planning and preparation, the main focus of the event was decided to be on food.
"What we eat and how food is produced affect our own and other people's health as well as the future of our planet. This day we highlighted the importance of food and its connection to all of the Sustainable Development Goals."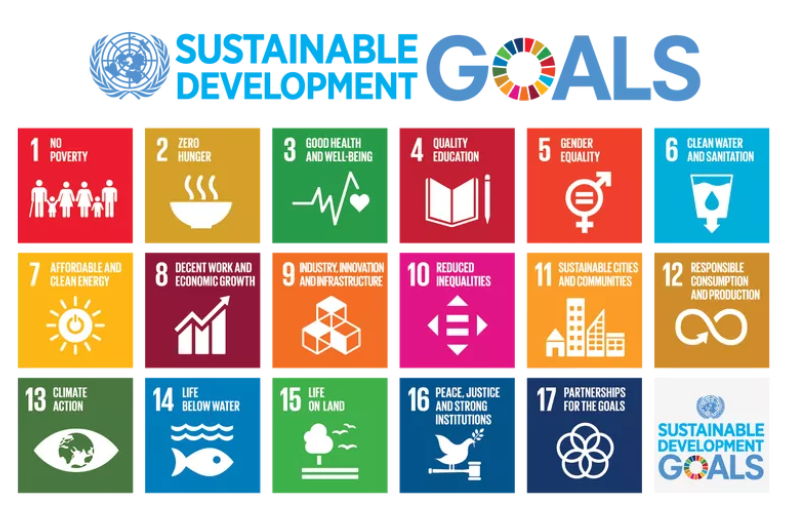 Some other of the aims of the Day were to
Increase knowledge about the connection to the Sustainable Development Goals
Equip employees and students with knowledge and skills to make sustainable choices
"Walk the talk" aka spread the word by arranging a sustainable event.
All in all, these aims were successfully achieved during the KI Sustainability Day, and below I will elaborate more on each and one of them:)
There were several types of activities offered to the students and staff at Karolinska, namely: scientific presentations from great researchers in their respective fields, like the Director of the Stockholm Resilience Centre Line Gordon who talked about the latest EAT Lancet report describing the healthy diet within planetary boundaries for all;
Professor
Göran Tomson
from Global Health Transformation SIGHT (Royal Swedish Academy of Sciences) elaborating on the role of scientists in achieving the Sustainable Development Goals;
There were also more "hands-on" workshops on healthful nutrition on a budget from
Hanna Olvenmark
, the author of the well-known cookbook & platform "Portionen under 10", bike "kitchens" from
Bonne Mécanique
where one could learn how to fix the most commonly occurring "bike problems" like flattered tire or a chain that came off, or a presentation from Klimatföreningen member (the author of this blog-post! :D) about the practical tips on how to be a responsible consumer. All the lectures were live-streamed to the campus Flemingsberg, recorded and can be accessed
here.
Some cool interactive exhibitions were also there to engage the students and sparkle their interest in sustainable initiatives.  For example, an exhibition on "Art and Gastronomy" was showing their wonderful pictures of different sustainable recipes: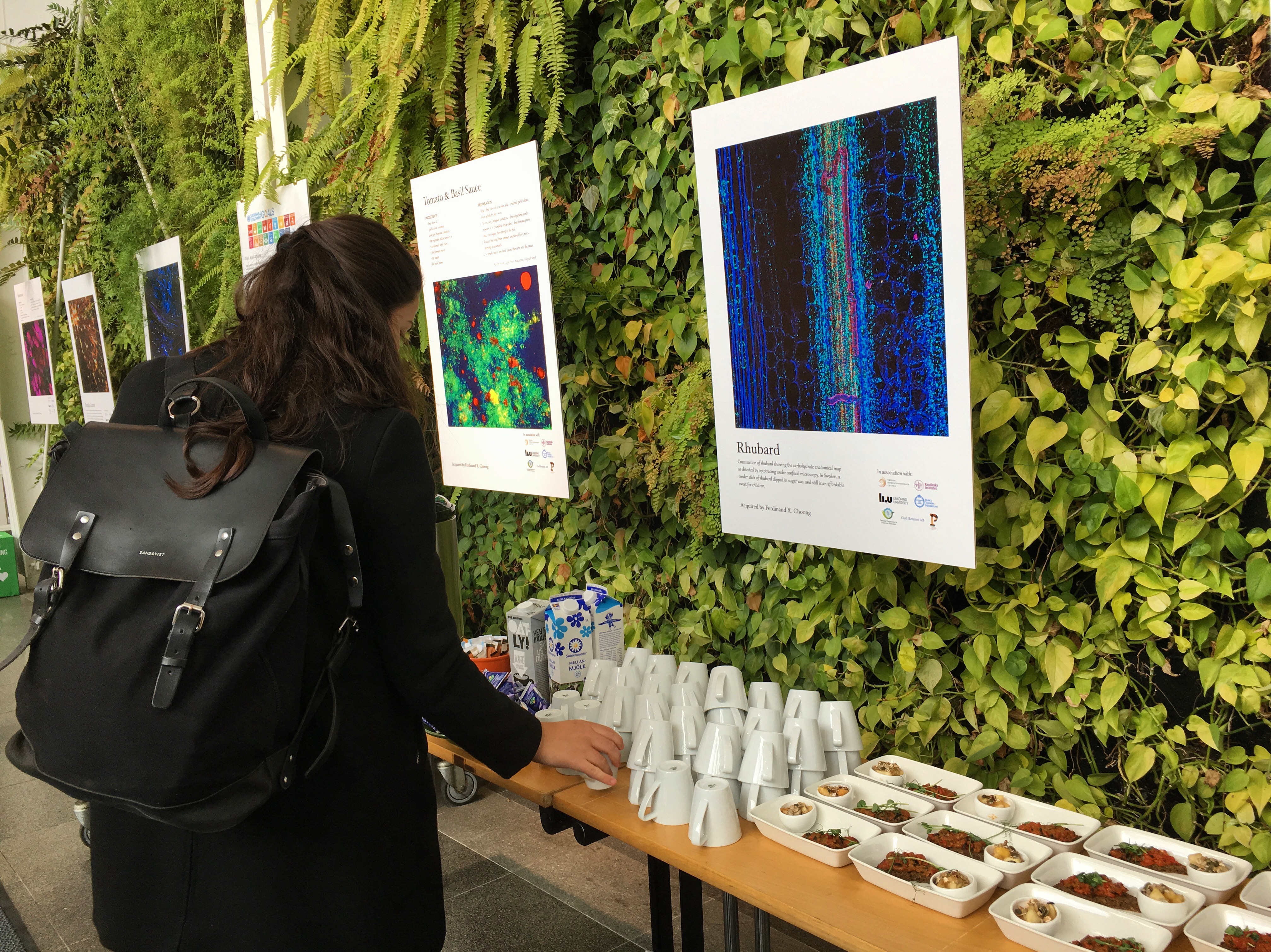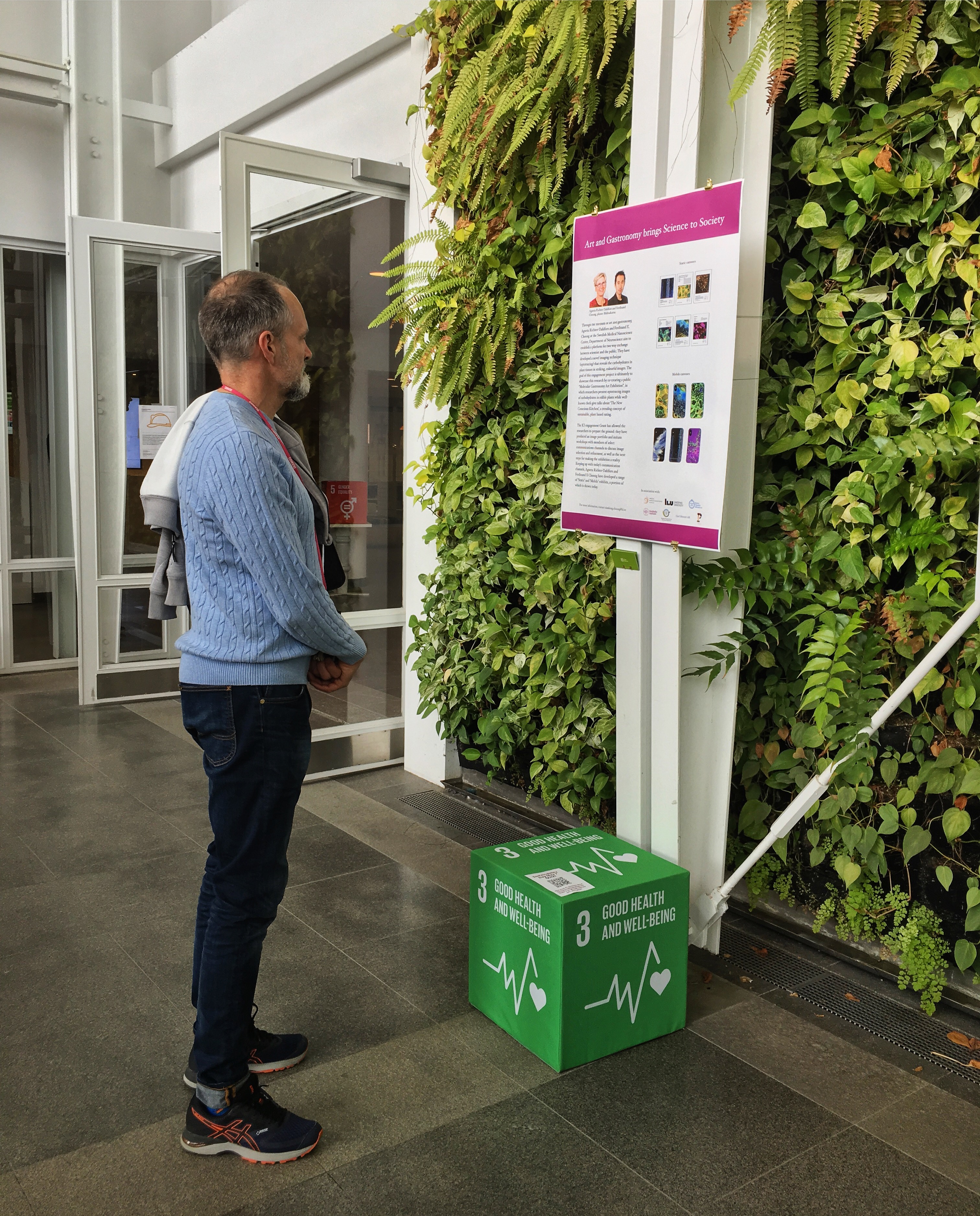 Klimatvågen from Stockholms Stad was offering everyone the possibility to "weight" your consumption to see how big your climate impact is. Such aspects of our lives as accommodation, food goods and services, daily trips could be "collected" in the shopping basket and later weight them using a special CO2 scale. I mean, how cool is that?!
During the Day, many sustainability initiatives from the KI restaurants like Jöns Jacobs (Sodexo) also took a part in "backing up" the hungry students with vegan and sustainable menu. What is more, they refused to use any single-use plastics and cutlery, showed some visuals about the food waste at KI and highlighted the importance of eating local food. Live band DAZE was also playing in the campus restaurant during the day, making the atmosphere lively and enjoyable🎶🎵
All in all, the event was proven successful and had high attendance. We definitely had a lot of fun organising it also!😄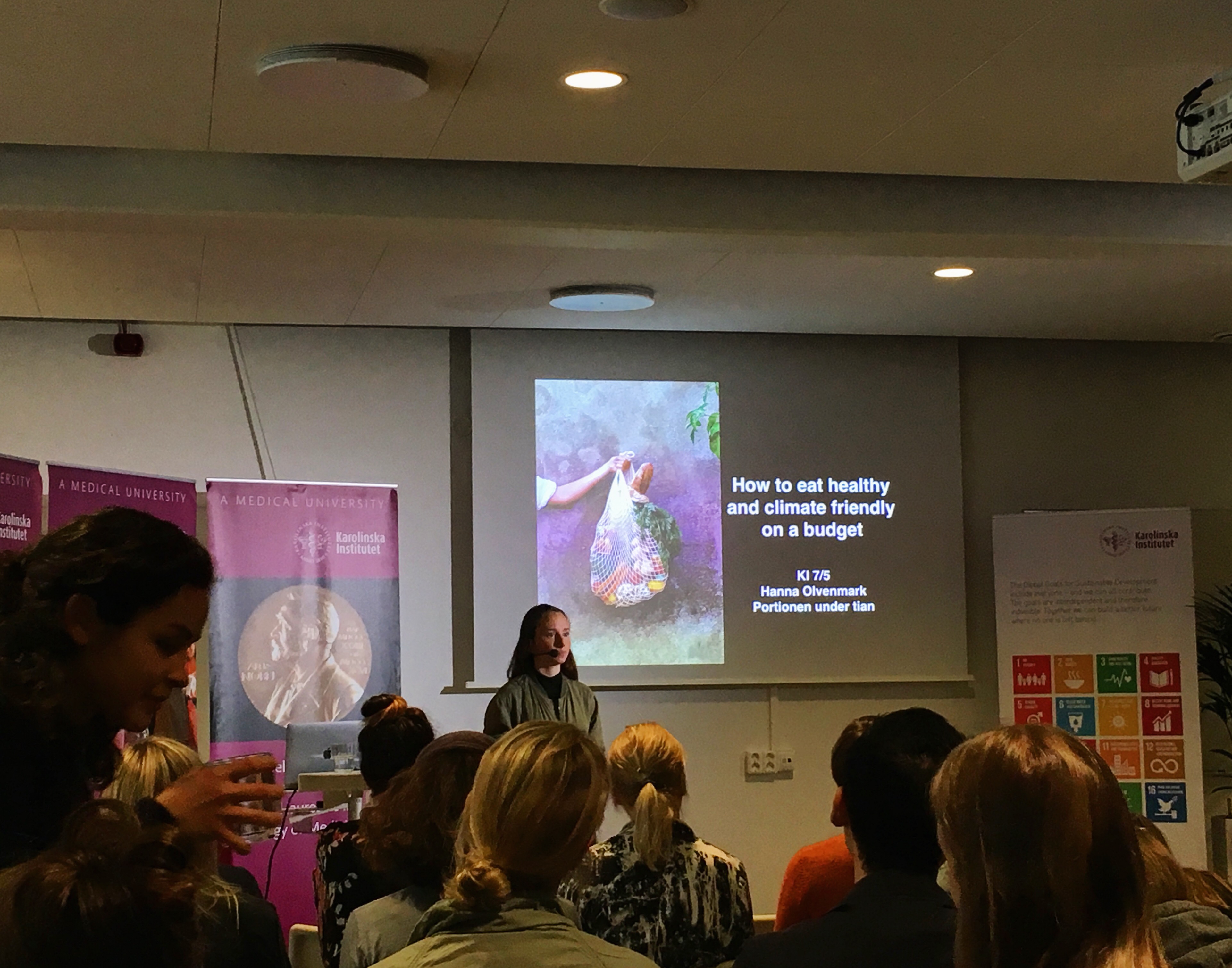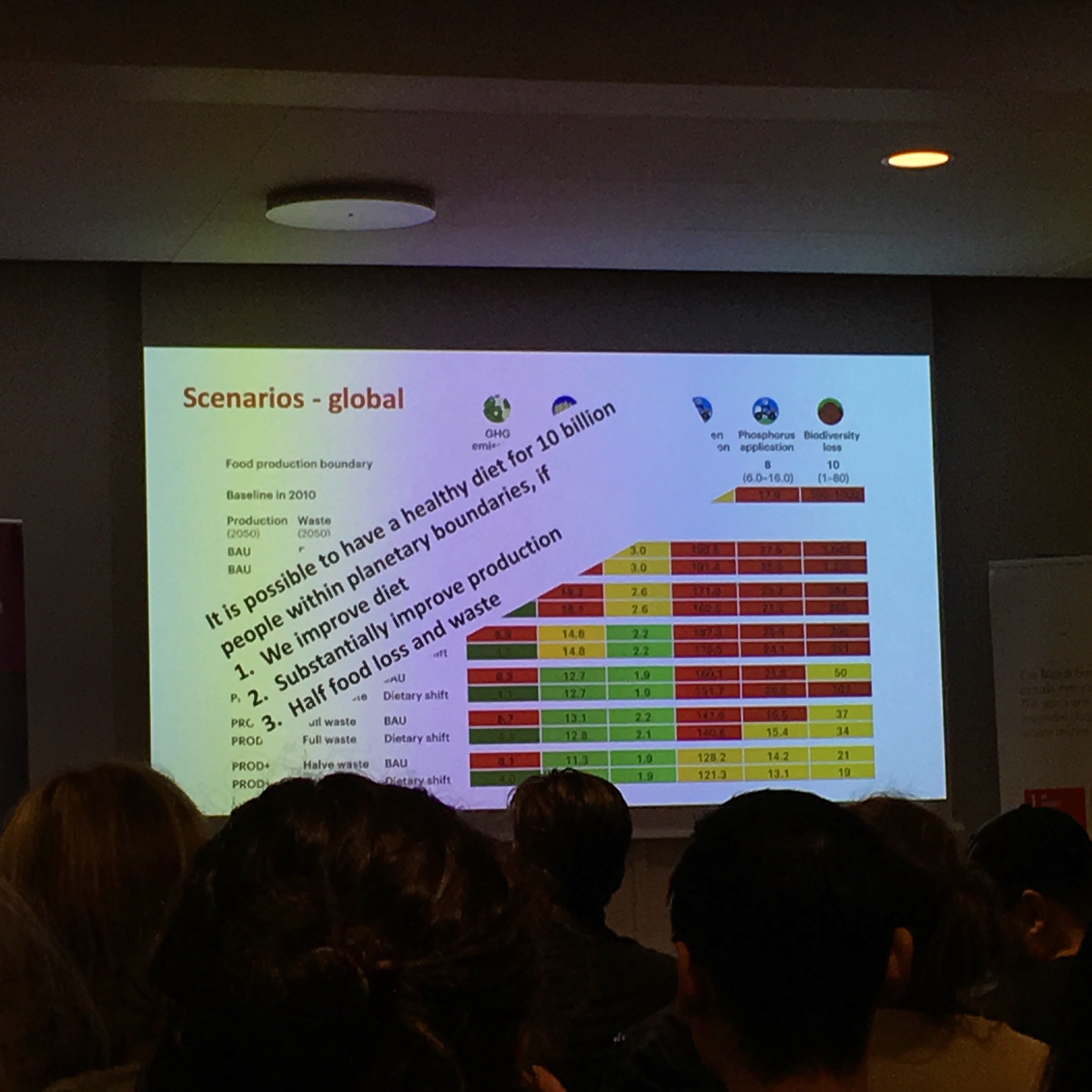 Raising awareness about the impact of our food and other lifestyle choices on the environment of our common planet Earth is an absolutely essential step to stop the climate catastrophe arising from our unacceptably high emissions, a large part of which come from our current unsustainable food production and consumption practices.
However, raising awareness alone is not enough. We need to act, each and every one of us, and do it now. Eating none or minimum animal products, buying and consuming less, and travelling consciously are some good ACTION examples. Let us all do our part💪
Got any questions about sustainability at Ki and beyond? Email me at dasa.svaikovskaja@stud.ki.se
Thank you for reading!