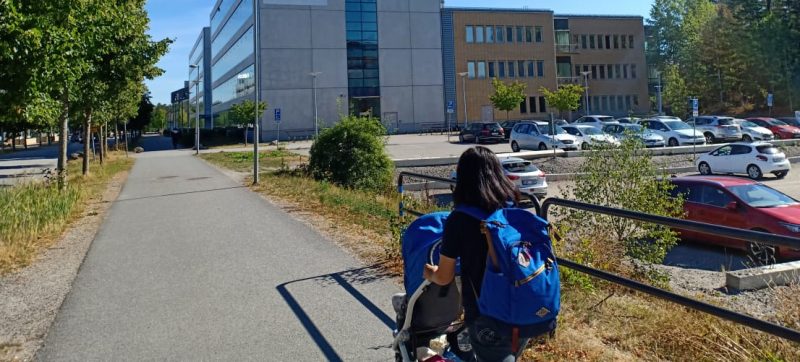 Diary of a full-time student, mom, and worker
I assumed that you have read the title thoroughly. Yes, that's me! Beside being a master's student in nutrition science at KI, I am a mom of two children, and a worker. Could I manage all my roles? Well, I would say that I agree with the old saying "where there is a will, there is a way".
I dedicate this blog to all parents who want to pursue a degree, all workers who want to study further, and all students who need to work 🙂
A year as a student, mom, and worker
I would not describe again about my background and how I moved to Sweden. You can read it on my first blog. I started my study at KI in August 2019. It was a full-time study, meaning that one was supposed to dedicate 40-hours a week to do the responsibility as a master's student.
At that time, my children were 4 and 6 years old. I was (and am) so grateful for the Swedish school system which made my kids possible to go to the schools and spend some hours of fritids (free time) at schools when I was still at the university. The formal learning activity at their schools actually started at 9 am and finished at 1.30 pm. But here in Sweden, they open schools from 6 or 7 am and close at 5 or 6 pm for taking care of children whose parents are working or studying.
At that time, I was working as well. Before I moved to Sweden, I worked as a medical editor and epidemiologist in my home country. Fortunately, those works were possible to be done remotely. So I continued to work even after I moved here. Don't worry, I was not in mortgage stress that pushed me to work very hard :p I decided to continue my jobs because I enjoyed doing them (plus I got some extra money, of course :)). In addition, working for my home country while I was here made me feel not too far away from home.
My daily routine to accomplish all my tasks
I usually wake-up at 6 am. Then together with my children and my husband, we eat breakfast at 7 am. We always eat breakfast like the Sweds do (smörgås, gröt, or yogurt with knäckebröd) simply because they are quick to prepare and healthy! Then at 7.45 my husband and I drop the kids at their schools (thank again to Swedish school system that have a regulation to place the kids to the nearest schools from home).
To be able to manage my study well, I always allocate 8 am until 3 pm for doing all things related to my master study, no matter what the course schedule is. After dropping my kids, I arrive at the campus at 8 am but the class usually starts at 9.15 am. So during an hour of waiting, I use that time to calm my mind (listen to music, practice mindful meditation etc) and write my daily detailed plan.
If the class finish before 3 pm, I use the time for reading literature, complete my assignment, or doing anything else related to my study (I try to use that period of time as effective as I can so that I would not spend too much time to study at home).
After 3 pm, I pick-up my children from their schools and go home. Then I spend my time with the whole family – we talk, play, eat dinner, watch short movie until 8 pm. The kids go to bed. After that, I start to do my jobs (or write KI student blog when I'm inspired :)). Or if I still have to do something related to my master study, I devote 1.5 hours for the study, and devote 1.5 hours for the jobs. Then I go to bed.
During weekend, I avoid jobs and study. I usually spend the weekend with the whole family or with some friends. Not to forget, the whole family also clean-up the apartment and stock our kitchen at the weekend.
Can I manage my study well?
If it is assessed by grades, well, I passed every course with good grade so far. But that is not the most important thing for me. I took this master's programme because I felt the need to obtain some nutrition knowledge to do my job better. I think, now I have got the knowledge I needed.
I have to admit that I do not have mastery of all courses. For instance, in the molecular course, I learned a lot about molecular and genetic but I was not a master of that topic (and I think, I don't have to since I won't work in the area). On the contrary, I put a lot of effort to understand about nutrition research methodology and statistics deeply as I work in this area.
Can I enjoy my life?
Some close friends have actually ever asked: when did you enjoy your life? Would you ask me the same question? :p One of my life principles is "do what you love, love what you do". I may not have time to go to party or bar, I may not have too much time to watch series, but I can ensure you that I feel content and enjoy what I was and am doing. Just as an old saying "when you enjoy what you do, work becomes play".
On the bottom line, in my opinion, neither being a parent nor a worker can prevent you from learning. So, keep learning! 🙂
You can also read Inez's story about her cool studying experience as Molecular Techniques in Life Science student and Tina's interesting typical day as Bioenterpreneurship student.
Have any comment, question, or suggestion? Contact me at email (resthie.putri@stud.ki.se) or LinkedIn (Resthie Rachmanta Putri).