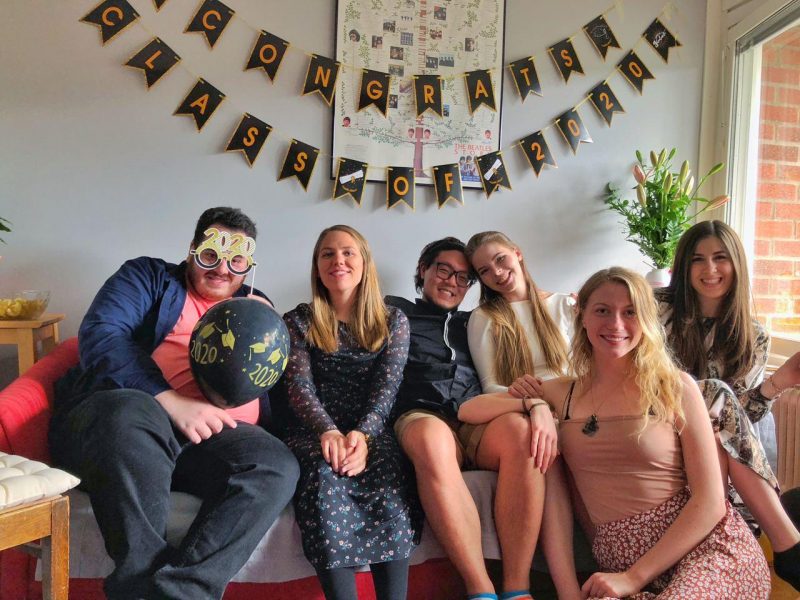 Hejdå and Hej again!
Tonight is my last evening as a digital ambassador and, of course, I left the "Hejdå blog" for the last moment. What can I say, guys? It's been THE journey! Coming to KI full of hopes, without perfect English, not really thinking how is it to be an immigrant, hoping to get a new profession and learn a new language, and just hoping for the best. I had my ups and downs but overall, I'm really proud of myself. I am infinitely grateful for these 2 years! 
My failures:
I was quite ambitious and expected that I will learn Swedish during my Master's program because it increases chances to get a job in Sweden. It turned out that studying takes quite a bit of time and I realized that I can do only a few things at a time! After that, I prioritized my student life because it seemed to be my 2 very last years at the university (in addition to the previous 8, lol). I don't regret it! It allowed me to build up a great network, get a part-time job (that's why I was not very active lately), and actually finish my Master's =D 
The unaccomplished mission with Swedish leads to another obstacle, I can't revalidate my medical degree in Sweden. Even without studying it would take a few years, so I reconsidered it. 
My volunteering in India was quite a traumatizing experience mentally and also required a lot of finances. Looking back now, I think I shouldn't have gone there but rather support NGO in another way. Not everyone was made to work in the field and I am glad I realized it so early. I respect people who dedicate themselves to this work. Unfortunately, I am not strong enough person and my health both mental and physical was not prepared for it. 
I got really depressed and was absolutely unprepared for it. I didn't look for help because I didn't how it can be improved and just boiled in my own negativity way too long. However, there are services in KI that help students to deal with their problems. Now, during corona, you can even contact digital health services to talk to a specialist for free. It okay not to feel fine all the time but it's not okay to be in a bad condition all the time. I hope you have friends that you can talk to. Most people are aware of mental health problems now and may help you to seek help. Please, look after your mates, in your class, in your dorm, wherever you make friends. Well, that's all about sad things! 
Best moments:
After such a depressive introduction I wanted to tell you that despite everything, every morning over the past 2 years I woke up being grateful! It all started with the Swedish Institute that provided me INCREDIBLE opportunity to study in Karolinska Institutet with the Visby scholarship! I participated in several events with SI Network for future global leaders and made some friends there. Please, share this opportunity with your countrymates if you are eligible for one of the funding programs! We went to Gothenburg to look at how AstraZeneca works inside, visited Uppsala, and met colleagues there, had a great introduction in the City Hall where scholarship holders got a chance to meet each other. Unfortunately, pandemics didn't allow us to meet one last time for the graduation in the City Hall where the Nobel dinner takes place. However, we had a small gathering at home with my classmates and watched graduation online. These days you learn to enjoy small things and they become very precious… Applying to KI and getting SI scholarship was truly a life-changing decision! 
KI environment is amazing and really encourages you to network. Knowing people helped me to get several part-time jobs! I believe that all these small employments worked as bricks on the wall and helped me to get my job. Even if you are not taking a ground-breaking position, it still shows that you are a dedicated person. However!!! Disclaimer!!! Those positions never affected my studies!!!! Prioritize your education!!! Your degree is more important than temporary income! 
My one year position as a communication manager at the Public Health board provided me a chance to learn how all events are organized and I'm happy to see that the tradition is kept and, hopefully, after the restrictions are over, we will be able to enjoy more gatherings!
I still hope that we can attend graduation dinner next summer! For us, it will be rather an anniversary =) 
Various events at KI were so fun! Let me tease you! Lucia dinner, class Christmas, Halloween, going to Solvik cabin, social dance at KI, coffee hour, our class trip to Copenhagen provided by the Department of Global Health! I'm grateful for the opportunity to meet my friends <3 It is important to study but don't forget to have fun even in the current situation there are still options!
You might be surprised but Sweden is not KI only! This year many of us will not be able to go home for the holidays, so it's worth digging into Swedish traditions. I had my first Christmas last year and can't wait for this one! Rice porridge, Disney cartoons at 3 pm, and much more that can surprise you! Midsommar in June, the upcoming Kanelbulle day on 4th of October, All Saints Day when people light up candles on the cemetery to remind their loved ones that they are not forgotten. Lookup for our blogs to check what we have experienced! =) I love Sweden because of its traditions as well. 
The highlight of the last semester was working for Centrum för epidemiologi och samhällsmedicin. It was a part-time job where we learned how hard bad initial data management can be and how important it is to follow the protocols =D All we learned during the Master's course was actually true, ha-ha-ha =D
 And last but most important is that now I can answer with the question "Will doing this Master's help me to get a job?" Yes. If you are looking for employment in academia, that's the best place to start! Many of my classmates started working as a research assistant or jumped straight to PhD like me. I started working at the Department of Medical Epidemiology and Biostatistics. 
Being a Master's student was fun, hard and overwhelming sometimes. I'm glad that I did these 2 years of educaiton! But I'm also happy that it is over. If this Master's was a book, I would wait an extra minute on the last page and look to the sky. That was a great adventure. I'm thankful that I could share it with you and hope that you'll write up your own story if you are already here in KI. If not, make sure to prepare for this journey! Fasten your seatbelt and get ready for application!
From Karolinska Institutet with love,
Forever yours Aleksandra Kanina
email: aleksandra.kanina@ki.se