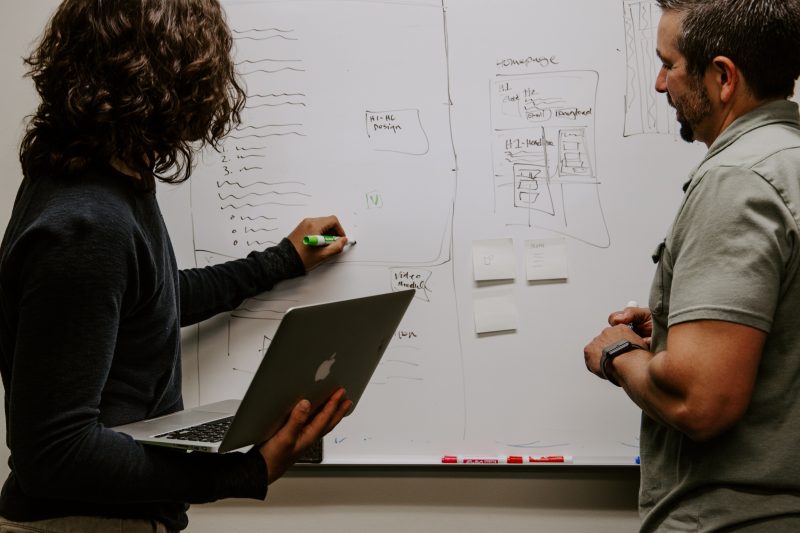 Theories and Methods for Implementation and Evaluation: Course Review
This course focused on the process and outcome evaluation of complex interventions and policies. This included creating study designs, identifying outcome measures, understanding mixed-methods evaluation and the importance of reporting guidelines and identifying the best implementation strategies based on barriers and facilitators. The primary goal was to be able to plan and/or evaluate a public health intervention using various implementation theories and frameworks. This course is only apart of the Health Promotion and Prevention stream.
Course Leadership
Our course director was Liselotte Schäfer Elinder. She facilitated the course, assignments and taught the majority of the lectures and was our point of contact if we had any questions. Throughout the course we had numerous guest lecturers, to teach about the different theoretical models and frameworks they have used in their research projects. There also were two administrative supports that we could contact if we had any issues with the course material, website, schedule, exam submission etc. 
Course themes
The main topics discussed: 
Week 1: Reporting guidelines and qualitative methods in implementation science 

Week 2: Theories, models and frameworks 

Week 3: Barriers, facilitators and implementation strategies 

Week 4: Evaluation and R2P 

Week 5: Take-home exam 
Time structure
This was a five-week course. Lectures were not compulsory (except for the first-day roll call), but highly advised. However, every Tuesday we got the day to coordinate and complete our group assignments and Wednesday's were mandatory to present and discuss our group work with the class. Otherwise, our schedule varied due to the COVID hybrid learning and was split between campus classes, zoom classes, group work and individual learning time.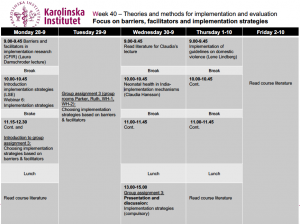 Assignments
Throughout the course, we had four group assignments. These assignments revolved around analyzing articles according to the four categories: 
Assignment #1: Reporting of an implementation study using reporting guidelines STARI

Assignment #2: Applying theories, models and frameworks in implementation research

Assignment #3: Choosing implementation strategies based on barriers & facilitators

Assignment #4: Evaluation of Implementation 
These assignments were not graded, however, the completion of them and participation in the class discussion was mandatory towards a final passing grade. 
Exam
We did not have a final exam in this course, rather we had an individual 3-day take-home exam (6-8 pages). The exam included different concepts we had learned from our four group assignments. Therefore, the exam did not require studying if you had completed the group work and followed along with the lectures/readings. 
The exam's grading criteria was fail <66%, pass > 66% and pass with distinction > 87% (with no question graded 0). 
Pros/Cons
In my opinion, the benefits of this course were the group assignments and discussions. This provided us with an opportunity to practice applying the theories and frameworks that we had learned in the lectures and readings. After applying these concepts, I found it beneficial to come together as a class to discuss because it supplemented the areas of the assignment and that week's material that I did not understand. I appreciated that these assignments were not directly graded, just awarded feedback and completion, because it fostered an environment where we were able to focus on learning and discussing these sometimes challenging and abstract theories. These assignments prepared us appropriately for the exam. 
For me, the main con was that we only focused on how to apply these theories and frameworks for implementation and evaluation in a formal research context. I would have liked to learn these concepts: identifying barriers and facilitators, applying a planning framework and how to evaluate outcomes in public health interventions in other contexts including non-profits, corporate, government etc. 
Overall, this course was very organized and provided us with an opportunity to practice using these various frameworks and models. 
Thanks for reading and let me know if you have any questions! 
Lauren
Hi! I am Lauren, I was born and raised in Canada, and you probably will hear me talking about how much I love Canada, especially the mountains. I am the blogger for the Master's Public Health Sciences Health Promotion and Prevention stream and I am excited to share my experiences with you!