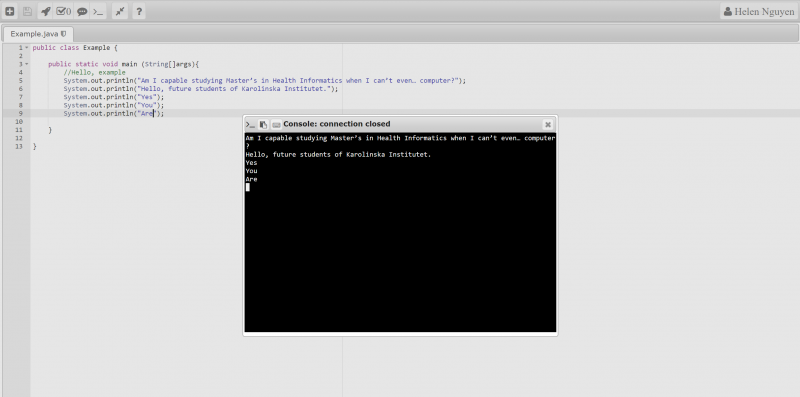 Am I capable of studying Master's in Health Informatics when I can't even… computer?
Doing a computer science course as a healthcare professional
Let me paint a picture for you, of how little I knew about computers. I'm a pharmacist through and through.On the first day of studying SUPCOM, aka Supplementary course in Computer and Systems Sciences, I didn't know what the difference between software and hardware was. I thought they meant the same thing! That they were interchangeable! I didn't even know that the plural of software and hardware is, in fact, software and hardware!
I have never studied computer science nor programming before. Nor anything similar. I've used computers since I was in high school, mainly MS Word and dabbling briefly in MS Powerpoint and MS Excel. In my professional years, I've been using various pharmacy dispensing systems with more or less the same features. So, to get to the point, I've used computers before but not much more than your average Tom, Dick or Harry.
I can only speak from my own experiences, so here it goes.
So, what is SUPCOM like?
We're in our last week of the course, 7 out of 7 weeks, and it has been an interesting, whirlwind adventure. Week 4 in Master's in Health Informatics marks the start of a new course. Students with a healthcare background begin their journey navigating basics in computer science, and those with a computer science background begin their journey through basic medical science.
The SUPCOM course is split into modules with usually one module taught per week. Each module ends with an assignment. The assignment was either short answer questions, essays or online multiple choice quizzes. So, usually we'd have an assignment every week. It sounds like a lot but it's manageable.
What surprised me most, is the way the course is taught. It is an online self-guided course. This means that you'll need to be able to manage your own time. You are provided with videos and books to digest and it's your task to understand and apply your acquired knowledge. The lecturers are there to answer questions during a Q&A session held 1-2 times a week as required by the students. And additionally, you have an online forum where other students and the responsible teacher helps guide you.
How have you found it?
It's challenging, yet manageable. And very interesting! I felt like I was learning a different language. Similar to learning pharmacology and physiology, I came across new vocabulary in which I had to investigate its definition and then understand it in context.
There were times where I couldn't get my head around the concepts and it was severely frustrating. But if you persevere, discuss with your peers, and with the responsible teachers during the Q&A, you should be able to decipher it. Everyone is very helpful and supportive.
In short, I am loving it!
What do you love most about SUPCOM?
SUPCOM has enabled me with the basic knowledge in computer science, enough to expand, discuss and explore.
Most importantly, I really enjoyed the course because the responsible teachers were so passionate, and it was inspirational.
Some also provided us with extra materials, voluntary assignments or suggested other courses to expand our knowledge.
Will I be able to manage SUPCOM without any prior training in computer science?
Yes. 100%, yes. Especially if you have a healthcare background. You've probably had previous experience consuming a great deal of new information and applying it to real life circumstances.
I must add, although prior training in computer science is not necessary, it does give you an advantage.
Do you have any tips?
Persevere. As I said, it's challenging but manageable.
If you have any questions, please feel free to contact me at helen.nguyen@stud.ki.se or https://www.linkedin.com/in/helen-nguyen-539782aa/
Hi! I'm Helen from Australia here, currently living and loving life in Stockholm. I'm studying a Master's in Health Informatics at Karolinska Institutet. I love walking in nature, dancing and cycling around town. I love a good chat and enjoy a good hearty laugh. We can talk about nothing and discuss absolutely everything. I enjoy cooking food, falling asleep to movies and going for long walks in the forest.