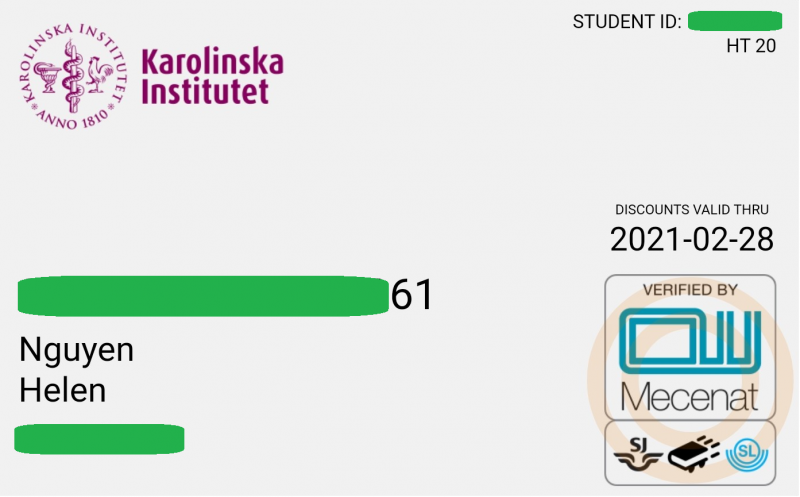 My successes with student discounts
I love me a bargain! As soon as I received my student card, I signed up to both Mecenat and Studentkortet. I trolled through the discounts and became familiar with their offers. I like to check the websites once every fortnight for fun. Oskar and I always seem to be buying something.
So, in this blog, I'm going to list my top 5 buys/uses with my student discount.
Spa
This has been the best, serendipitous discovery yet! I'm currently studying a full-time Master's, working full-time and studying Swedish full-time. So, you can imagine the pressure I am under. One day I thought I might just spoil myself by going to a spa. After searching best spas in Stockholm, I found that some of the most beautiful spas in Stockholm, has a student discount! As a student you can get up to half price on entry into some of the saunas and spa and if you have the finances, some spa hotels offer accommodation at discounted prices! I've been pampering myself every month so far. Why not! Take advantage of this!
Books
Oskar and I like to read. Or at least I try to read every night if I'm not pooped from the day. I also prefer reading from physical books because I feel it's better for me before bed. So I've appreciated these discounts. Bokus and Adlibris have seemingly little discount but, for a physical book-lover like us, it helps! If you're into audiobook instead, most of the companies e.g. Nextory, Audible, Storytel have a week or month free trial!
Pharmacy products
I like to bulk buy online from the pharmacy. I think it's very convenient to buy all my necessities from one place, because when you reach the required amount, you get a discount. This could also apply to supermarkets as well actually, but I haven't looked into that yet. It's quite easy for me to reach the minimum 300-400kr at an online pharmacy store. I would usually stock up on:
Vitamin D tablets – a must for me as a Vietnamese-Australian
Resorb (oral rehydration solution) – always a must at home in case of a wild night, or just plain dehydration
Beauty products – face creams, cleansers, makeup, body creams, shampoo, body wash…
OTC medicines – Being a pharmacist, I always need to have a decent supply of medications at home and a well-stocked first aid kit
Sports & training
The training section in the discount websites have been so useful for me. Stockholm, especially in the winter, is a much different climate to what I've lived in. So it's understandable that I don't have the right gear for sports and training here. There's about 10-15% discounts on sports gear. I buy Casall or Rohnisch and have found them to be great quality. I'm sure the other brands are great as well but I just haven't tried them. There are also discounts on gym membership and sometimes free online yoga. Unfortunately I haven't tried the gym memberships yet because I'm just not a gym person. But check out Lauren Weibe's blog post Stockholm gyms with student discounts
What else have I signed up to?
Student memberships for ICA & Coop – every now and then you get a freebie from the supermarkets and discounts.
Espresso House app – free coffee for new members and continuous discounts on food and hot drinks.
Student membership to SL – Discounts on train tickets in Stockholm
Banks – Some banks waive the fees for students. I've chosen Nordea just because my partner is with them. But I heard at least, ICA and Handelsbanken do the same.
If you have any questions, please feel free to contact me at helen.nguyen@stud.ki.se or https://www.linkedin.com/in/helen-nguyen-539782aa/
Hi! I'm Helen from Australia here, currently living and loving life in Stockholm. I'm studying a Master's in Health Informatics at Karolinska Institutet. I love walking in nature, dancing and cycling around town. I love a good chat and enjoy a good hearty laugh. We can talk about nothing and discuss absolutely everything. I enjoy cooking food, falling asleep to movies and going for long walks in the forest.