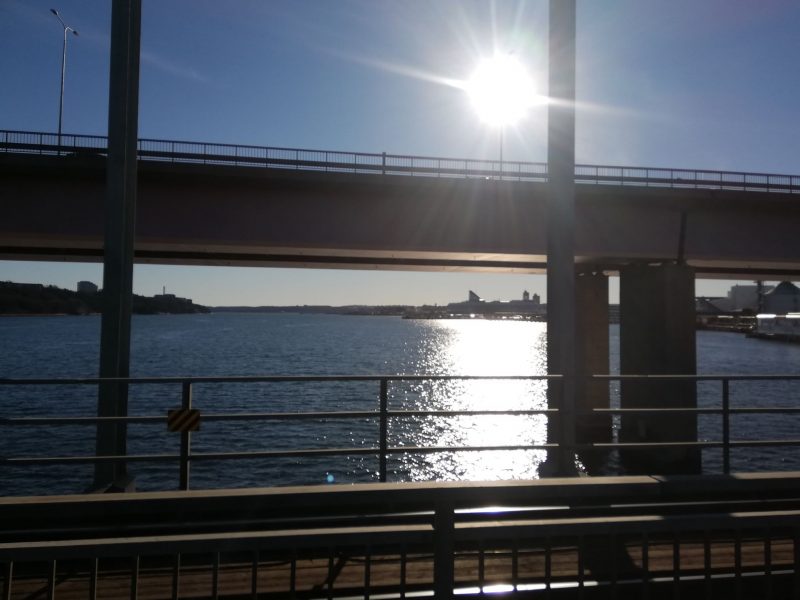 My top running routes in Stockholm and music running tracks
One of my favourite things to do is go for runs, that rush of adrenaline and post-run feeling is just simply amazing. I never used to be a runner, I would play sports for many years and go to the gym. Solo running was only an occasional experience; either on the treadmill for 15/20 minutes or a run along the beach when on holiday in Lanzarote (Jason Bourne style). But then lockdown in the UK hit and I couldn't go to the gym or play squash matches, so I took up running! I would go for around 3 runs a week, now I tend to go for 1 or 2 a week, and the feeling is still thrilling!
I will give you an insight to my favourite running routes in Stockholm, to give other runners some possible routes, to inspire those thinking of taking up running and of course for those who are merely interested in the topic. Through the blog, I will also drop some tunes, which I love to listen to whilst running and that are a key motivational factor for me (how do people run without music?!).
Tune drop- Superstyin', by Groove Armada
Where to run in Stockholm?
Södermalm and Långholmen – my very first run here in Stockholm was around half of Södermalm, skirting the outside of the island, around the water. This is a great run and of course, if you can, skirt across the whole island, and don't forget Långholmen!
Liljeholmen- This nice residential area is a peaceful spot for a run, and has a gorgeous lake, just next to the metro called- Trekanten (a lap or a few around this lake is certainly a nice workout)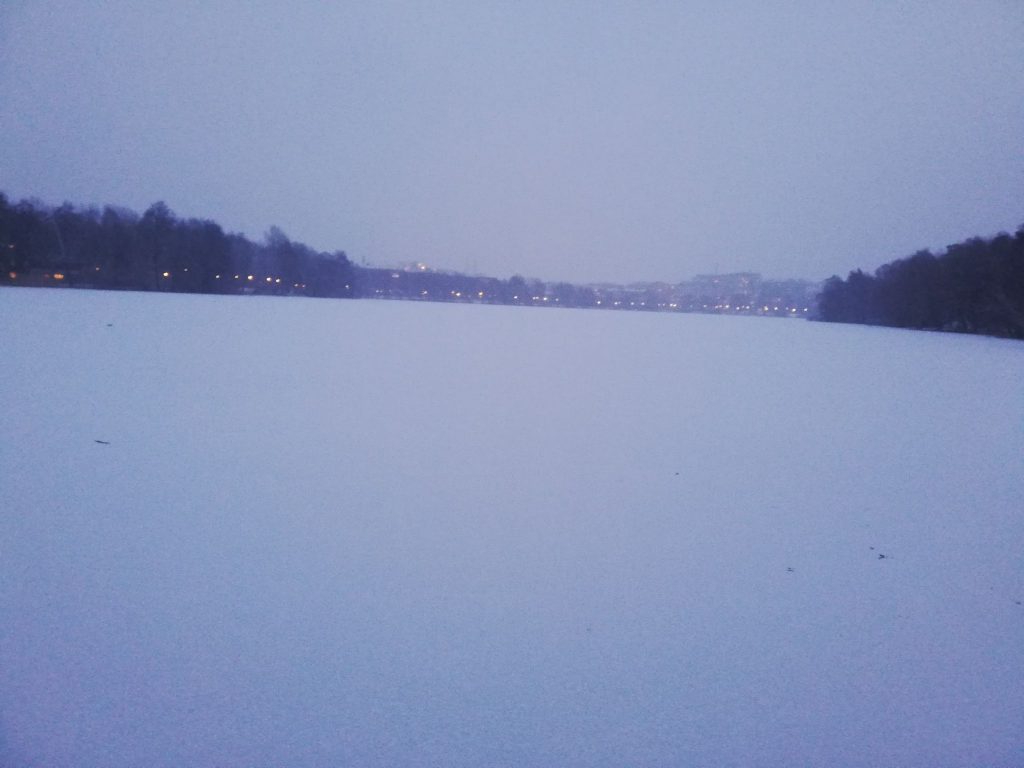 Tune drop- Passion, by Naked Edit by Gat Decor
Årstaviken- This beautiful water front, offers a great 7km loop, running over Årstabroarna either at the beginning or as the finish line. The footpaths around Årstaviken can get quite busy at times, especially at the weekend, so I recommend early morning or in the daytime on the weekdays.
Älvsjö, Langsjo, Herrängen and Fruängen- On my Wednesdays when taking a swim at Långbrohallen, I would enjoy a run beforehand in around these places, discovering nice running routes along the footpaths and forest areas.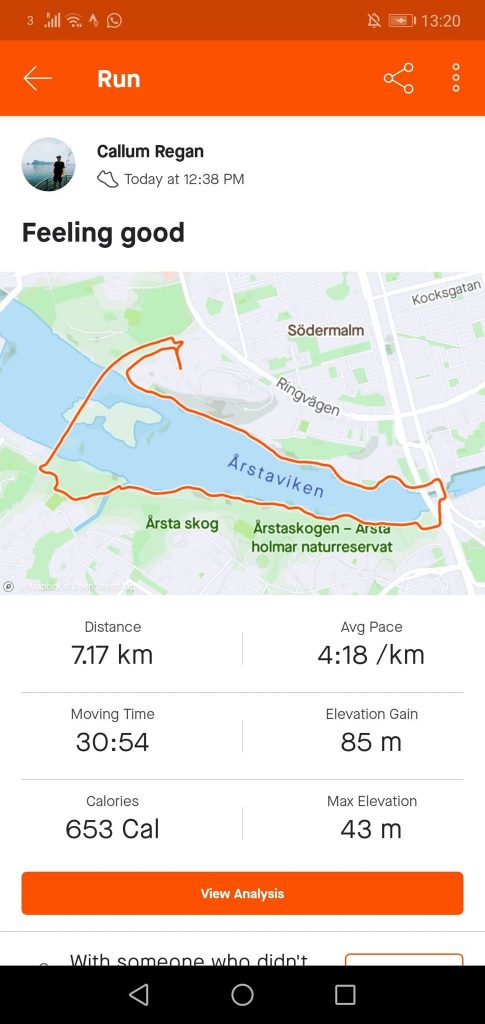 Multiple tune drop-
Södermalm, Kungsholmen and Gamla Stan loop- This loop involves going around Riddarfjärden, going over Västerbron, and through Gamla Stan. The route is shown below-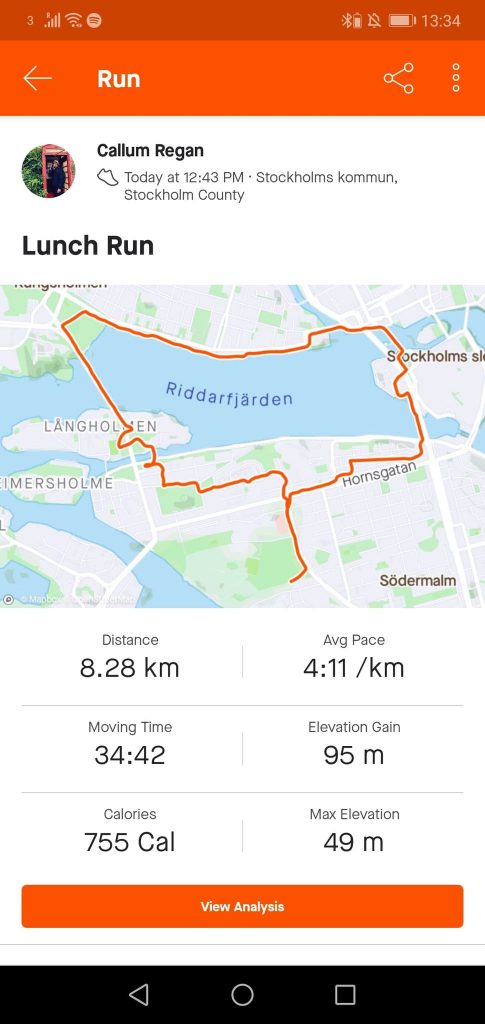 Djurgården- This island is a great running spot, with nice paths and beautiful nature to take in whilst working out a sweat! I usually start from Södermalm and past through Gamla Stan to get there.
Lidingö- I reached this island a few weeks ago, starting from Södermalm, and on the way found some nice green spots for running (just north east of Djurgårdsbrunnsviken). Running along Lidingöbron is a great feeling, especially in the sun !!!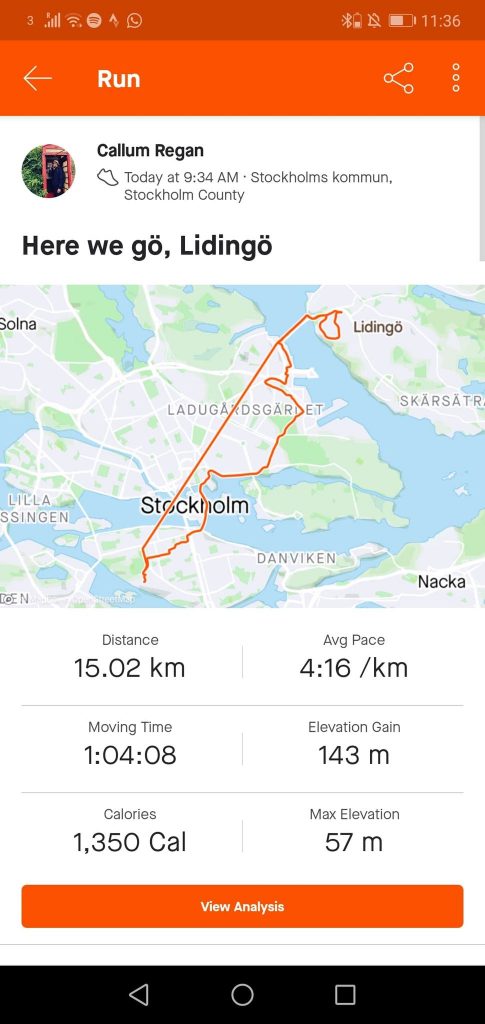 More Tuness are dropping–
Running track- The last running route I will give you, is a good old classic running track, yes it involves going around in circles, but a great way to test yourself, and a try to do a selected distance in a certain amount of time, or run as far as you can in a specified time period (e.g. the cooper test).
I hope this blog has given you some insight into some of the running routes that Stockholm has to offer. I've tried my best to provide some clear "routes" or "laps", but fairly often I just leave the house and run (Run Forrest, Run!), in any direction that appeals to me, this is also fun and I recommend you try it!
Even if you don't want to take running seriously, a light jog here and there can do a lot of good for the body and mind, and all you need is a pair of decent running shoes (and perhaps some earphones).
Last tune drop (plural…I promise)
Any Q's, about Stockholm, Karolinska Institutet or Nutrition science, just hit me up on- callum.morison.regan@stud.ki.se
I am from Scotland and have come to Stockholm to study Nutrition Science MSc at Karolinska. I am a blogger for this course and am interested in many areas of Nutrition including ways to reduce childhood obesity and improve adolescent mental health. I love to travel, meet new people, play sport, keep healthy, watch films and listen to jazz music. I also enjoy trying food from around the World and am always searching for the best food out there!