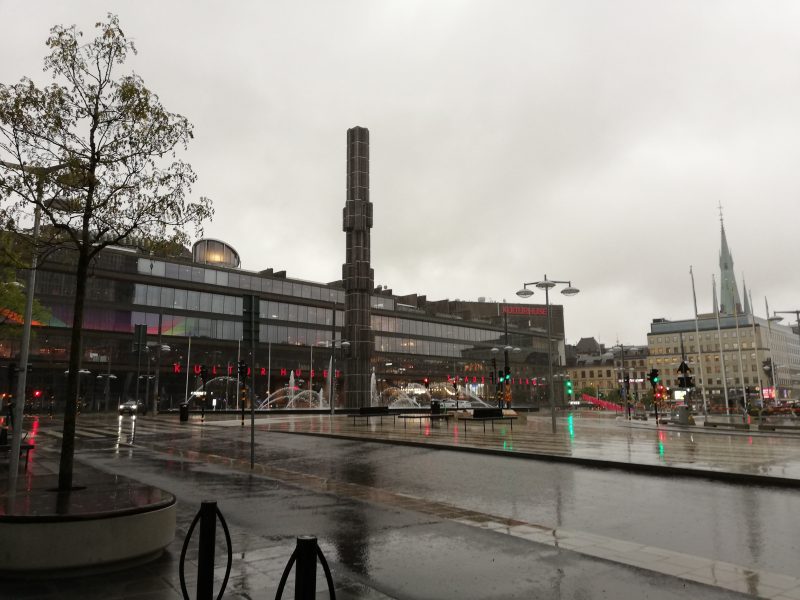 Kulturhuset – my fave cultural spot in Stockholm
For many of you, summer means spending time outdoors, going to the beach, getting a tan, enjoying the sunshine and overall relaxing from the busy student life we have endured this past school year. However, for me, summer means time for reinvention, be it through traveling or through using our extra free time to take up a new hobby, do a cooking workshop, attending a salsa class, there are a million ways to reinvent yourself!
I usually travel during the summer but since that has become very challenging due to current travel restrictions (for yet-to-be-fully-vaccinated young people like me), I decided to devote my vacation time to catching up on my reading. And it is thanks to my need for new lit that I came across one of the coolest spots in Stockholm – the Kulturhuset. The Kulturhuset is located right downtown, on top of Sergels Torg (off of T-centralen), and it's likely a place that many of us have passed by a thousand times without really ever giving it a second look.
Kulturhuset, as the name implies, is "the house of culture" here in Stockholm. It regularly hosts many performances, shows, seminars, debates, among other cultural events. It is also the home of two awesome libraries that are part of the bigger city library network. These two libraries are Kulturbiblioteket and Lava.
Lava, in particular, is my favourite spot for young people. It is a library and resource centre for young people (ages 14 to 25) and it contains an awesome collection of Young Adult (YA) books, including many in English. You can access all library resources and borrow books with a regular city library card.
Additionally, in non-covid times, Lava hosts many workshops for various art forms, be it music production, be it T-shirt imprinting, be it sewing, if you want to learn a new craft and have the space to do it, this is the place! They also have incredibly nice and knowledgeable staff, each with their own specialty, who can help you bring a project to life.
Say, for example, that you are a musician and want to find a place to make music and perform. Not only can you borrow instruments from this library (just like borrowing books), record music in their sound studio, but you can also get help from the staff about setting up your gig at Lava. There is much more you can do here, if you are creative and innovative, then you can find like-minded people to help you in your projects.
I hope I have piqued your interest in finding out for yourself the perks of a FREE fun resource/community centre like Kulturhuset here in Stockholm. You won't regret paying them a visit! I sure didn't, and I will be back again this week to pick up some new books for my summer reading.
Hej! My name is Francisca. I come from the faraway land of the supreme maple syrup, aka Canada. I'm the blogger for the Master's Programme in Molecular Techniques in Life Science at Karolinska Institutet. I love to write about my experience as a student in my programme, a newcomer to Stockholm, and a rookie at life in general. In my free time, I enjoy playing tennis, making music, sketching the city's landscapes, and reading about anything and everything that interests me.