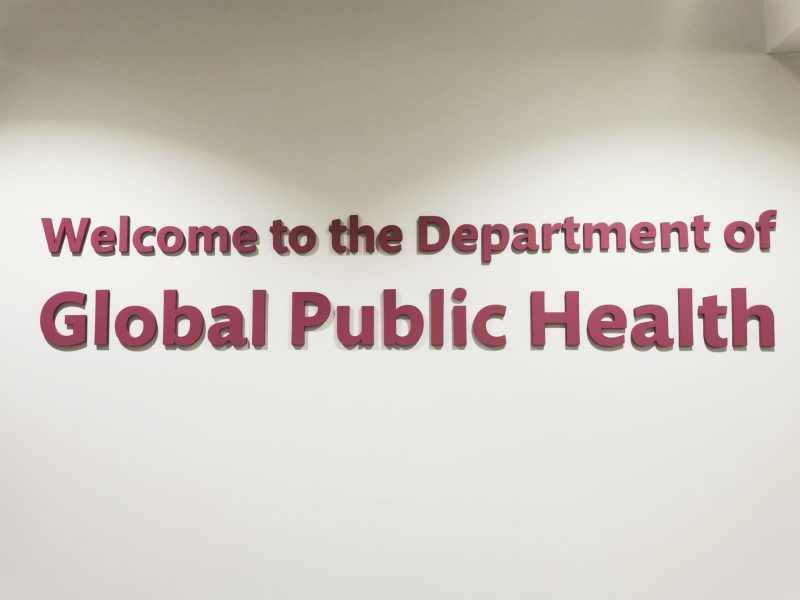 "Public vs Global Health": a Global Health student's perspective.
Hej Hej! We are in the middle of the application period and some of you might be thinking of applying to more than one programme. We also noticed that we often hear from people "But what's the difference between the Master Programmes Global and Public Health?".
Hence, we (me and Sarah, the DA from MSc in Public Health) decided to make a blog series on this topic and introduce you to our programmes. This is a series of two parts, one from a Global Health student's perspective and one from a Public Health one.
The programmes
Both programmes, Global Health, and Public Health belong to the Department of Global Public Health. Both curriculums cover super interesting topics, with some similarities but also notable differences.
Here we made a small comparison table, with the most significant characteristics of the two programmes.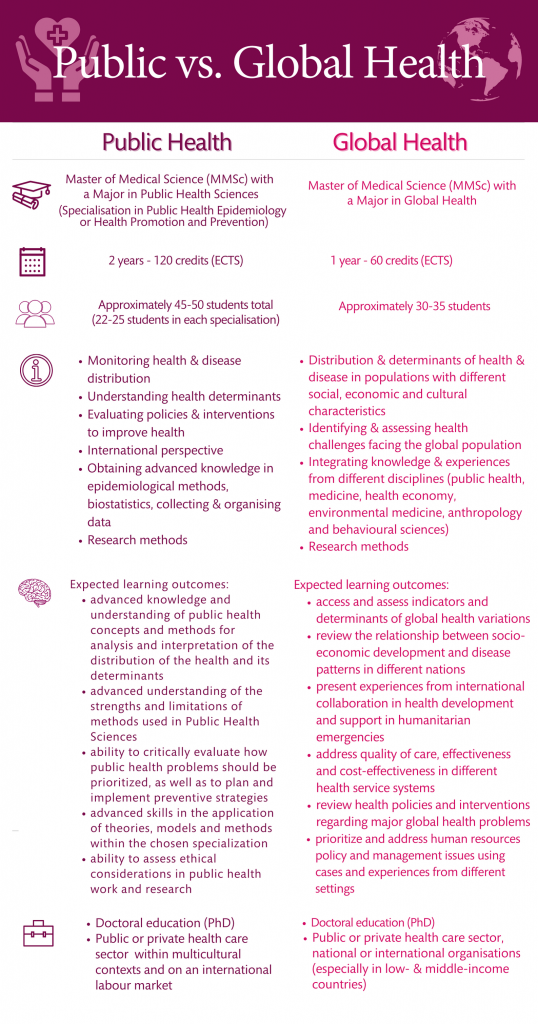 Interviewing Global Health Students
However, the most effective way for the readers to understand this student-based programmes comparison is to actually hear from the students themselves about their experiences. So we decided to conduct a small interview with students from each programme who applied to both the last year.
From the MSc in Global Health, we interviewed two students. They prefered to stay anonymous though so I will refer to them as "A" and "K" respectively.
So let's see what they said.
Why did you apply to both programmes?
A: "I was committed to pivoting away from clinical medicine and gaining experience in Public Health. Therefore I looked towards applying for both the Public Health and the Global Health programmes. I wanted to maximise my chances of pursuing the field that I hope to work in. So I thought to double my chances of acceptance. Further, each one offered slightly different teachings."
K: "Because both programmes have topics that are interesting to me and that I would like to study."
What were your expectations of each programme?
A: "Within the Public Health programme, I expected to be taught more detail about how to plan for, initiate and analyse Public Health interventions. I expected the Global Health program to give a condensed version of the PH programme but with a global perspective on health inequalities and problems."
K: "In terms of the Public Health programme, I believed that it would focus more on epidemiology, and discuss public health in general terms. On the other hand, I expected that the Global Health Programme would be more multidisciplinary, with more focus on international collaboration and Low and Middle-Income Countries."
Which criteria did influence your final decision?
A: "The Global Health programme was one year. Plus, while I was looking through the curriculum, I felt that it was more suited to my own goals and personal ambition especially with the focus on health at the global agenda."
K: "The criteria that influenced my decision were where I got accepted. I think I would have found both programmes useful and enjoyable."
Are you happy with your choice after all?
A: "In my opinion, everything in life is an experience and teaching from which we can learn. I am incredibly grateful for this time I now have in Sweden with my colleagues on the Global Health masters. I could never have imagined meeting such an extraordinary group of like-minded individuals who truly believe in a positive vision for the future of all our health."
K: "Yes!"
We hope that you found interesting our blog series! However, we would like to strongly recommend you consult the KI website for your application process in each program. You can find all the requirements needed on the KI website and in universityadmissions.se.
We would like to highlight that this blog is only based on students' perspectives on current data about programmes outlines. In no case does it overwrite the information on the official university's websites.
Further, we encourage you to apply to each program (or both) you want and you feel. We hope these blogs would be useful for you and don't hesitate to contact us via email if you have any questions.
Make sure you will check Sarah's blog (link), to see the Public Health student's point of view!
Alexandra and Sarah 🙂
Hey! My name is Alexandra, and I am a Digital Ambassador and the blogger of the MSc in Global Health at KI. I have a BSc in Nursing, and I come from Athens, in Greece where I also studied for my first master's degree in pediatrics. While at KI, I am looking forward to gaining as much knowledge as possible in terms of Global Health, being involved in various activities, and expanding my network. Also, I would love to make new friends and travel around Sweden. In my free time, I enjoy listening to music, doing sports, spending time with my friends, and exploring new places.