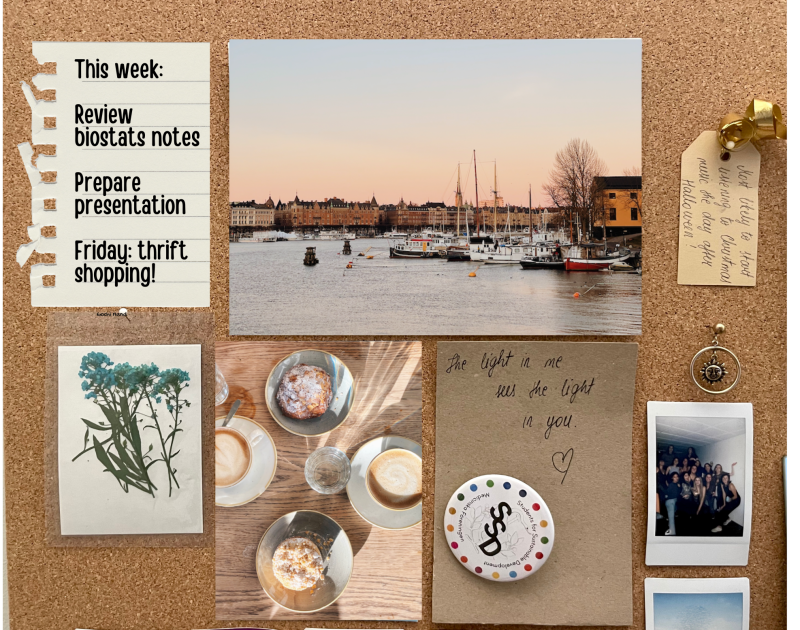 A week in the life of a master's student
The admissions results are only a few days away! If you are anything like me when I applied, you've been spending a lot of time daydreaming about studying at KI. Well, I thought I'd support your daydreaming endeavours and (virtually) take you along one of my weeks.
A bit of background information so that the rest of the blog makes sense:
I'm a first-year student in the Master's Programme in Public Health Sciences – Health Promotion and Prevention.
I live in the Solna residence in a four-bedroom apartment with my flatmate Taalke from Germany and Riccardo from Italy (we're currently waiting for our new flatmate to move in).
For most global master's programmes at KI, the courses are scheduled in blocks meaning that you only take one course at a time for a few weeks before moving on to the next.
So let's dive into lectures, studying, social life and all of the in-betweens of being a student at KI!
Monday
My week begins with my alarm waking me up at 7:00. When I open my blinds, I'm greeted by a bright and sunny day. I do a quick workout in my room, have breakfast and get ready for class.
Shortly before 9:00, I settle into one of the classrooms on the Solna campus. This is the public health sciences (PHS) programme's fourth week of Biostatistics II. Next week we'll have our final exam!
The focus of this week's content is survival analysis and Monday's lecture gives us an introduction to this topic.
The lecture ends at 12:00, I walk back to my apartment to cook and eat lunch. Most students prepare their meals in advance and have lunch together on campus but I am not quite as skilled at meal-prepping yet.
At 13:00, the learning continues with a biostatistics lab. During the labs, we apply the material of the morning lecture through practice problems and coding in Stata.
The rest of my Monday isn't very exciting. I do my laundry and spend some time looking for apartments for next year before going to bed around midnight.
Tuesday
Tuesday morning is off to a similar start. In today's lecture, we go further into survival analysis by learning about the non-parametric Kaplan-Meier method.
After the lecture and lunch, I go grocery shopping for the week. Then I work on Stata practice problems and once I'm done, I take a nice long nap.
On Tuesdays, I usually go to a pub quiz with a group of friends in the evening. We have never gotten remotely close to winning but we did get a gift once for coming second to last 🙃. Still, it's a lot of fun!
However, today I'm feeling like spending the night in so I don't join. Instead, I have a nice dinner at home and practise some Swedish with my flatmate Riccardo.
Wednesday
On Wednesday, students in the PHS programme learn about parametric survival analysis methods during our morning lecture.
After lunch, we have another biostatistics lab during which we practise conducting and interpreting survival analyses with Stata. We first try to solve the practice problems on our own or in small groups before going over the solutions together.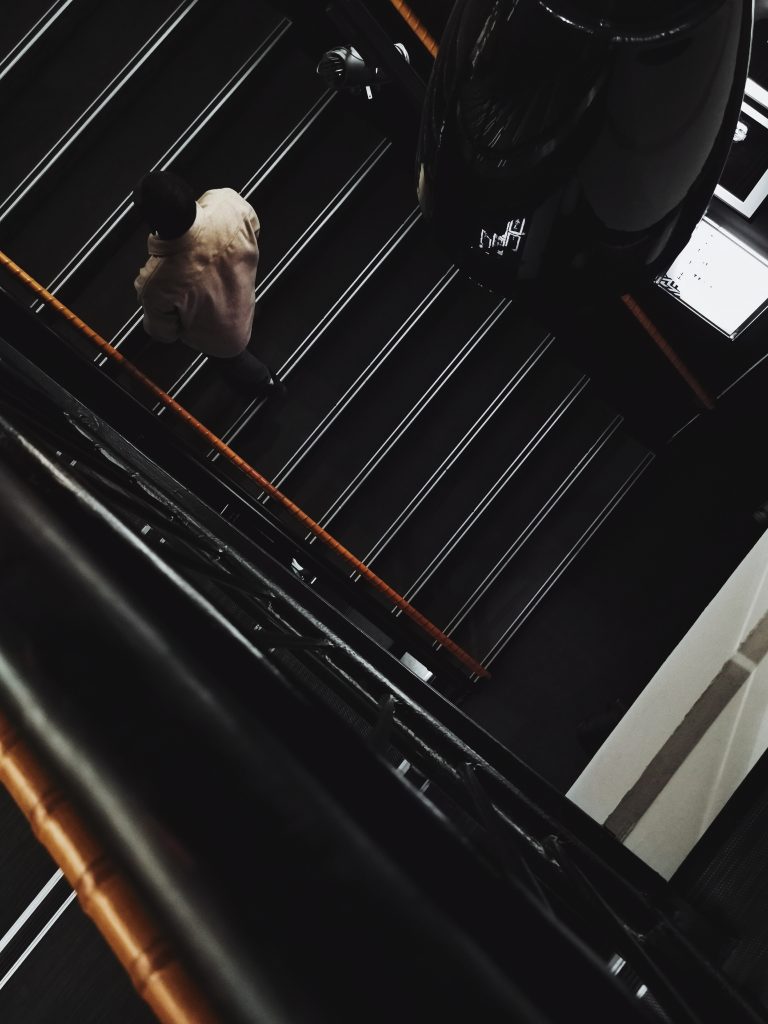 After the lab, I meet up with some of the digital ambassadors (DAs) and we take the bus to Fotografiska (a photography museum in Stockholm). There, we meet the rest of the DA team for a workshop on photography and storytelling.
Afterwards, we have dinner at one of the museum's restaurants. Since most DAs have quite busy schedules, I really enjoy catching up with them and spending the evening laughing over a wonderful meal.
Before heading back home, a few of us walk around the museum some more to appreciate the various exhibitions on display.
After a long and exciting day, I arrive home ready for some good rest.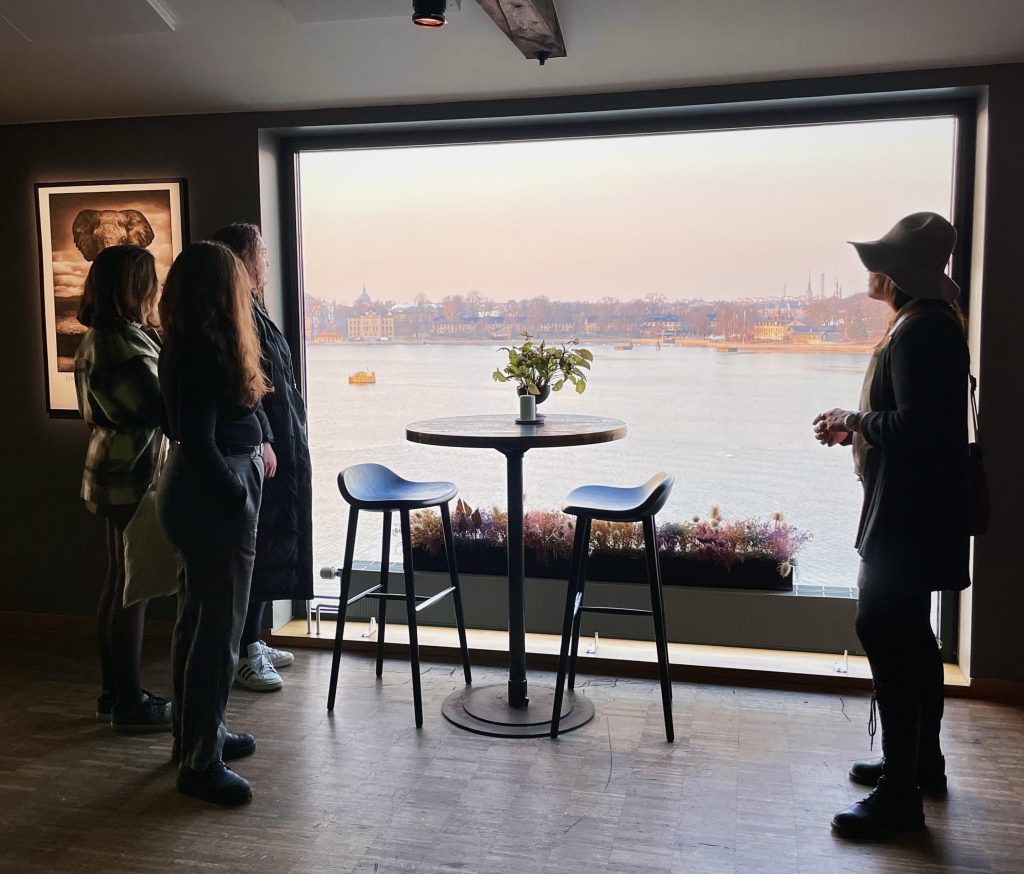 Thursday
On Thursday we have our last lecture for the week: univariable Cox regression. The material has gotten more complex as we progressed through the week so today we spend more time asking questions in lecture.
Later in the afternoon, I attend a seminar hosted by the student organisation Students for Sustainable Development (SSD) with Dr. María Neira (Director of Public Health, Environment and Social Determinants of the Health Department at the World Health Organisation) as the speaker. One aspect that I love about studying at KI is that the university and student organisations frequently host seminars and workshops on various topics, giving one plenty of opportunities to learn and broaden one's horizons. As I recently became a member of SSD, I help set up before and clean up after the event.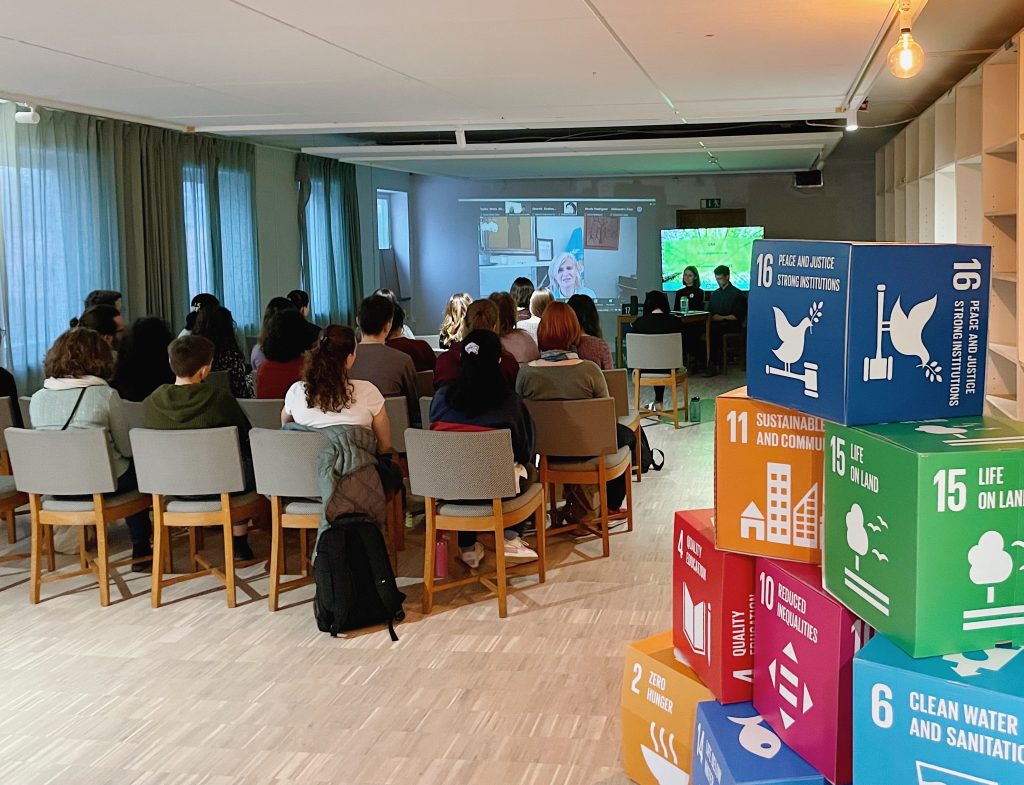 After the seminar, I go out to a pub in Gamla Stan with a group of people to celebrate a friend's birthday. A fun end to an educational day!
Friday
Friday morning is off to a bit of a slow start since I don't have any lectures.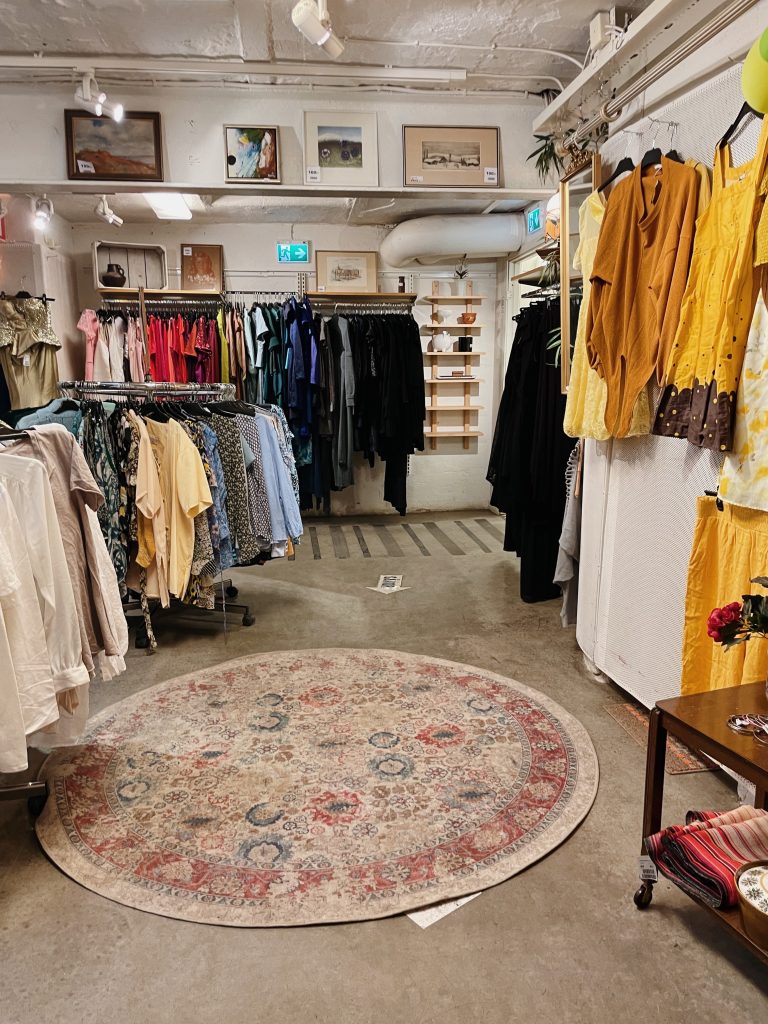 After a late breakfast and chatting with my flatmates, my flatmate Taalke and I bike to go thrift shopping at Odenplan. If you enjoy thrifting, Stockholm won't disappoint you. There are plenty of shops in the city and if you're looking for inspiration on where to go, be sure to check out Lauren's blog on her favourite second-hand shops.
At about 15:00, I go to a nearby café to work on a blog. While editing my blog, I take sips of cappuccino along with a kardemummarbullar (cardamom bun).
After about two hours, I enjoy a sunset bike ride back to my Swedish home.
The rest of the evening is really fun. My flatmates and I have a tradition of cooking and eating dinner together once a week. Today it's gnocchi night. I'm quite proud to say that they turned out amazing. However, I did underestimate how intense the preparations under the supervision of an Italian would be. After our bellies are nice and full, we relax on our couch and chat until we're nearly half asleep.
Saturday
Saturday was an equally amazing day.
After a quick breakfast, Taalke and I bike to KTH Royal Institute of Technology (or Kungliga Tekniska högskolan in Swedish). There we meet a friend and go on a long morning walk through the forest behind the university's campus.
Once our brain cells are fully replenished with oxygen, we head to the KTH library. I really enjoy studying in libraries and I'd usually go to the one at KI. However, since I frequently need a change in my surroundings to focus better, I love exploring other good study spots in Stockholm.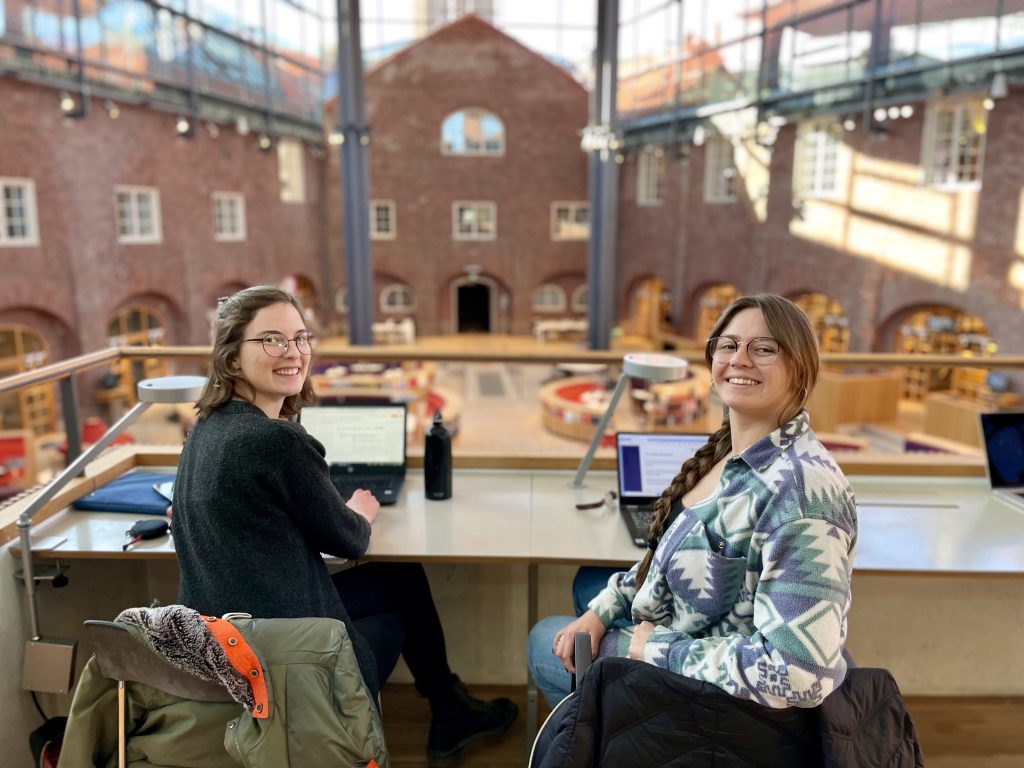 We study there from 10:30 until 16:00, with a break to enjoy lunch outside in the sun. I continue working on transcribing interviews for a blog. Later, I spend some time reviewing the material we had covered in biostatistics and organising my notes.
After a productive few hours, we pack our backpacks and walk down the street to enjoy fika and chat about life.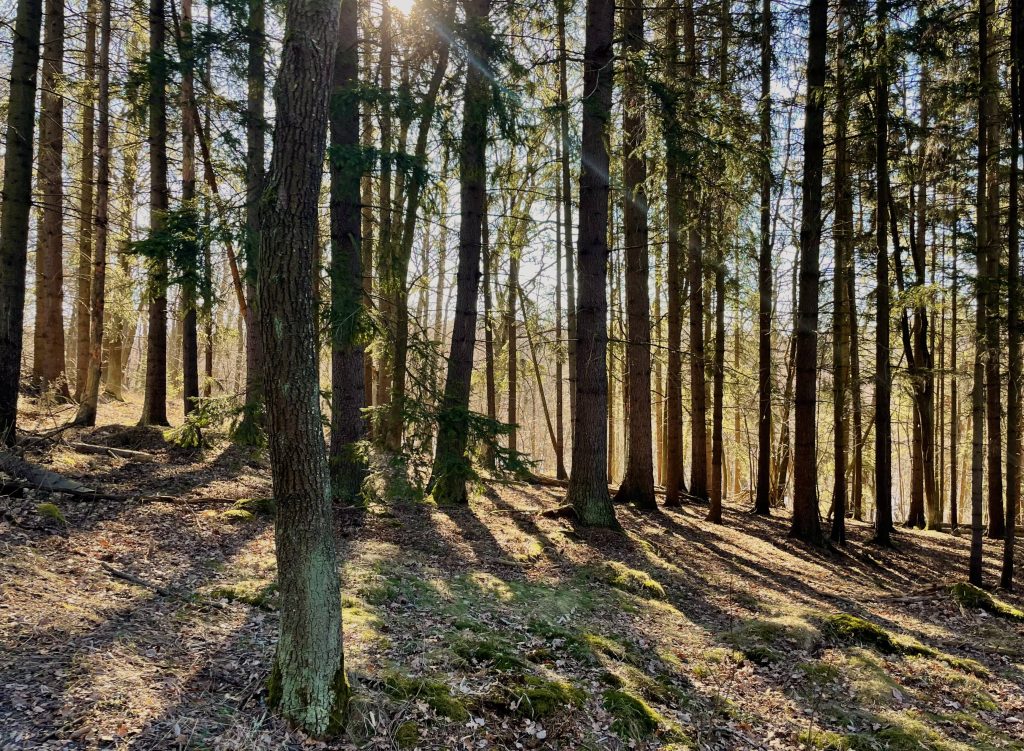 While the sun slowly sets over the streets of Stockholm, Taalke and I bike home. I spend the early evening relaxing and chatting with my flatmates. At first, I was planning to go to bed somewhat early. However (due to peer pressure), I end up joining some friends in going to a party at Medicinska Förenigen (commonly called "MF").
Sunday
Because of Saturday night, I sleep in Sunday morning.
Compared to Monday, when the sun rose at 6:07 and set at 17:45, today the sunrise was at 5:49 and the sun wouldn't set until 18:01––meaning 32 more minutes of daylight!
After having enjoyed breakfast, I begin working on a presentation for biostatistics. Every week, one group reviews the material of the previous week to help clarify any topics that the class found difficult. This Monday it's my group's turn. Hence, my task of the day was to create slides on interpreting Kaplan-Meier survival analyses.
For the courses I have taken so far, I generally do not have to spend too much of my weekend on assignments or other coursework. What I have noticed is that most of my peers generally use their weekends to review lecture material or spend time on their commitments outside of the programme (e.g. as a board member of a student organisation, working for an NGO, helping organise TEDx, etc.)
It takes me most of the day to work on the presentation. In the evening, I clean the kitchen in my apartment since that's my cleaning duty for the week. After spending some time catching up with my flatmates and hearing how their days went, I go to bed to start the new week bright and early.
---
That was my week! Some days were definitely more exciting than others but I hope it gives you an example of what a week of being a student at KI may be like.
– Sarah : )
Hej! My name is Sarah and I'm excited to share my experiences as a Public Health Sciences, Health Promotion and Prevention student with you! I grew up in Salzburg, Austria but completed my bachelor's degree in the United States where I studied nutrition and sociology. When I learned about KI's emphasis on collaboration and the diverse student cohort, I knew that KI is where I wanted to pursue my master's degree. In my free time, I love having "fika" with my peers, spending time outdoors, exploring Stockholm and––on colder days––knitting.