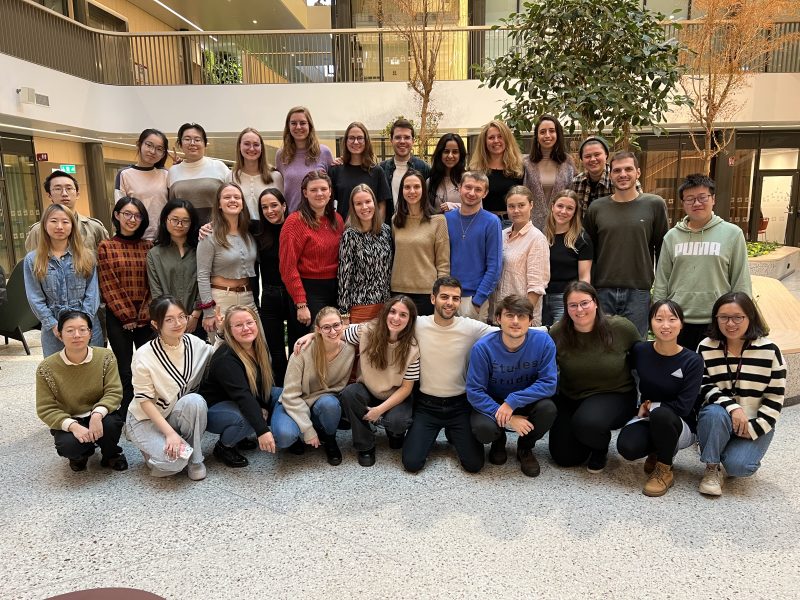 Meet the class of MSc in Translational Physiology and Pharmacology 2022
I'm excited to introduce you to the first MSc in Translational Physiology and Pharmacology class! We are 37 students from 16 countries with a variety of backgrounds. Most of us have come to Karolinska Institutet to learn more about human physiology as well as pharmacology and to find ways to translate discoveries from the lab to patients. Here you'll find out a bit more about our backgrounds.
Nationalities
Looking at the map, somehow all of our class for this year happened to come from the northern hemisphere. Overall, we have students from 4 continents and 16 countries with the most students from China (12) and Germany (6).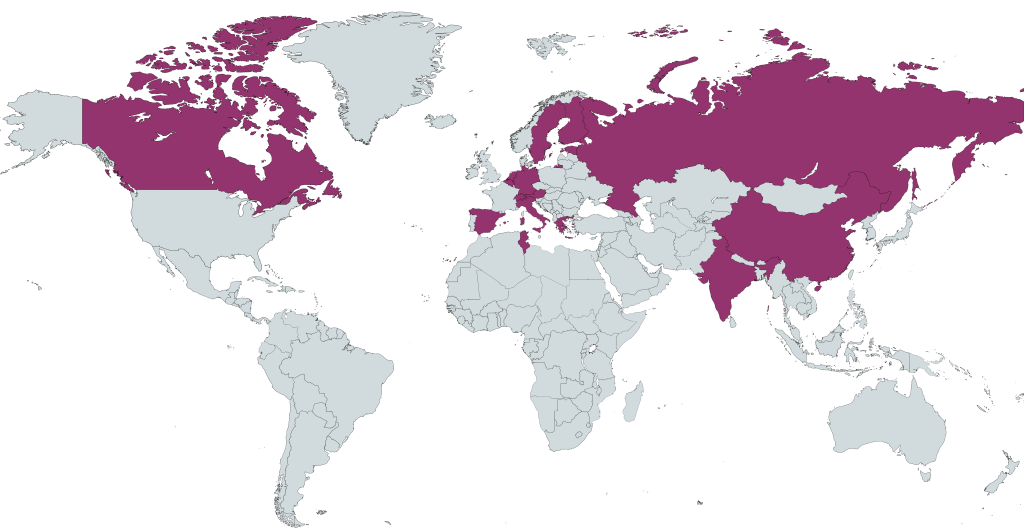 Languages
As a group we speak a lot of different languages – 18 to be precise – which means that often we start to discuss the similarities and differences between each one. This type of multilingual environment really makes learning about other cultures and customs very fun and easy. As an example, once we were discussing what sound an animal e.g. a dog makes in our languages. For this some memorable examples include a dog saying "hab-hab" in Tunisian, a duck saying "prääks-prääks" in Estonian, and a Finnish rooster saying "kukkokiekuu".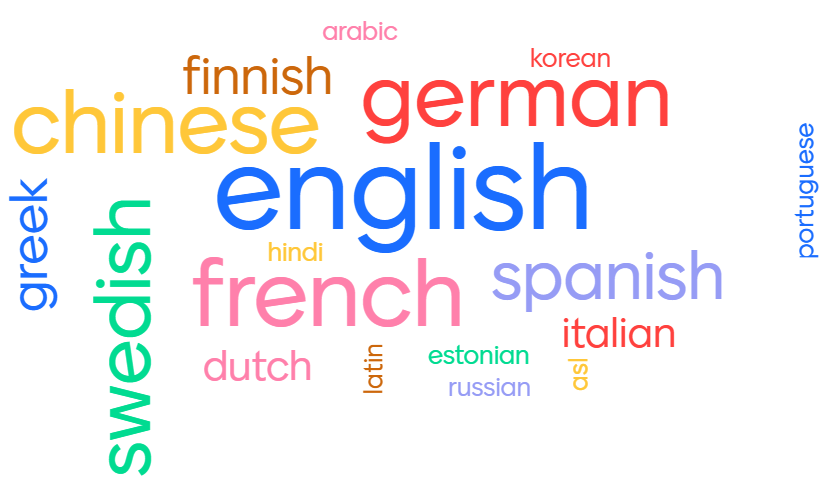 Age
The majority of us have just finished our bachelor's studies, so a master's degree was the next logical step. However, that's not the case for all of our classmates, some have done other master's programmes, others have worked in research as well as in the clinic. So this just goes to show that everyone has their own journey in their education and career, confirming that there's no "best age" to do a master's degree.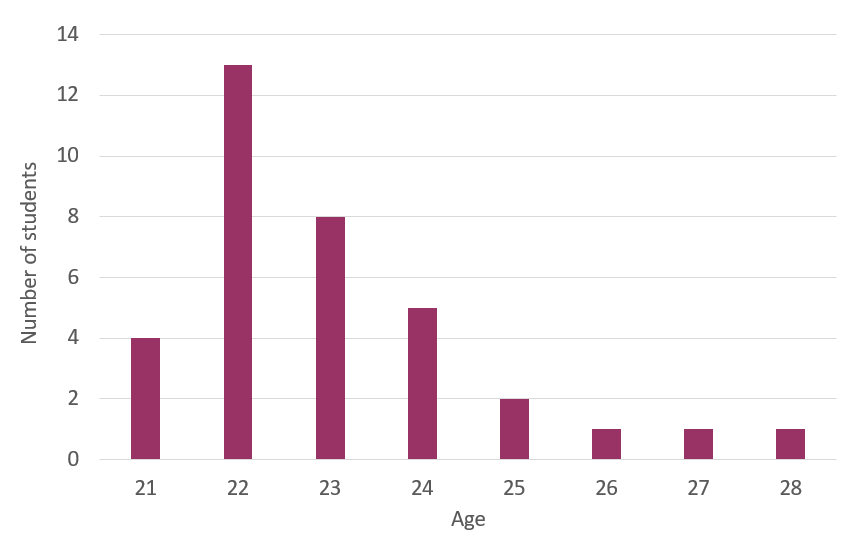 Academic background
The two most common academic backgrounds for this year's class are biomedical and pharmaceutical sciences, however, we also have students who have previously studied neuroscience, molecular biology or bioinformatics. This means that everybody brings a unique perspective to the topics and discussions. It is particularly valuable when we are working in groups and analysing case studies as some students have more clinical experience and others know more about the molecular mechanisms underlying a specific disease.
Be sure to keep in mind that as everyone's programme is different, it's important to check the specific entry requirements on the official MSc in Translational Physiology and Pharmacology website before applying.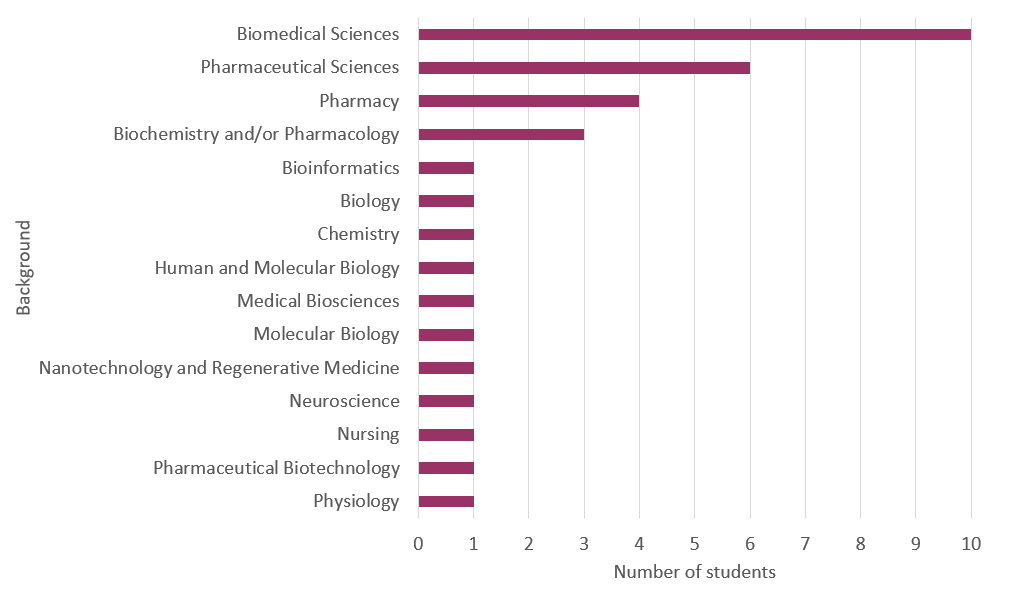 Thoughts on the future
The question that any person who's studying a master's degree gets the most often is "what do you want to do next?" The honest answer is that we aren't totally sure yet, but when asked to speculate, most people said that in the near future they are looking to continue in academia and do a PhD. The rest either said that they would like to work in the pharmaceutical industry or in a clinical setting. Luckily, we have 3 more semesters to consider our options and decide what we want to pursue!
I hope this overview of the current Translational Physiology and Pharmacology students and their backgrounds is insightful for prospective students. If you are interested in applying for this programme, be sure to keep an eye out for more blog posts!

I am Karolina and I am a digital ambassador and a blogger for the Master's Programme in Translational Physiology and Pharmacology here at KI. I was born and raised in Estonia, but for the past five years I have lived in the UK where I studied biomedical sciences with a focus on pharmacology. Outside of school I like baking with friends as well as doing water sports. When the weather starts to get warmer, I look forward to kayaking through Stockholm's world-famous archipelago.