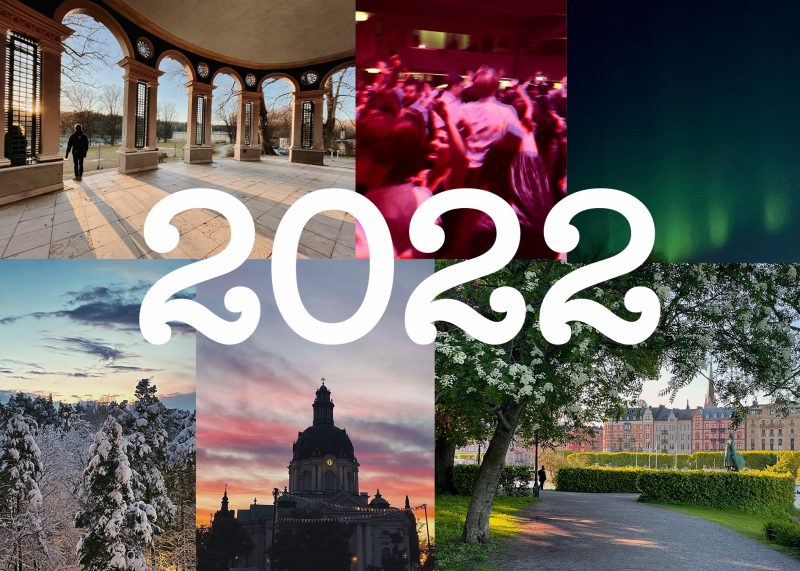 A year in review: A photojournal of life in Stockholm
2022 was a special year, and I was lucky to spend most of it in Stockholm with wonderful people. I am also happy I got to capture many of the magical moments of everyday life and special events through photos. This blog is a little collection of my most treasured memories of 2022. I hope it gives you a glimpse of what a year in Stockholm is like.
January: It's finally getting lighter!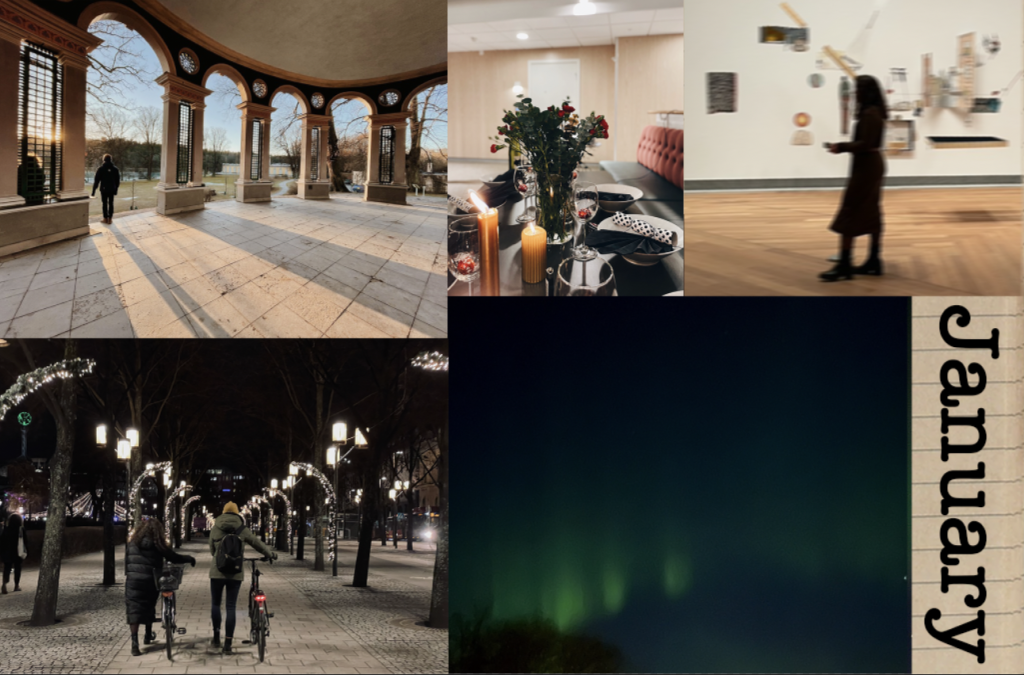 The year started off with after-lecture museum visits and group dinners on cold days. The slowly increasing daylight was savoured in walks in Haga park. The most amazing moment was seeing the northern lights right above Stockholm!
February: Cosy times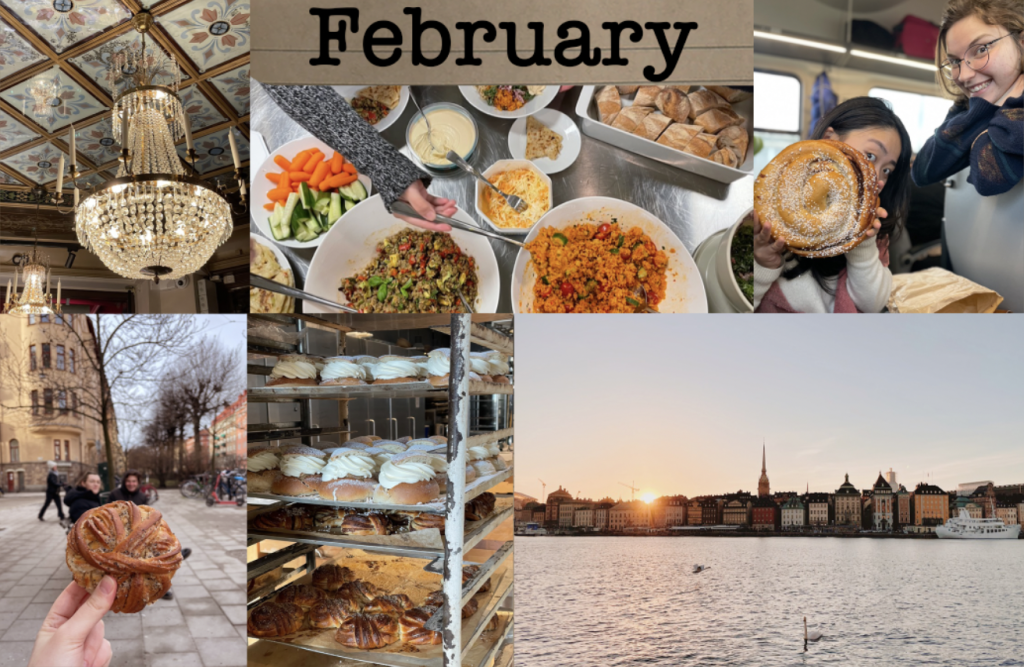 February was still very chilly, but now that it was getting lighter, I spent more of my free time in the city and outside. There was plenty of fika study breaks with friends and enjoying the seasonal pastry semla. Some friends and I also visited Gothenburg for a weekend which was really fun and we got to share a massive kannelbullar!
March: Slowly returning back to nature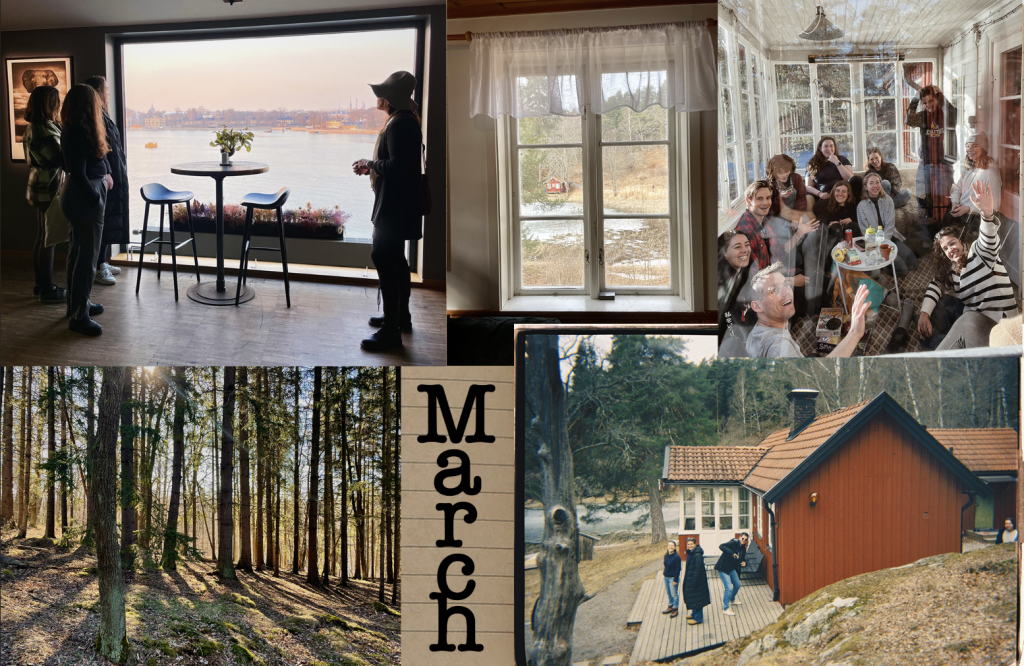 The snow was nearly melted and the once bare branches were now budding leaves. The PHS class took an incredibly fun weekend trip to the Solvik cabin. I also visited the Fotografiska museum for the first time with the DA team.
April: Spring!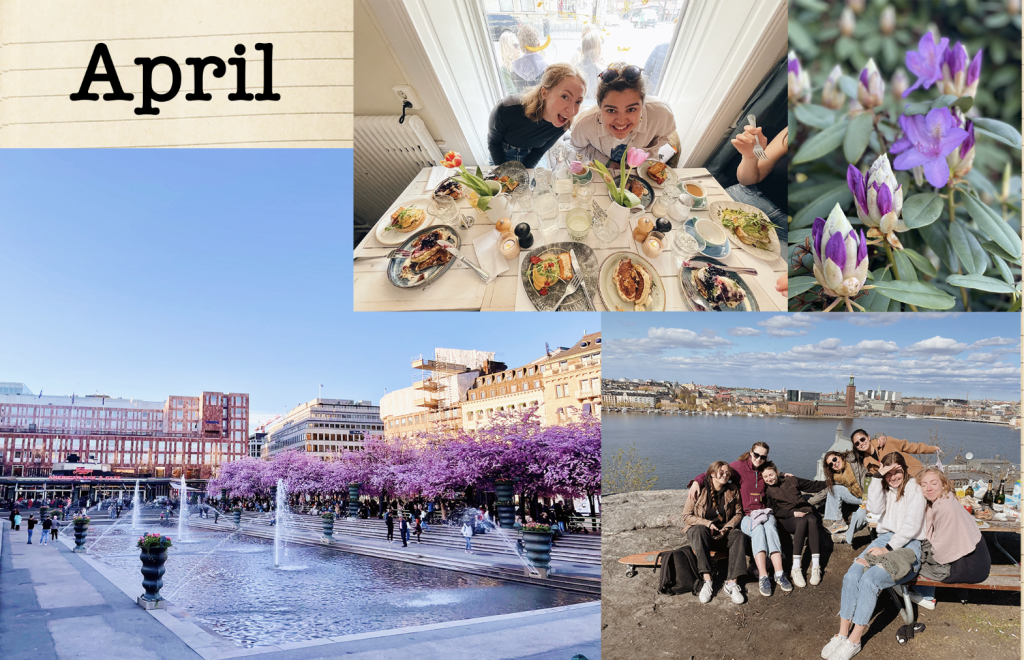 In February and March, you sense that you are slowly nearing the end of winter. April's burst of flower blossoms and liveliness returning to the streets of Stockholm removes all doubt that spring is finally here. It marks the beginning of such an incredible time of the year, and I spent as much time as possible soaking up the soft spring sunlight.
May: A city in bloom & quality time with friends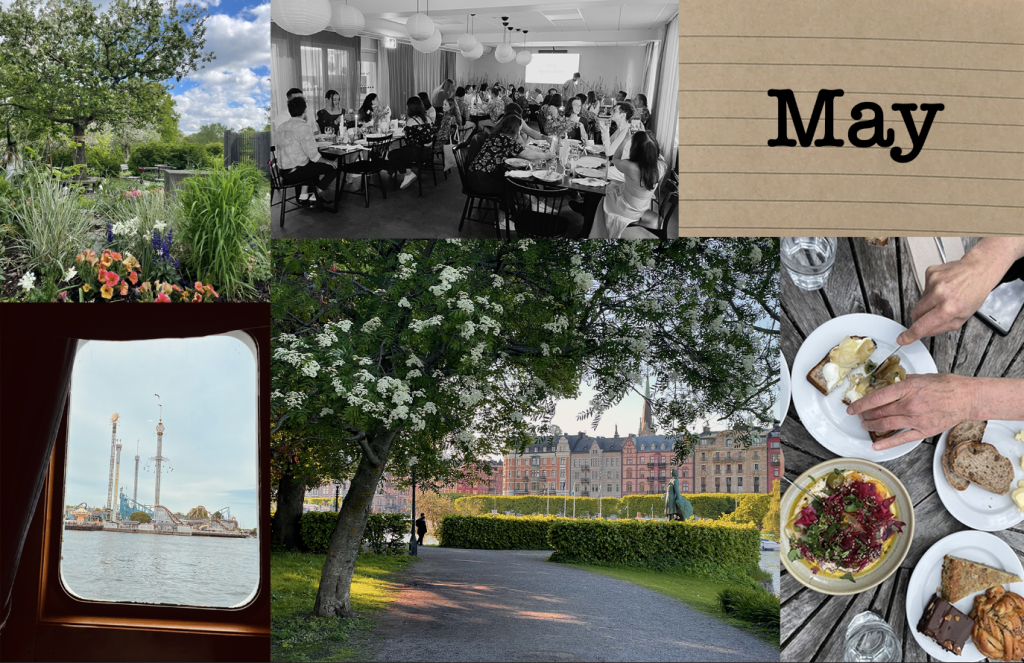 In a city now lush with green, there is an almost tangible sense of excitement and joy in the air. (It's cheesy but it's true!) Other than exploring the city and enjoying fika outdoors, one of my favourite moments was having a spring dinner with a bunch of friends to celebrate the end of the academic year.
June: Stockholm summer bliss
PSA: If you can spend (most of) your summer in Stockholm, do it! Trust me, you won't regret it.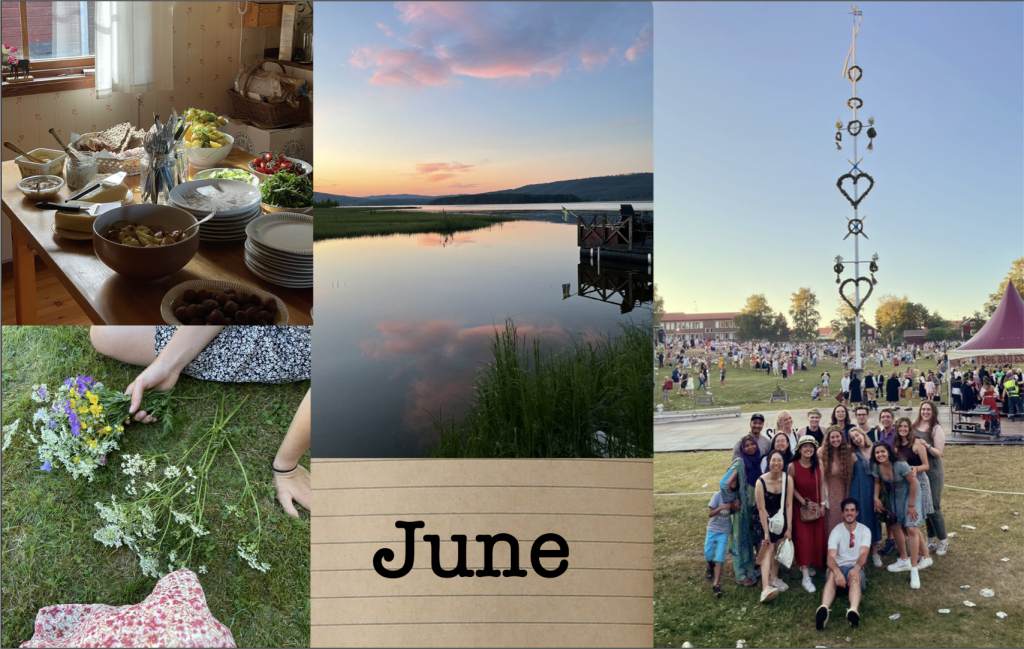 June was probably one of my favourite months of the year. An unforgettable part of my entire time in Sweden thus far was celebrating Midsommar. An incredibly kind classmate invited our class to join her family in the Dalarna region to celebrate the summer solstice. We enjoyed tasty food, made flower crowns, went on 11 pm sunset swims, and danced along to Swedish songs that most of us did not understand.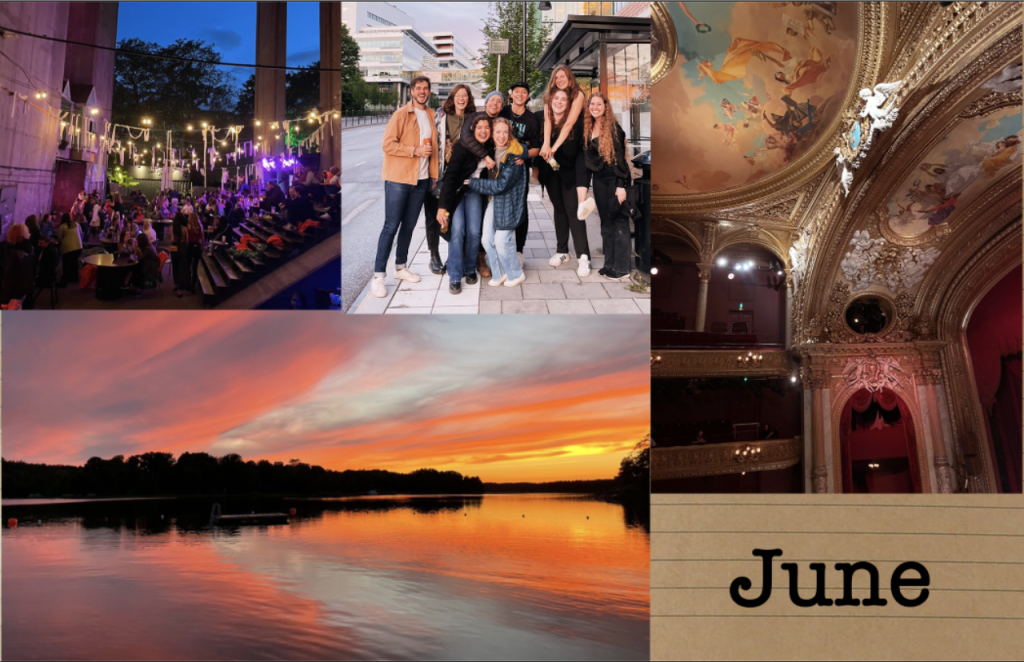 Back in Stockholm, I spent the long summer nights going out with friends, enjoying performances at the Royal Swedish Opera, and, of course, swimming and watching the sunset.
July: More fun in the sun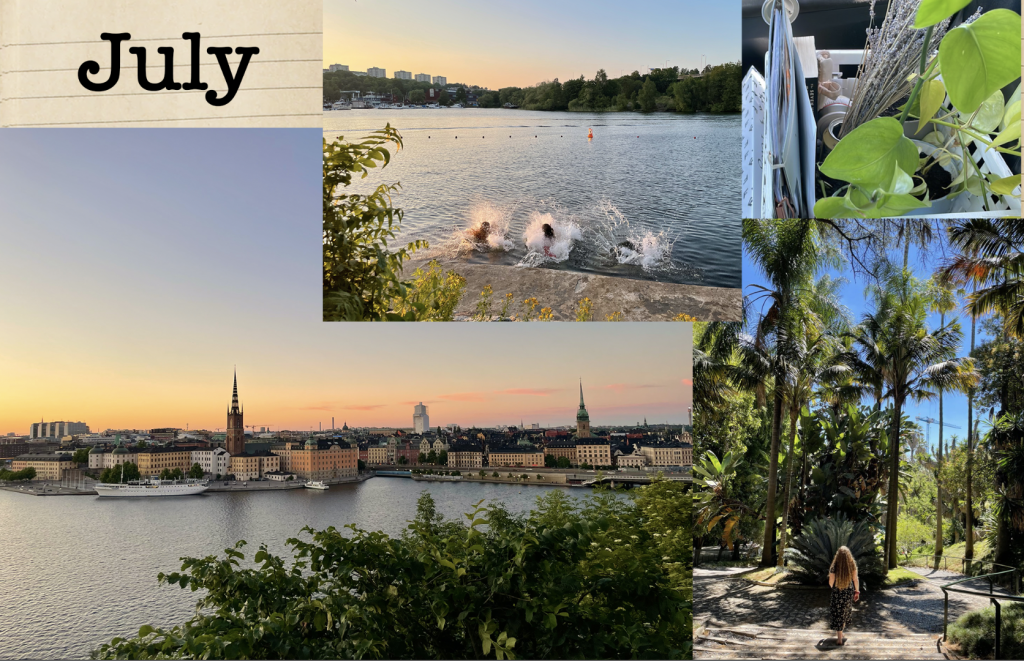 My July days involved working on summer research projects during the day and then meeting up with friends for picnics and swims in the evening. As in many other places, this summer was unusually hot with many days over 30°C, so every opportunity to cool off was taken advantage of. Toward the end of the month, I moved from KI's Solna residence to the Strix student accommodation. After that, I got to visit a friend in Portugal.
August: Lots of adventures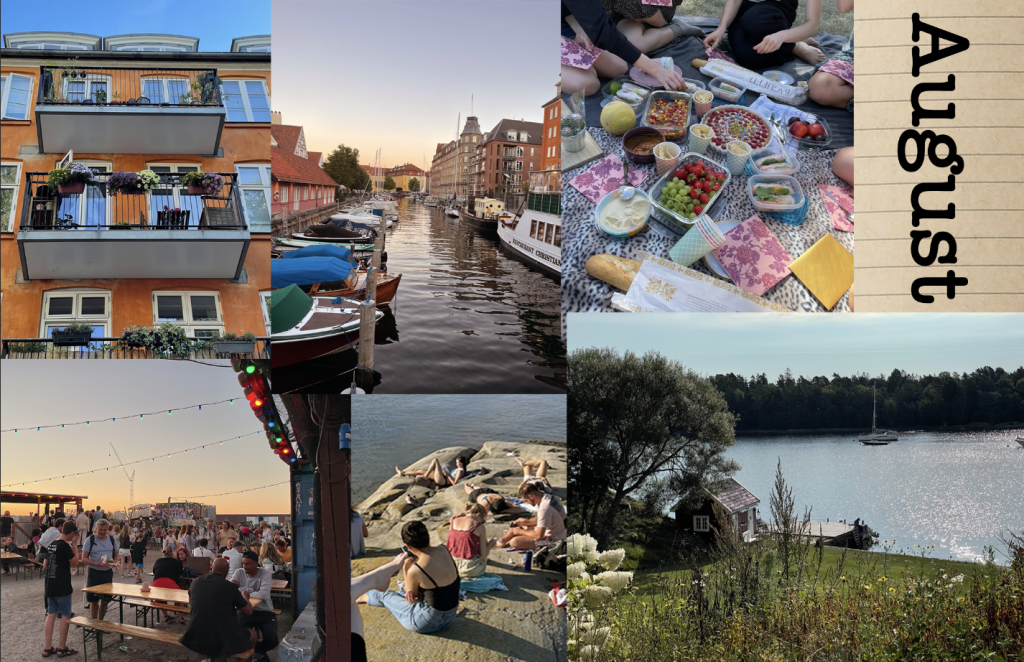 My travels continued to Copenhagen, Denmark, to participate in the University of Copenhagen's Global Health Case Challenge (more on that in a future blog). I absolutely fell in love with the city! Right before the start of classes, I got to travel to Torød, Norway, with some friends and stayed at a friend's beautiful home right on the water. It was such a nice ending to an incredible summer.
September: Beautiful trees and lots to study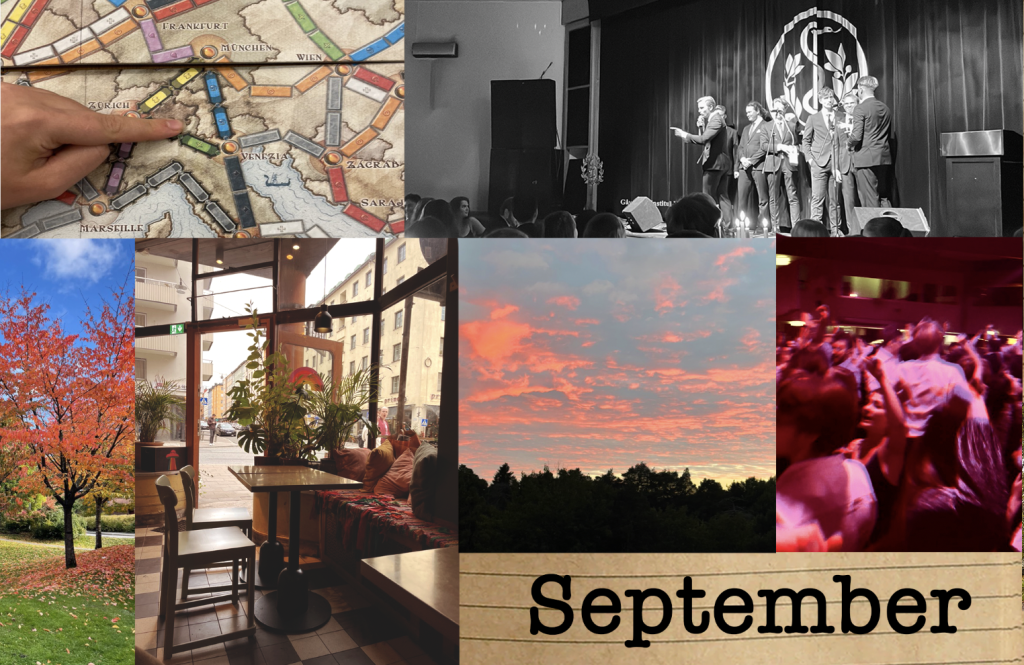 Only a few days into September and classes were in full swing again. While summer in Stockholm is phenomenal, the city really is stunning in the fall. The trees in Stockholm turned to the most vibrant shades of orange and red, and accentuate the city's buildings beautifully. Afternoons were spent studying in cafés and evenings playing board games. A really fun experience was going to Medicinska Föreningen's Gasque and dancing until the early hours of the morning.
October: Sunny fall days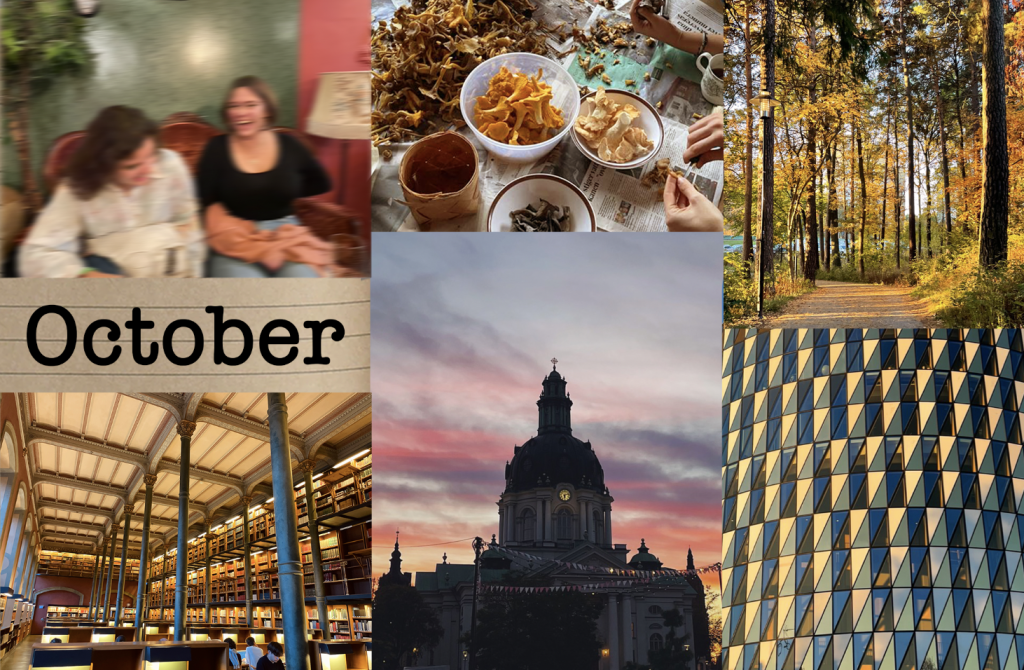 The leaves continued to fall as the days grew noticeably shorter. Between study sessions in the National Library of Sweden, there was plenty of fika, walks in the beautiful nature, and even a mushroom-picking trip!
November: Start of winter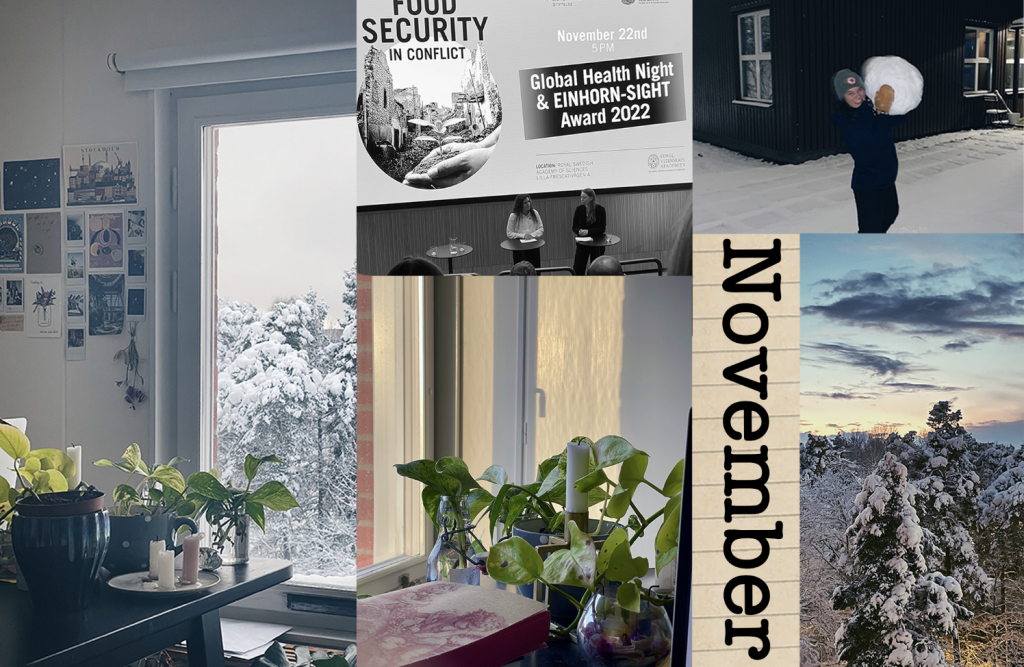 November brought the first snow of the winter! While I did miss the pretty fall colours, the landscape really looked beautiful. I spent the majority of my days inside working on assignments and projects, but it was still a good month. I attended the Global Health Night (a student-led academic event) and even had a highly-competitive snowball fight!
December: Precious moments of light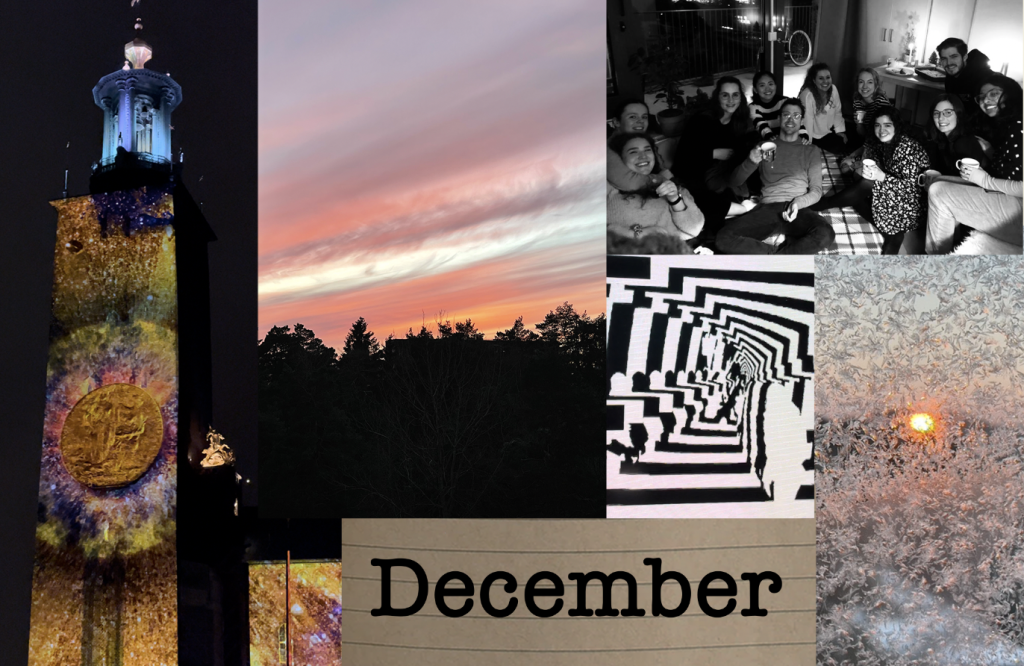 The end of the year can be tough as there is very little daylight and people start to run low on energy. Still, it is a very special time and spending time with friends can bring a lot of warmth to these cold winter days. I went to see the spectacular Nobel Week Lights installation in the city and had lots of cosy evenings with friends.
---
Now let's see what 2023 brings!
– Sarah : )
Hej! My name is Sarah and I'm excited to share my experiences as a Public Health Sciences, Health Promotion and Prevention student with you! I grew up in Salzburg, Austria but completed my bachelor's degree in the United States where I studied nutrition and sociology. When I learned about KI's emphasis on collaboration and the diverse student cohort, I knew that KI is where I wanted to pursue my master's degree. In my free time, I love having "fika" with my peers, spending time outdoors, exploring Stockholm and––on colder days––knitting.