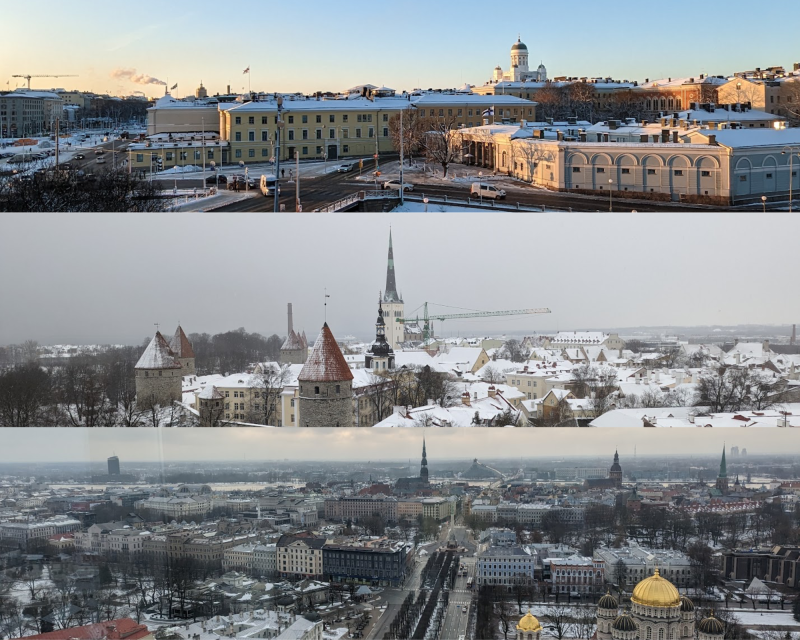 My trip across the Baltic Sea! Exploring Helsinki, Tallinn, & Riga
I hope everyone had a good start to this new year! My year started with the fun assignment to work on a take-home exam. However, that means also we don't need to be physically present. As a traveler, I was thinking why not use the time away to explore some surrounding countries and take a trip around the Baltic Sea?
Helsinki "the white city"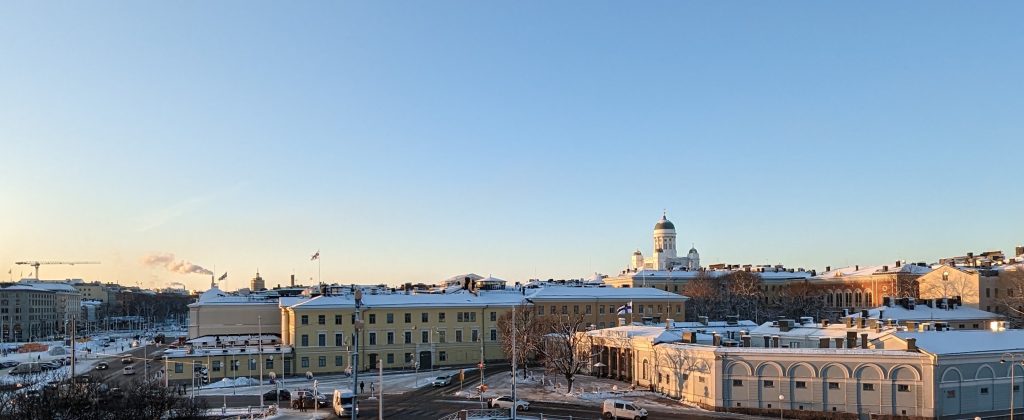 How did I get there?
From Stockholm, there are two ways to get to Helsinki from Stockholm. My trip was somewhat last minute therefore, I took the plane since flights were relatively cheap (650 SEK) and it is only about 45 minutes. However, there is also the ferry which takes 16 hours, and depending on the time and type of cabin price can differ.
What is there to do?
Helsinki is a modern city next to the water but with many activities to enjoy. In the wintertime, there are plenty of beautiful lights in the city and we had the opportunity to participate in the LUX Helsinki the annual light art event.
If you think about Finland what comes to your mind are probably reindeers and Saunas. Unfortunately, I didn't see any reindeers (I tried some as you will see later!) but I had the chance to go to a sauna with an ice cold sea pool!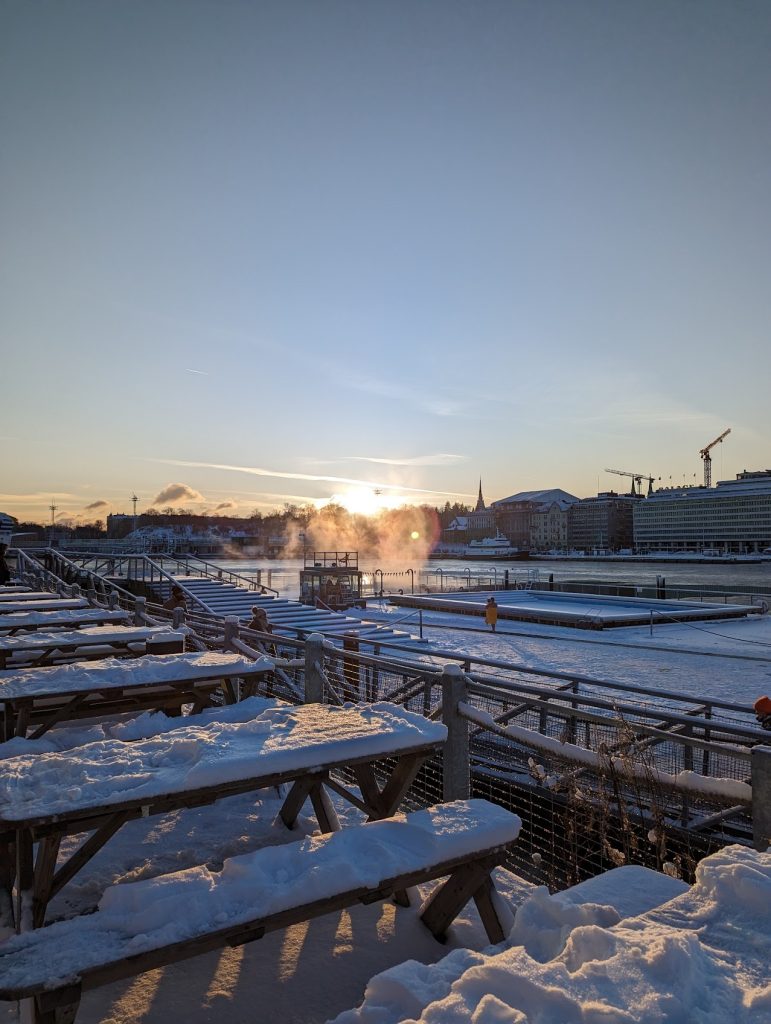 Churches
It is impossible to not see the white Helsinki Cathedral that is overshadowing the city. It was built between 1830 to 1852 as a tribute to the Grand Duke of Finland and is in a neoclassical architecture called Empire while the interior is minimalistic. Right next to it, you have the Uspenski the Easter Orthodox Cathedral imitating the style of a 16th-century church near Moscow. The Temppeliaukion Church was one of the most impressive churches I have seen in a while since was built directly into the stone. It is 5 € for entry, however, it is definitely worth it.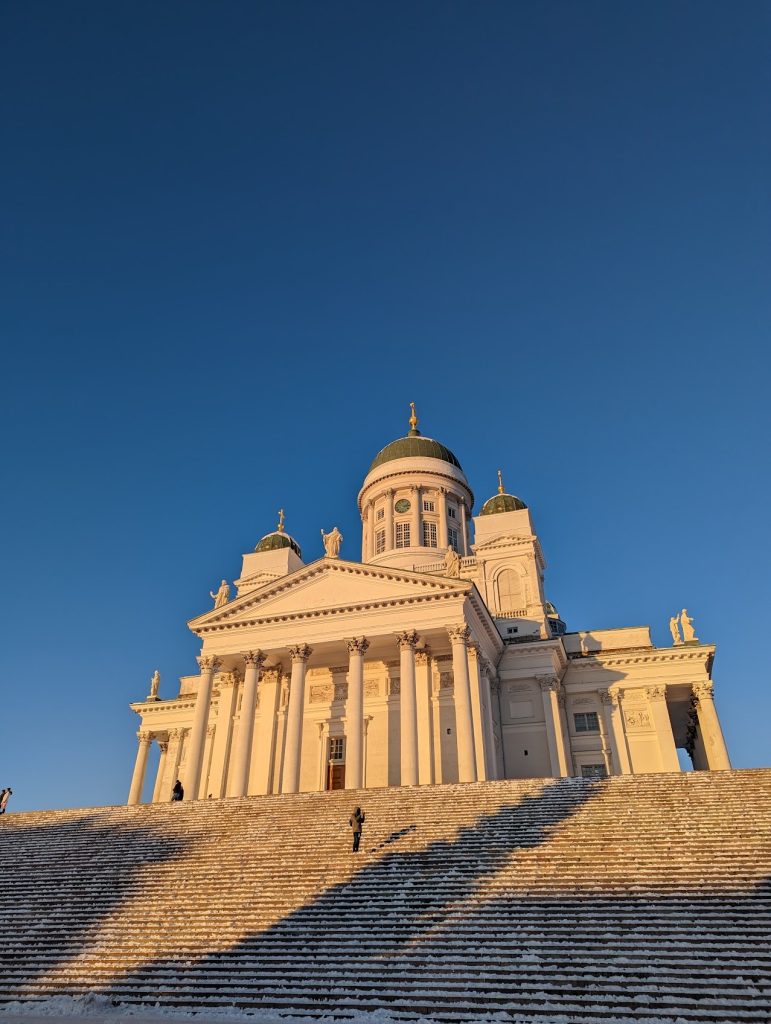 Suomenlinna
If you have the chance I 100% recommend going here! It is an 18th-century sea fortress with cannons, nature walks, and several cafes. After serving under three different states and crucial points of their defense system, it is now part of the UNESCO World Heritage. Easy to access through public transport (Round ticket costs 6€) taking only 15 minutes makes it an essential visit.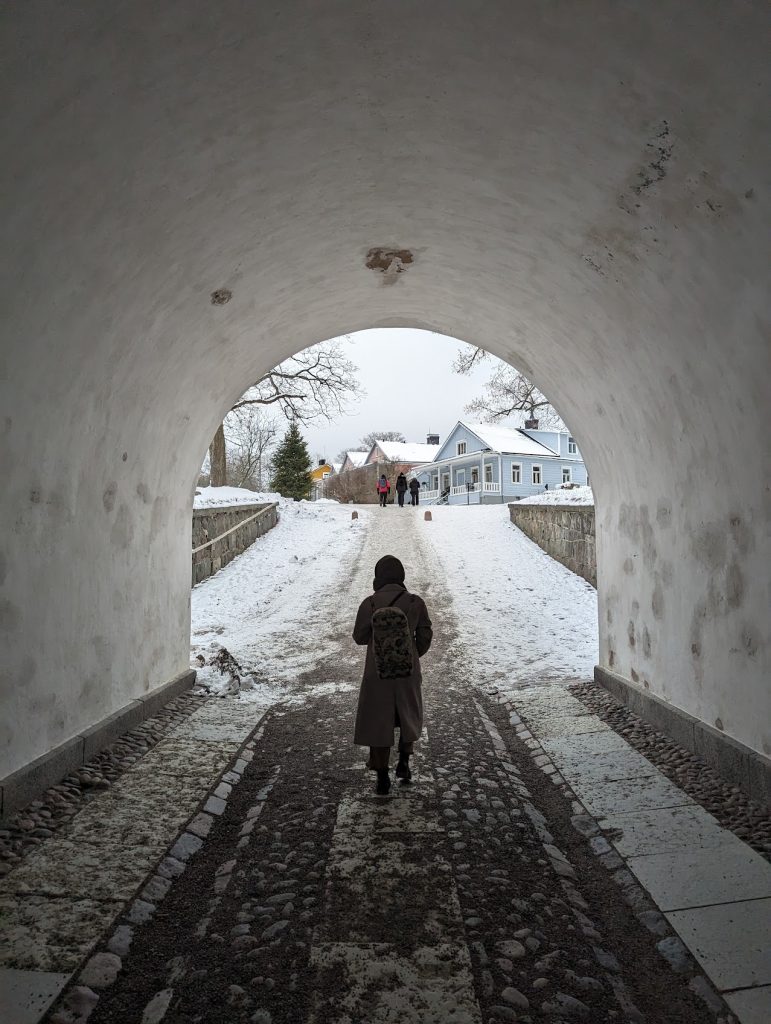 Food & Cafes
Around Helsinki, there are plenty of places to eat or drink coffee. One meal on my bucket list was reindeer and I found it in this Lappish restaurant, although you can also find many traditional Finnish meals in the food market. Some of the best cinnamon buns we have eaten were from the café Rams Roasters and for the famous Finnish rye bread we went to Bakery Eatery Levain Töölö. Last but not least we were told one of the best coffees in Finland can be found at Cafetoria Café & Shop. If you want to have a quick break on Suomenlinna and experience the russian style of 1870s you should go to Café Vanilla.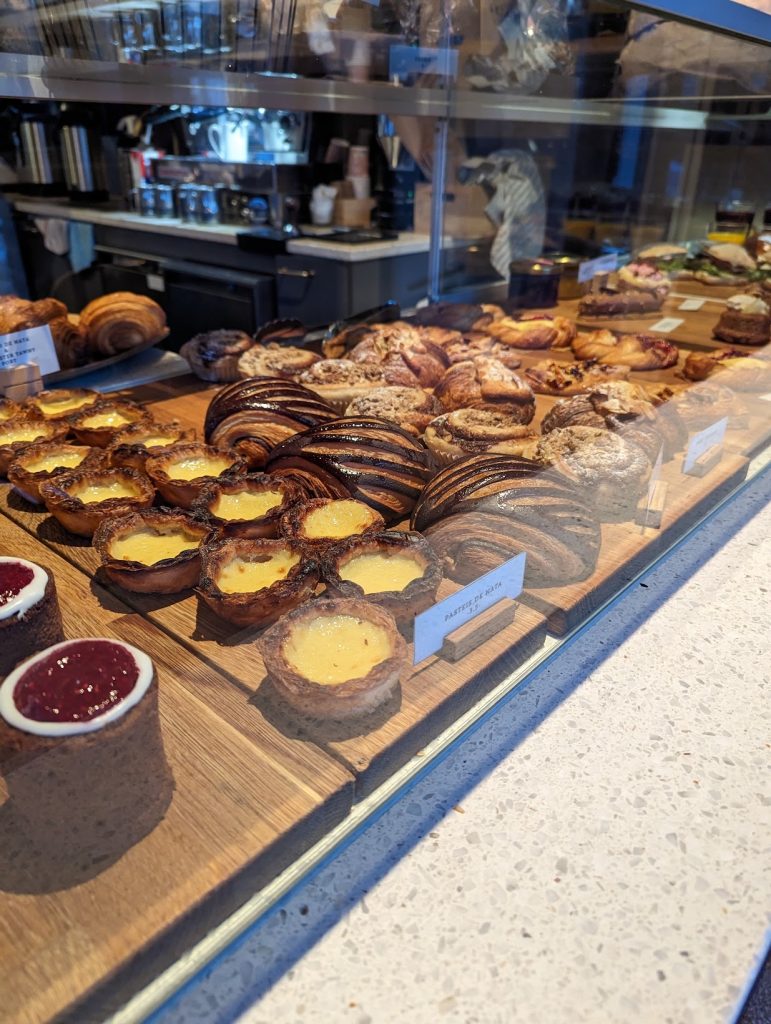 What were my impressions?
For a capital city, my biggest surprise was that Helsinki is very calm, and Finnish people really enjoy their peace. However, when it comes to the Sauna it is a social spot where everyone chats. I think Helsinki is definitely a city where you can visit all the main attractions in one day, however, to really explore you can spend time in many areas and also the surrounding places. The many indoor and outdoor activities let you experience many parts of the city. I didn't have the time to go to museums but there is plenty I want to go to. If you would like to get another idea how to spend time in Helsinki read this blog from Lianne!
Tallinn "a gem in the Baltic"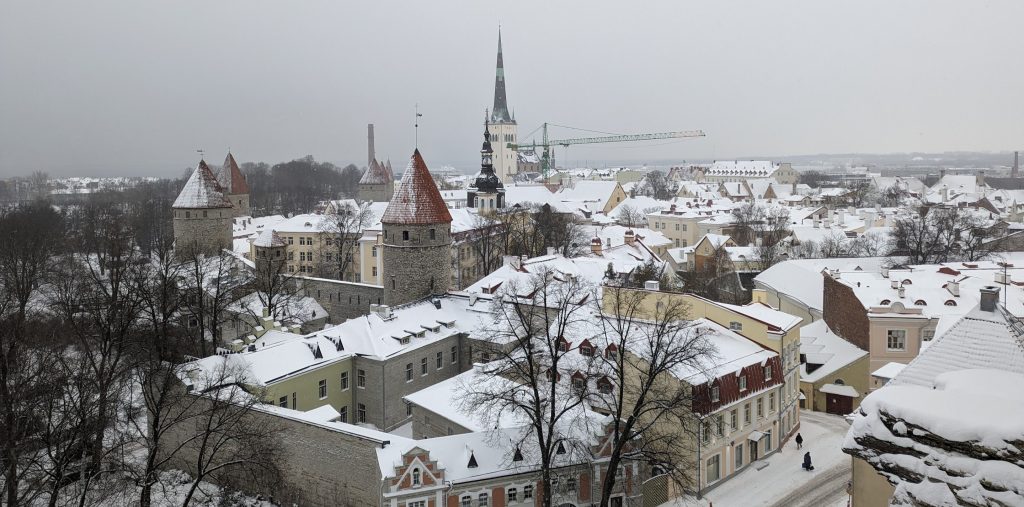 First of all, I need to thank Karolina my fellow Estonian blogger who gave me the recommendations for Tallinn. Check out her blogs for translational physiology and pharmacology!
How did I get there?
From Helsinki to Tallinn are multiple ferry companies operating and frequently departing. The journey is only 2 hours and cheaper than any flight you can find. I paid 26€ and the ferry has Wifi and multiple decks where you could spend your time.
What is there to do?
I was extremely fortunate that I still got to experience the last day of the Christmas market! In 2021 it was voted the best Christmas market in the whole of Europe. You can find people performing traditional dances and numerous stands with food, decoration, and clothes. Being in the center of the old town of Tallinn on the town hall square makes it look like a fairy tale.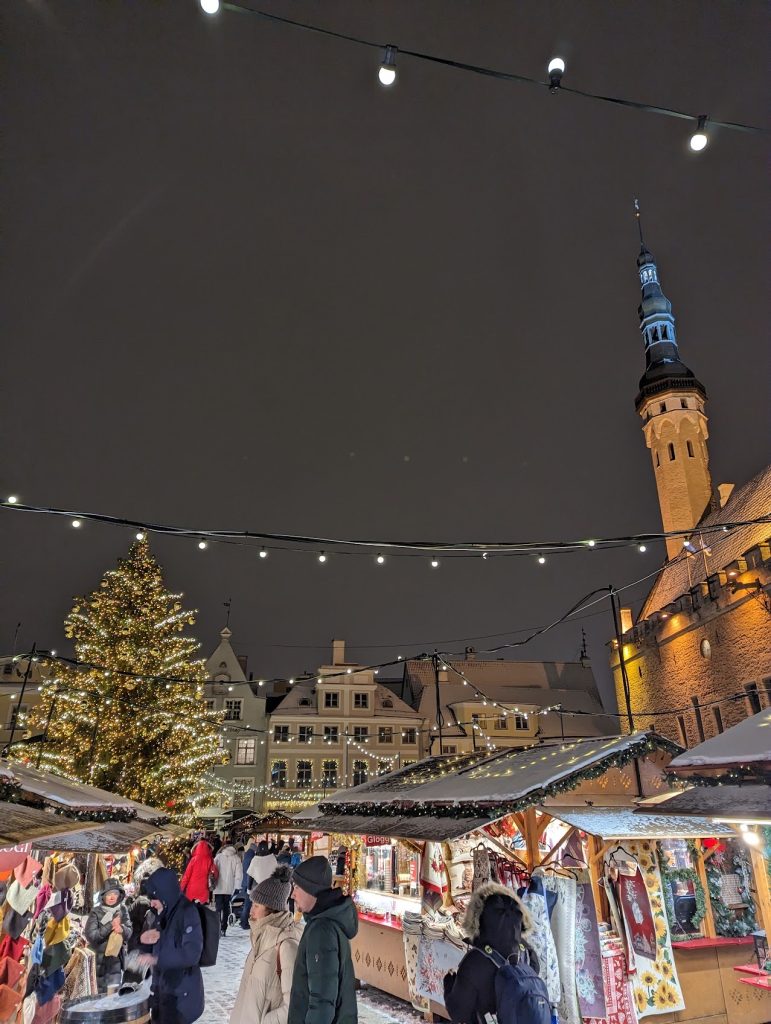 In the old town, countless narrow streets are worth exploring. One might lead you to the Orthodox Alexander Nevsky Cathedral built in the Russian Revival style on the Toompea hill. It was constructed when Estonia was still part of the Russian empire.
Outside of the city, you can also find plenty of gems such as the neighborhood Kalamaja. Here, you can find the traditional wooden house in all sorts of colors.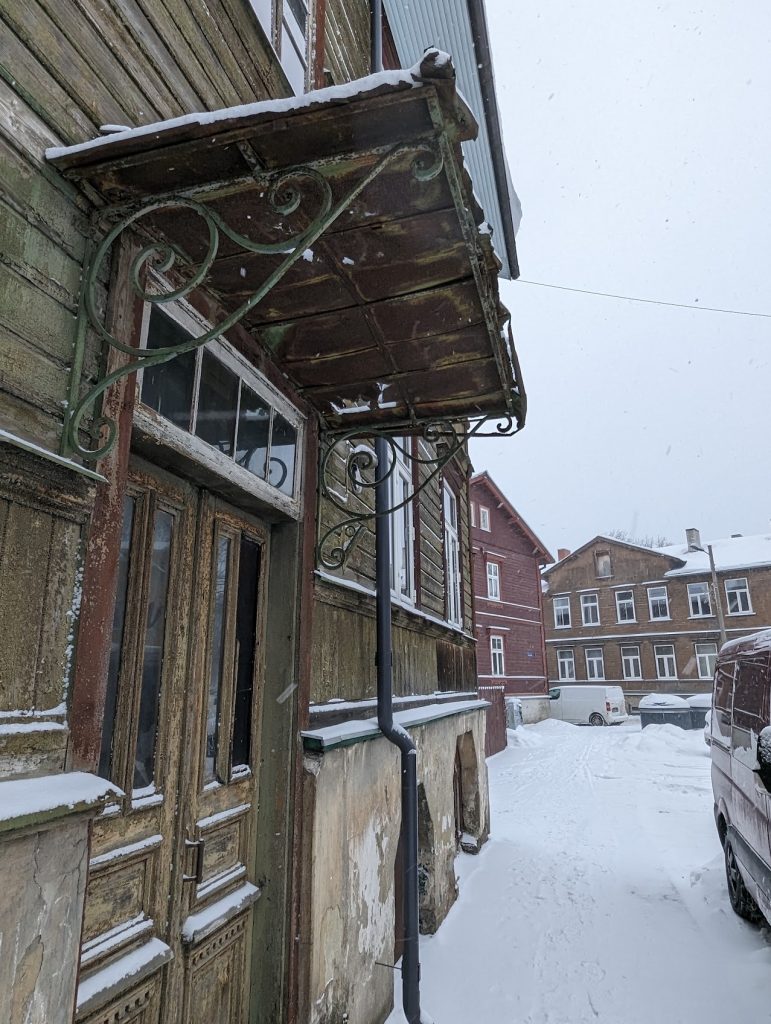 Wooden houses in Kalamaja. Photo Credit: Tade Idowu
Cafes
Obviously, I also needed to work on my take-home exam. Luckily, there are plenty of nice and cozy cafes in the city to work in. The oldest running café and probably the most famous café in Estonia is Café Maiasmokk. You get the chance to experience 1801 of Estonia. In the RØST Bakery, I couldn't decide if the kardamonbulle or the coffee was better. It is located a bit outside of the old town but perfect for a brief study session with a nice background. During my trip I also had a video call meeting luckily in Gustav Café in the Solaris mall there was steady internet and a calm environment. The last one I can recommend is the Precious Café right next to the bus terminal. It's the perfect spot if you need to wait for your bus to Riga and you want excellent coffee!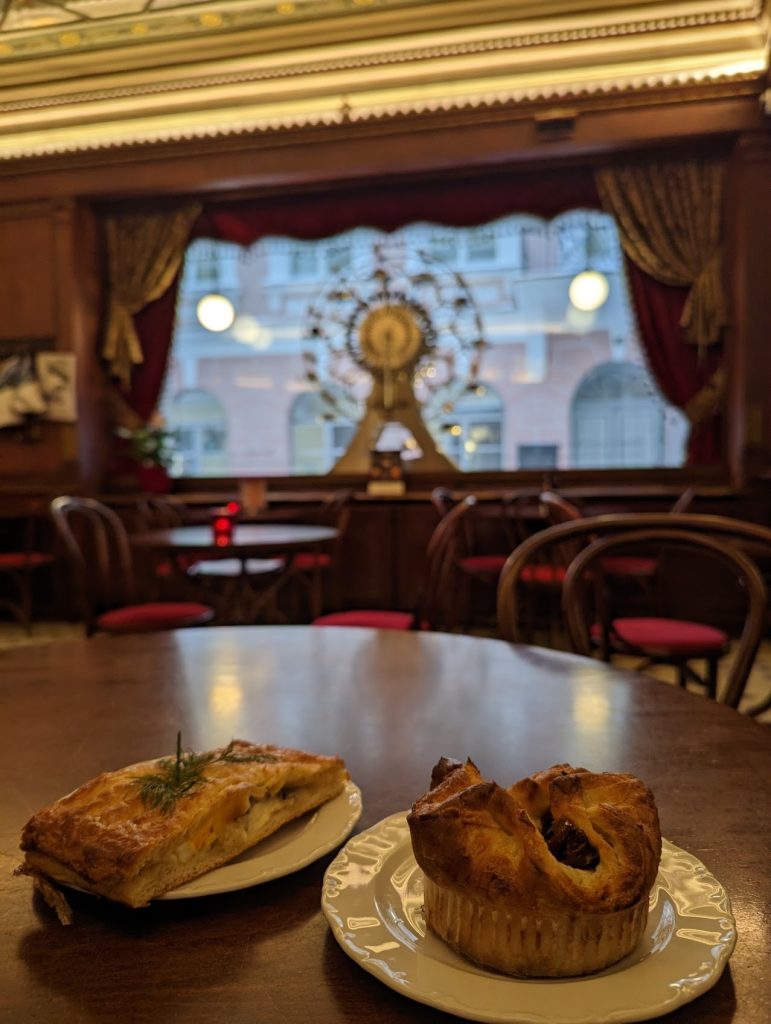 What were my impressions?
Tallinn was a city for me where I could wander around for hours. The old town is beautiful with many hidden beautiful corners of medieval times. The defensive tower of the 15th century and churches of the 13th century makes you believe you just traveled back in time.
Riga "the city of surprises"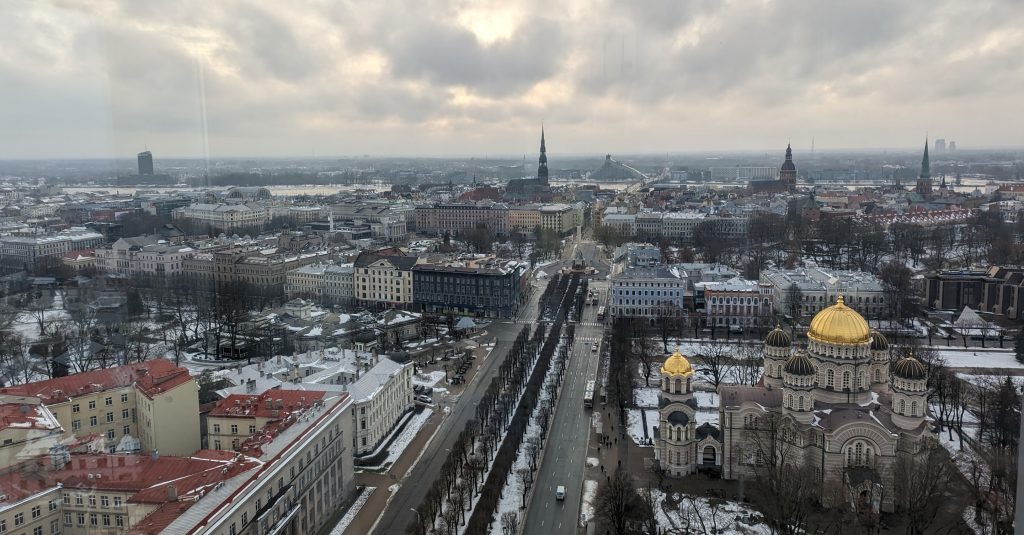 How did I get there?
The bus can take you from Tallinn to Riga in 4 hours. I paid 14 € for my ticket and received the best treatment I have ever had on a bus. They had actual fast internet, movies, and comfortable seats! You need to know I am 1,96 and after a bus ride, I normally age 20 years because of the pain in my knees due to the small space. The bus driver gave everyone water at the beginning of the journey and I thought I just booked a business class.
What is there to do?
From one medieval city to the next one. Rigas old town is beautiful and taking a stroll around it is magical. Going around the city you might find some little surprises if you pay close attention. I found one of my childhood fairy tales, the four town musicians of Bremen in the corner of the square. I found out later the statue was gifted by the city of Bremen which is a partner city of Riga. Another personal favorite of mine is the cats on the roofs. The legend says a tradesman who was rejected by the guild installed the cats facing their butts toward the guild building. Not much of a surprise they took him to court 🙂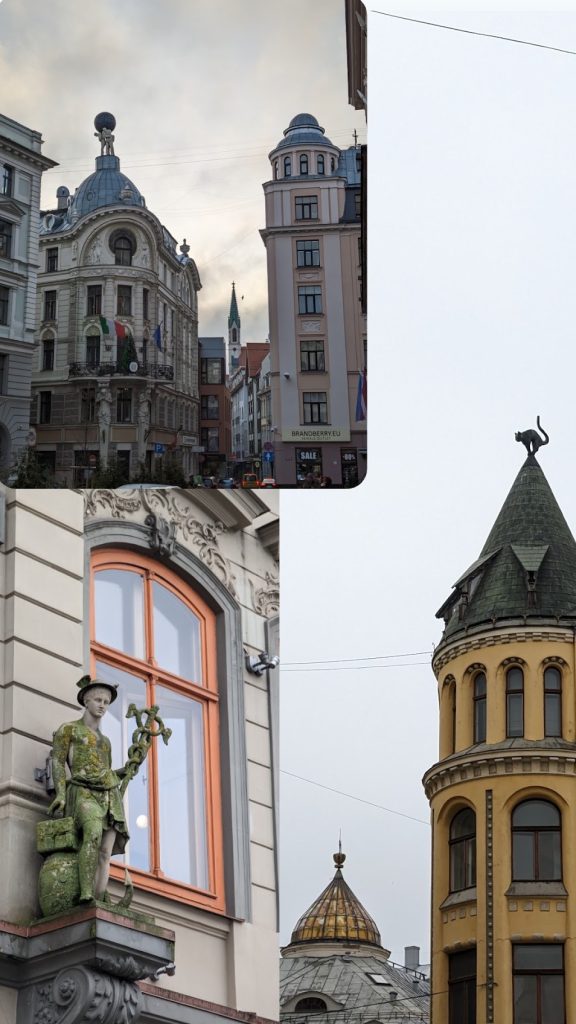 Architecture
Other than the medieval old town Riga has several other monuments that stand out. To another surprise of mine, Riga is covered in art nouveau style. It has over 700 buildings in the Art Nouveau style which makes up around one-third of the building in the city center. One monument that you will not overlook is the Freedom Statue is a sign of Latvian independence and was erected for the war between 1918 -1920. Right in the center you have the House of Blackheads originally built in the 14th century for unmarried merchants and shipowners. The Nativity Cathedral is one of the biggest orthodox cathedrals I have seen and the extensive decoration inside makes it worth a visit. The best view of it and the rest of the city is from the Radisson blue Latvija which offers a glass elevator that you can take all the way to the top! Another masterclass in architecture can be seen leaving the city and crossing the river. The railway bridge and national library are truly exceptional.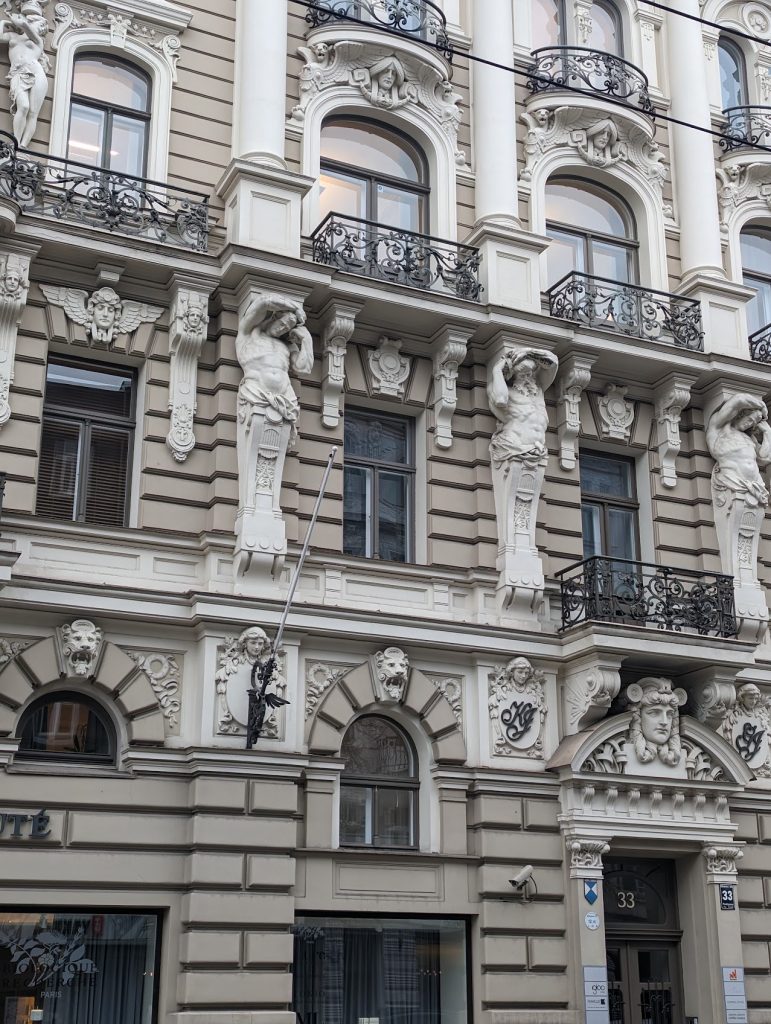 Food & Café
Obviously, you can't miss the biggest European market the Central Market! You can find any kind of food and pomegranates bigger than your head. Don't forget to try the famous rye bread and cottage cheese! The other popular market is Agenskalna tirgus offfering many artisan products and multiple restaurants upstairs.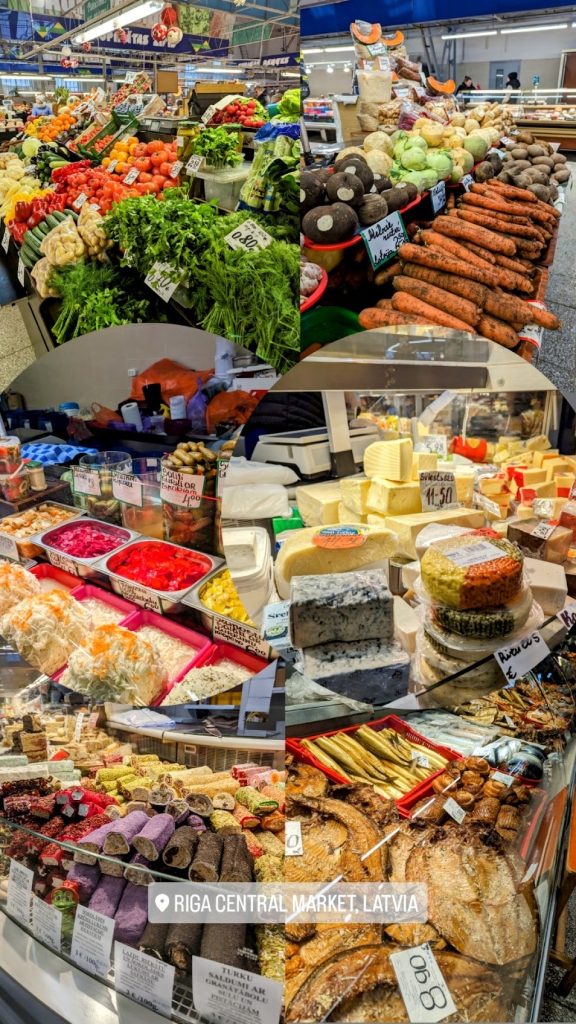 My deadline was a couple of days after my last visit. To my luck, Riga has great cafes offering superb coffee. If you want a nice pastry and jazz rap to start the day I recommend Kalve Espresso Room. However, if you need to work with your laptop and might want something bigger than pastry Rocket Bean Roastery is the perfect fit. For people who prefer their quiet little space, Mikla Bakery might be your way to go. If you want to go back in time and try the traditional honey cake Parunāsim kafe'teeka could be yours. I was not frustrated by the exam and needed a cocktail but actually, they serve freshly pressed grapefruit juice.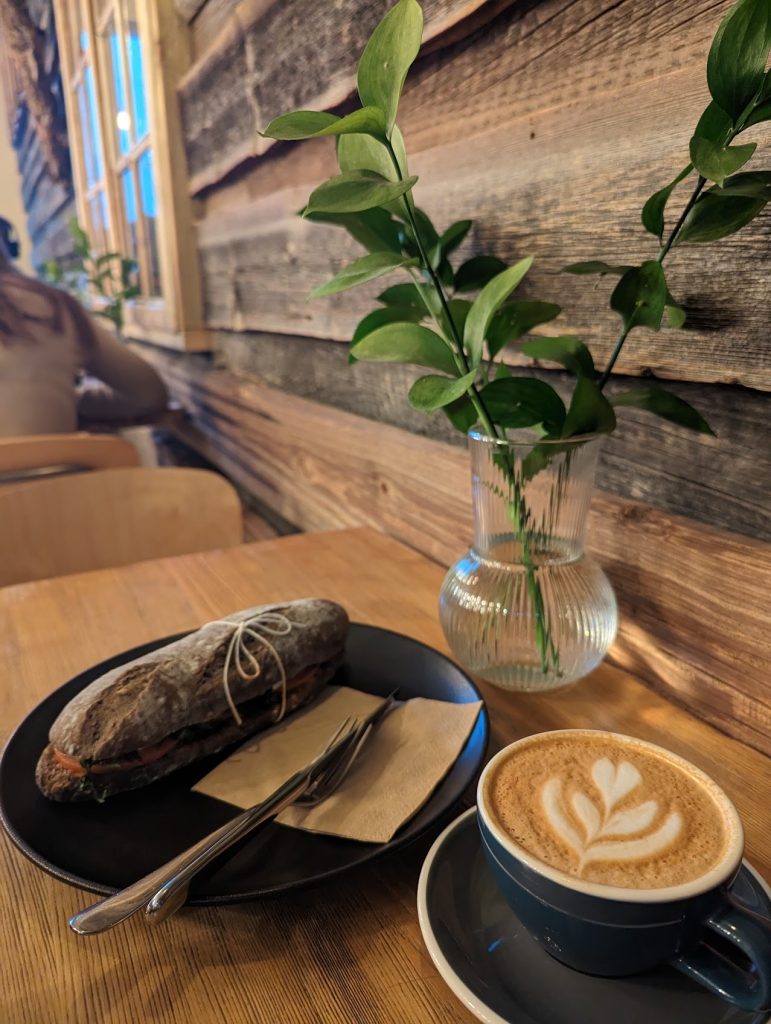 What were my impressions?
I didn't really have any expectations for the city but Riga surprised me in every dimension. Its beauty, attractions, and many little hidden gems caught me off guard. Strolling around the city on foot and admiring its charm really sold me. 
---
Overall, if you have the chance to visit any of the countries I highly recommend it. You have the chance to experience another culture so close to Sweden but so different. I hope this summary gave you some insight into these three capitals and how to travel and still find places to be productive! There were many more things I would have liked to visit but I am planning to come back in the Summer to make up for it!
-Tade

I am Tade. I am Nigerian/German and the blogger for the Master's Programme in Nutrition Science. Before KI, I was studying in the Netherlands. My whole life I was interested in food and sports, and that is why I decided to study nutrition. When I learned about KIs group-focused teaching and the international environment I knew where I wanted to go. When I am not exploring or trying different foods I am playing basketball in Solna. If you are ever up for the challenge, you know where to find me!