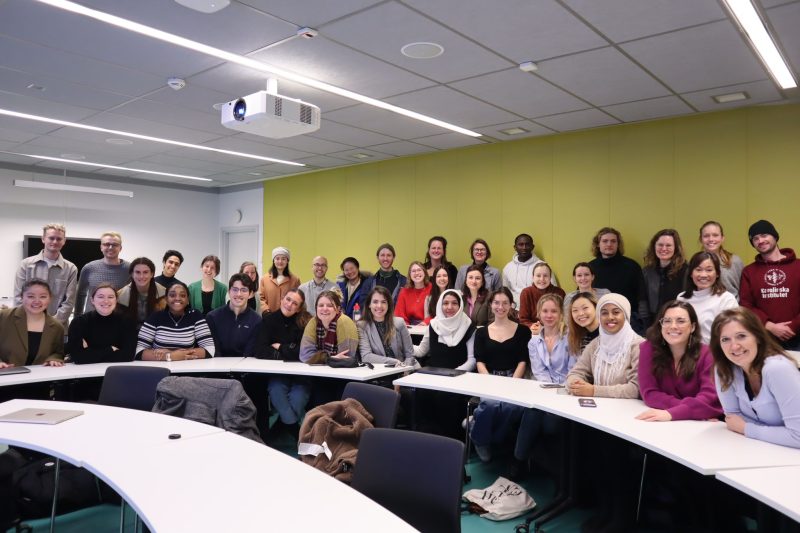 Review of the Master's in Global Health at KI
If you are interested in pursuing a Master's in Global Health then you should check out the Karolinska Institutet's website. It has all of the information pertaining to the course, like it being a full-time, one-year master's of medical science programme worth 60 credits. As well as the syllabus that will be used. However, if you would like to understand how the courses are from a student's perspective, I will lay out how each of the courses was to me, as well as how I felt about the entire degree programme in the end.
Introduction to Global Health (7.5 credits)
Topics covered: What is global health, global health and media, epidemiological transition, planetary health, health systems and policy, NCDs, etc.
One of my favourite courses that we did. It touched on every single area of Global Health except for ethics which was skipped because of time. Each lecture is taught by a different lecturer, some of whom are from the WHO, UNICEF, etc. The schedule for this course was packed for the entire three weeks. The whole day is used for these lectures which take anywhere from 2.5 hours to the full 3 hours. We did have a couple of afternoons off, but those were cancelled and replaced with group work and presentations. The assessment for the course was a take-home assignment with many questions meant to be completed over a few days.
My opinion on the course: As I said, it was one of my favourite courses at KI. But the schedule was seriously packed and the intensity made me a little tired by the end. That being said, it felt like some of the topics were rushed. This is because we did not have the time to complete it all. Also, while I loved meeting so many professionals in the field, there was very little personal interaction with the lecturers, many of whom we met that day and never met again. I would also have liked to have a couple of classes on the ethics section of this course which was unfortunately cancelled, as well as a few more classes on Decolonising Global Health.
Research Methodology (7.5 credits)
Topics covered: Stata, measures of disease occurrence, linear regression, logistic regression, focus group discussions, thematic analyses etc.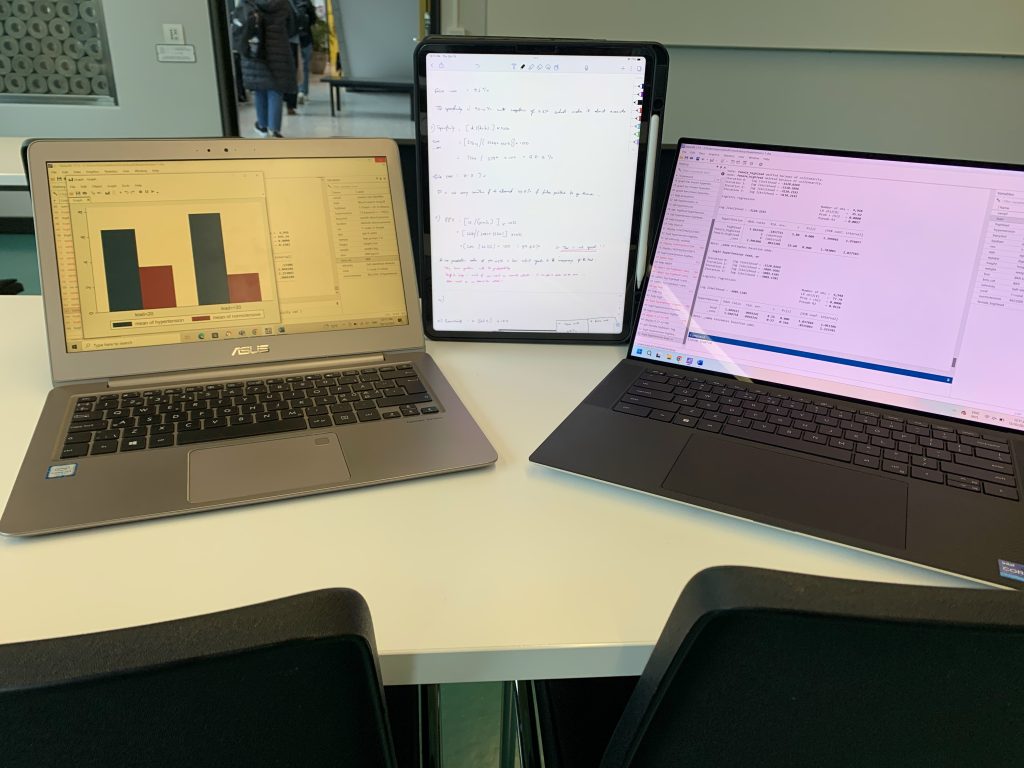 The most technical course we did in my opinion. It was split into 2 mains parts. Quantitative research took 3 weeks and then Qualitative research was 2 weeks.
Quantitative research- So this was further split into 3 parts: statistics taught by one lecturer and then biostatistics and epidemiology both taught by another lecturer. The lecturers for this course were dedicated. Each morning we started with statistics. The idea was that we needed to understand the exact mathematics behind what we needed to code. Without knowing how to formulate the equations we would not understand how to write the code. Each afternoon we did coding using the latest version of Stata. Some mornings and afternoons we had epidemiology classes.
The schedule for this course was tough. We were in at 9 every morning and we left around 5-5:30 every afternoon. It was tougher than the first course because we had a lot to cover.
My opinions on the course: Going through this course made me feel like I went through some rigorous scientific training. I felt like I earned a life skill by learning how to code. However, once again it felt rushed. The coding was sort of sprung on us and the entire premise of the course went off the idea that we were all doctors. No one asked what our backgrounds were. There were several quizzes (ungraded of course) that asked intense clinical questions that all of us, even those of us who were scientists or other professionals were expected to know.
This should not frighten you in any way, however, since it is not a requirement and should therefore be changed. There were also two exams for this part, the biostats exam, and an epidemiology exam. This confused me because that means we had 3 exams at the end of 5 weeks, and the epidemiology exam seemed to have come out of nowhere since we mainly focused on biostats.
Qualitative research- This was at a much slower pace after those intense 3 weeks. We mainly leant about There were several assignments, and some of them were what I would call "fieldwork". The lecturer for this course just seemed to understand students and how they think, and she was super good at delivering the lectures. We did have many guest lecturers too though all of whom were fantastic but I cannot really remember their lectures. Still, the 2 weeks were well used and then 1 week was given for all of the exams.
My opinions on the course: The mismatch between the intensity of quantitative and then the pace of qualitative was a bit much. I enjoyed the assignments for this course the most, I think they were extremely practical and hands-on. That being said I am not as confident in my qualitative skills as I am with my quantitative skills since we covered everything once with no repetition and the information didn't seem to connect for me.
Health Policy, Management and Economics (4.5 credits)
Topics covered: policy triangle frameworks, universal health coverage and social protection, global health law and policy etc.
This course was three weeks and followed the intensity of the first course. It was every day from 9-4, and for the first time, we had a mixture of in-person and Zoom lectures instead of just in-person lectures so we got some days where we got to rest a bit. I liked this course. The lecturer who did it had a unique style of teaching that centred on critical thinking and challenging ideas. The guest lecturers were also very knowledgeable. I was most interested in the health systems and policy aspects of the course. But this is one of those courses that I can safely say I remember and could probably do an assignment on even now.
My opinions on the course– The take-home exam was difficult. It was time intensive and required a lot of research and writing. However, I truly liked this course. It was the course that made me choose KI when I was considering which university to go to. Now I was disappointed that the policy aspect of the course was just one week. I would have hoped for more training in this area since this is the aspect of global health that I am most interested in. Still a very good course.
Infectious Disease – A Challenge to Global Health: Clinical, Social and Preventive Aspects (4.5 credits)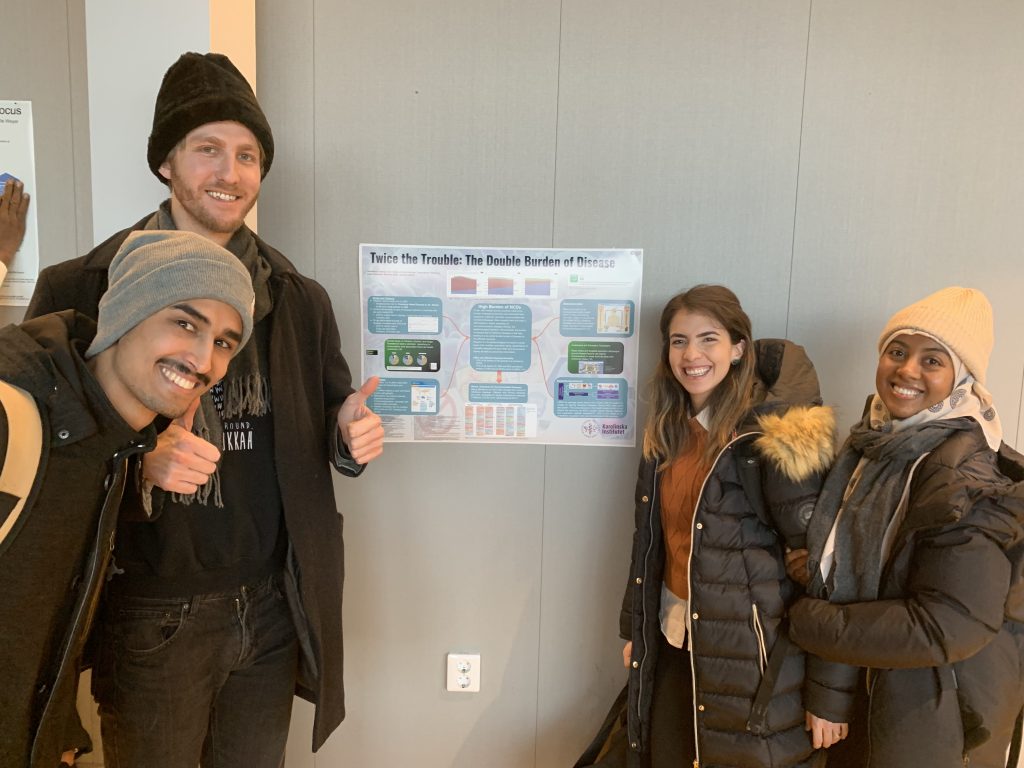 Topics covered: antibiotic use and antibiotic resistance from a global perspective, WASH, paediatric infectious diseases, HIV and health systems etc.
This course was also three weeks and had many amazing guest lecturers. A lot of the material we covered was more on the scientific side which was more in my comfort zone. The course required a lot of memorisation for the diseases and their symptoms so we were actually given time for research and study. This helped so much! I do not think I would have done well in this course if we weren't given time for self-study. Also, since the exam was an in-person exam it was very much appreciated.
My opinions on the course- My favourite course that we did for the entire year. I am biased of course because of my background. But I really, really liked this course. I like how it was delivered, I liked making and presenting the posters but I did not like how nervous I was for that in-person exam. Still, this was a really good, informative course.
Maternal and Child Health in a Global Perspective (3 credits)
Topics covered: Introduction to child health, maternal health, abortion care, Sexual violence in armed
conflict, Interventions to address malnutrition and other common illnesses etc.
This course was two weeks and all of the lectures were taught by different lecturers. I won't say the course was particularly intense, but the assignment was long and there were several complications in our year. Nevertheless, this course looked at some very important topics I wish had been expanded on. It also had a focus on frameworks, which is not something that we really looked at in our other courses except for the first course and one lecture in the third course, but nothing we were shown or given an explanation of but it was a part of the final take-home assignment.
My opinions on the course– If there is one course that I can say I have the least confidence in my ability to be a global health ambassador it is this one. The course assignment was changed a couple of times even though I thought the structure of the final assignment was really good. It had such important topics but the delivery fell flat, because of the lack of practicals. This course was the most theoretical but could have used a few more practical assignments. My least favourite course unfortunately but one with a lot of potential.
Non-Communicable Diseases, Injuries, Natural Emergencies and Conflicts in a Global Health Perspective (3 credits)
Topics covered: chronic respiratory diseases, cancer from a global perspective, palliative care, nutrition, disaster and conflicts etc.
This course was laid out over two weeks but was actually felt like a week since the assignment was scheduled over 3 days and 1 day was used for the presentation. The schedule for this went back to the intensity of the first course since we had that heavy schedule with no breaks. But since it was only 6 days long it was bearable. This course had a lot of group discussions on the topics that were introduced as well as activities in the form of presentations for us to prepare an assignment and discuss it.
My opinions on the course– My second favourite course at KI. The lecturer was extremely brilliant and very organised and thorough. I do think this could be an entire month or two on its own since there was so much to cover. I personally wish we had a few more lectures on trauma and injuries or that trauma and injuries could have been its own course. My most memorable lecture at KI came from this course. We had to emulate several multilateral organisations in global health and speak on their behalf. I was confused as to why we were made to do it at the beginning, but sitting in on the discussion that emulated what could happen in the real world was truly eye-opening. If I could pick the most useful day at KI, it would be that day and that lecture. Truly an amazing course.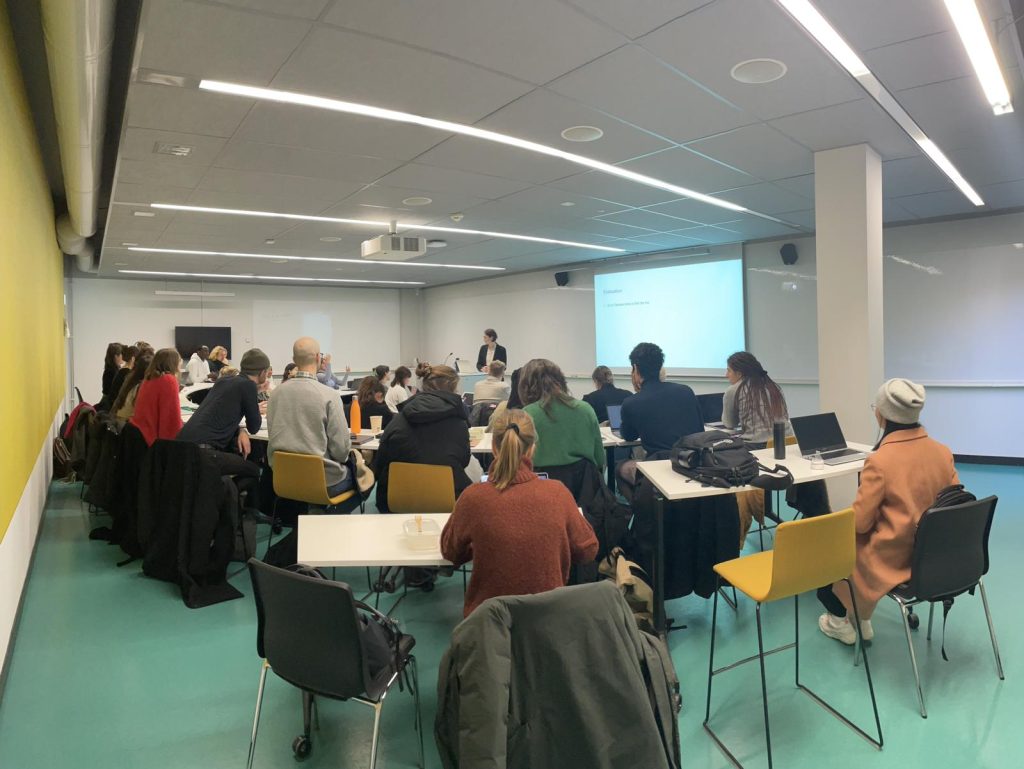 Degree Project in Global Health (30 credits)
I wrote a blog on the thesis since it is the most popular question that I receive from you guys.
In that blog, I explained exactly how the course is conducted throughout the whole year and the different aspects of it and deadlines so take a read to find out how the thesis course was.
My opinions on the course: I do not have much of an opinion. It was exactly like I expected it to be. A lot of work, new material, intense periods, nerve-wracking, frustrating at times but extremely rewarding at others. I truly feel like I accomplished something with my thesis and the experience I gained was a huge plus for me. However, the day that I had to defend my thesis was also one of the scariest in my life and I do not wish to live through that again. You guys will be great at it though!
.
So this is how the courses were from the perspective of a student. I enjoyed all of my courses immensely and I think that I am better off because of them. Our lecturers are the best, and their willingness to be challenged and challenge us in turn truly makes the Karolinska Institutet the best place to study Global Health.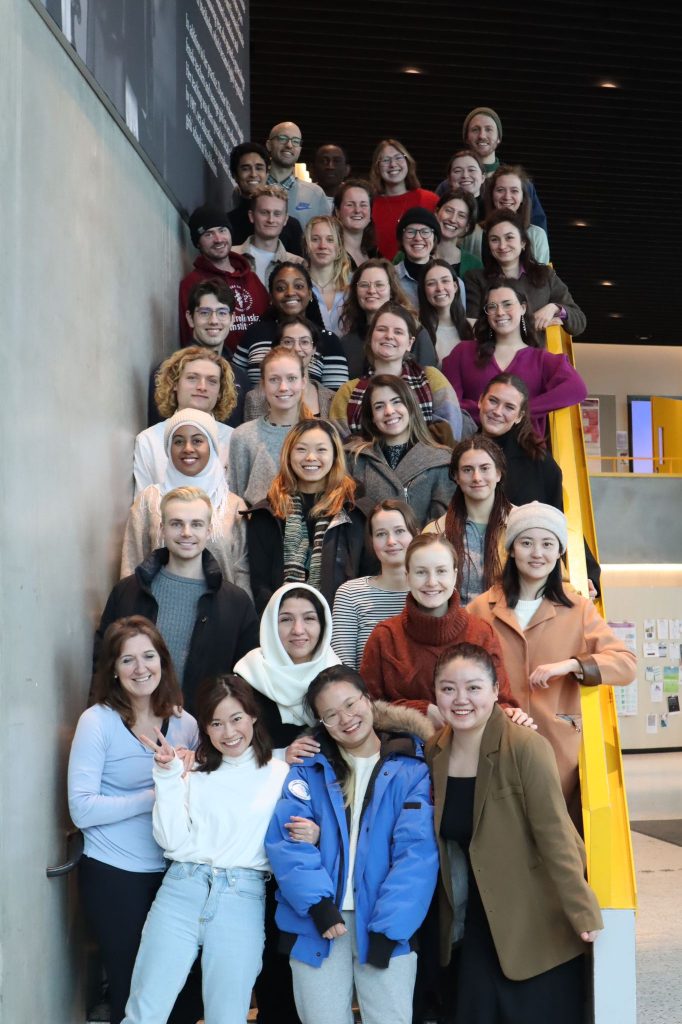 Hi, my name is Zaynab and I am from Trinidad and Tobago, a country in the Caribbean. I am currently studying a Master's in Global Health here at KI and am a blogger for the DA team. I look forward to sharing my experiences at KI and I also hope to expose students from the Caribbean to university life here in Sweden.