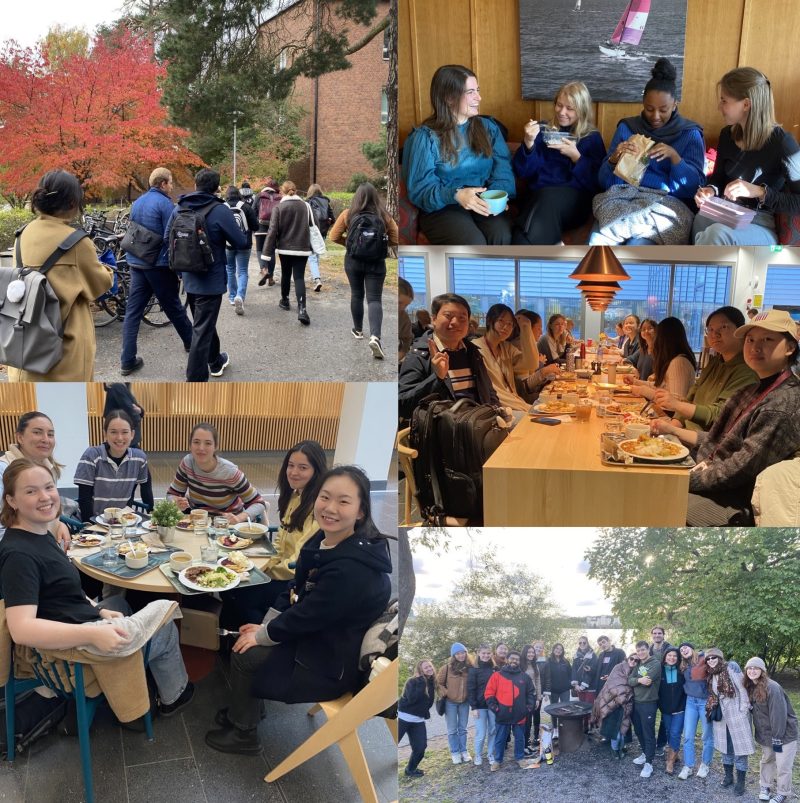 Get to know the first and second-year students of the Public Health program
Happy Fall! As current Master's students have hit the two-month mark since the start of the semester, I feel like we are finally starting to settle down in our program. For me, a big part of being able to find some sort of routine and comfortability at KI came from getting to know the other students in the Public Health Sciences (PHS) program. In honor of the very cool (and nerdy) individuals in the PHS program, and to provide more fun, realistic insight into who actually makes up the program, I will introduce some of the students from the PHS program from the class of (c/o) 2024 (current second years) and 2025 (current first years) to you all!
Class profile at a glance
Let's start by getting to know where the students are from, their first languages, and the age distribution!
Nationality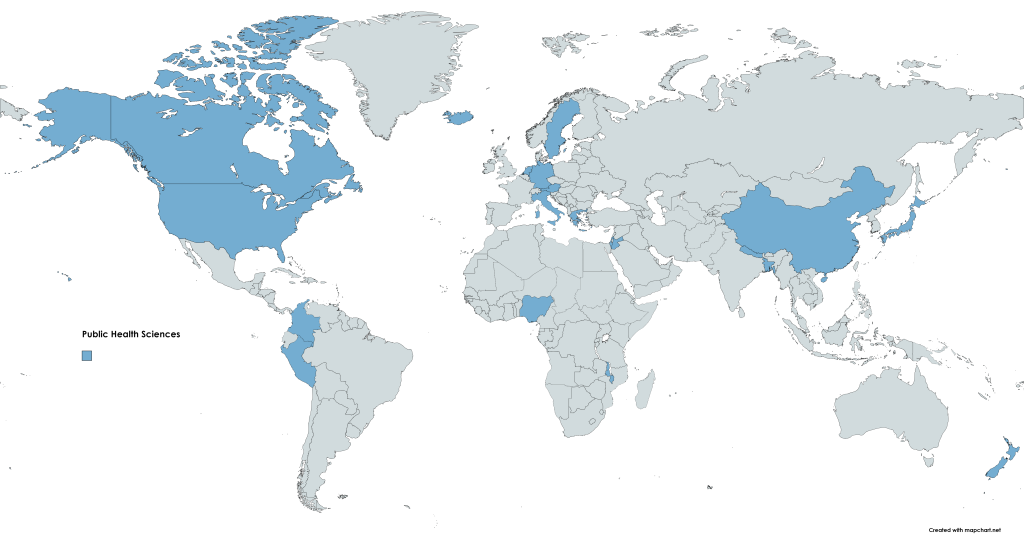 As seen from the colored map above, we have classmates from all over the globe, ranging from European countries like Germany and Italy, as well as countries in other continents like Canada, Colombia, Malawi, New Zealand, and Bangladesh, to name a few! As someone whose hometown is Stockholm, I am very impressed and inspired by many classmates who have traveled a long way to study at KI.
First languages spoken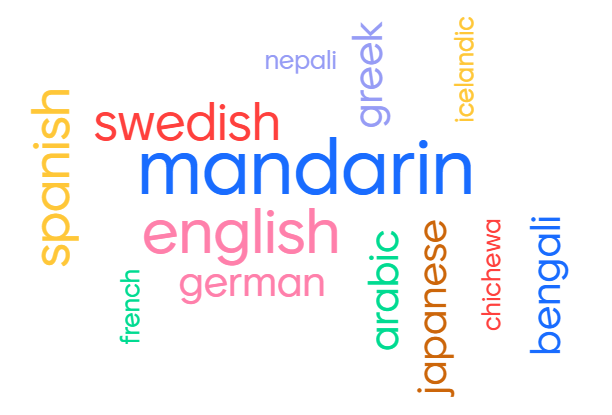 Looking at the word cloud above, we can see that many of us in the PHS class of 2025 are multilingual, and are skillful communicators in more than one language. Personally, I love hearing my classmates speak in their native language(s) just because it feels like I'm seeing another "layer" of that person that I might overlook while conversing with them in English.
Age Distribution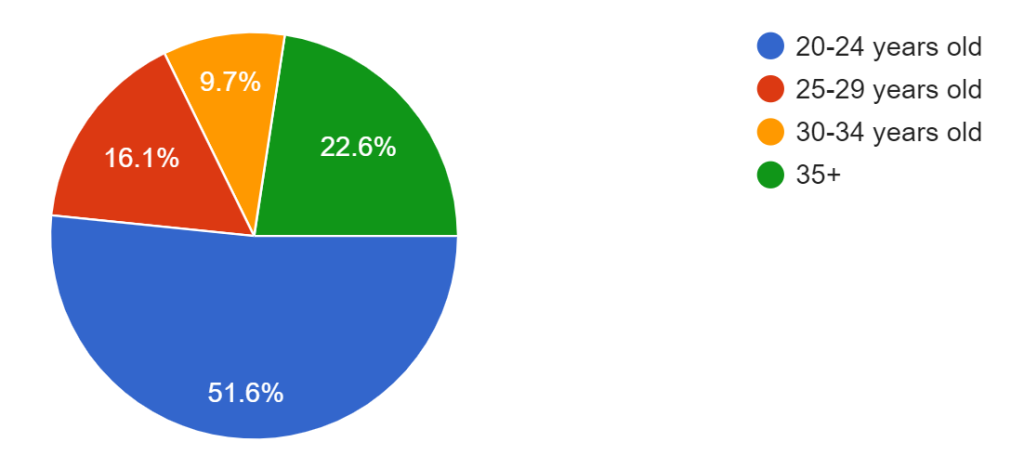 Though it seems like a good portion of the PHS class of 2025 is between 20 and 24 years of age, we can also see that the second largest age group consists of those who are over 35, meaning that there's really no "perfect" age to start your Masters' education in public health! I say this because I came in feeling slightly anxious that the majority of my classmates would be younger than me, and as a result, I would feel like someone from the 1800s in class (I'm thinking of this one meme where the caption is something like, "Me hanging out with my friend who is a year older", with a picture of a visibly young person next to a visibly older person). But contrary to my concern, the age difference in my experience, increases overall thought perspectives, open-mindedness, and even a little patience both inside and outside of the classroom.
Academic and professional background
Now let's get to know the students a little better in terms of what they studied prior to the program and where they previously worked before starting the program.
Academic background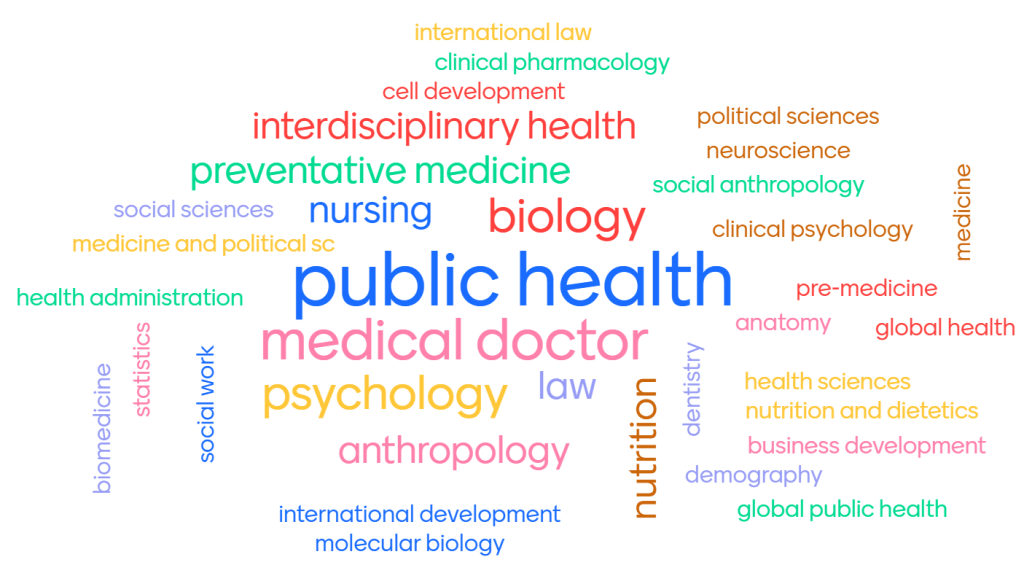 In both PHS classes, there are many students with very broad and diverse academic backgrounds! There are quite a few students with a public health background, many in the health or medical sciences, and several students with a social science background.
Number of years worked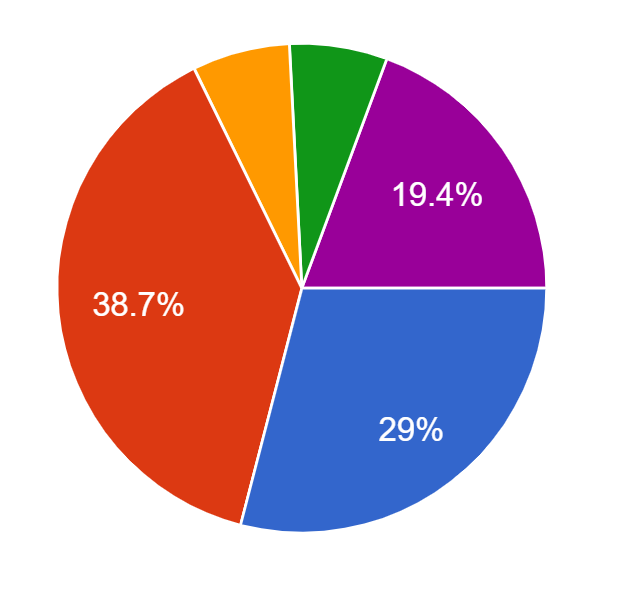 As seen from the two charts above, a good portion of students in both classes have 1-3 years of work experience, followed by those with 4-6 years of experience. Interestingly though, the third largest group were those with 10+ years of work experience in both classes.
Professional background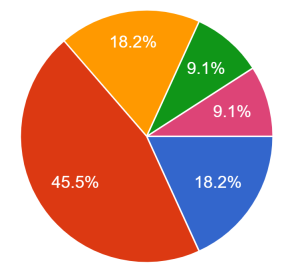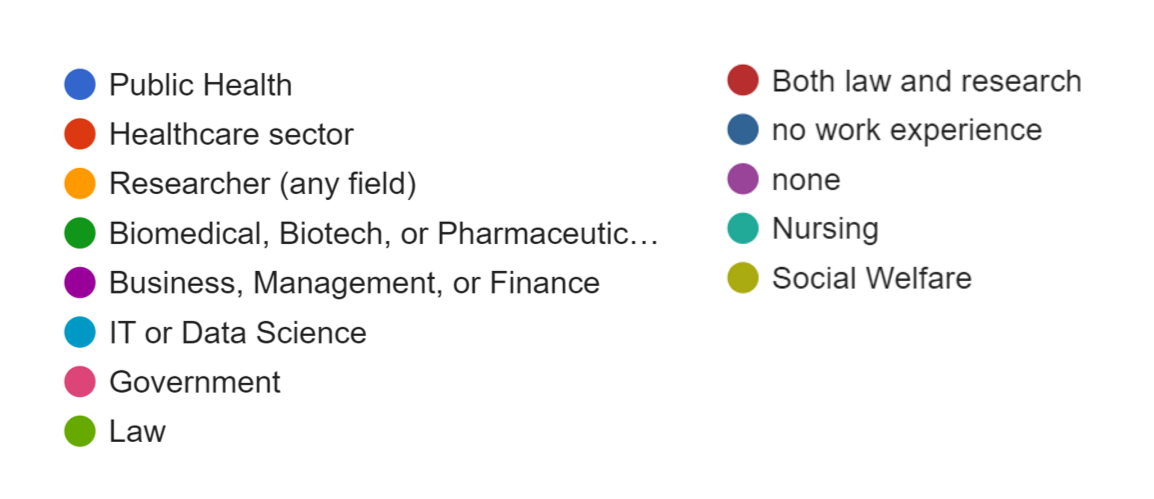 Similar to the diversity of academic backgrounds that was mentioned earlier, the PHS students come from all types of professional fields. Remember, the academic backgrounds, work fields, and number of work experiences listed above are not the specific merits that Karolinska Institutet looks for in prospective candidates. Each year, the requirements change and each candidate is examined holistically through different standards. If you want to know the specific entry requirements for applying to KI's Global Master's programs, check out the Application page. Yohannes even has a step-by-step guide on the application process in his most recent blog!
Ok…but who are we really?
I think I've bombarded you with enough information on some of our classmates' academic and professional profiles. But beyond the academic context, who are the PHS Class of 2024 and 2025, and what are some things they enjoy? Let's take a look at some responses from a number of non-traditional survey questions that were answered by them.
Academic drink of choice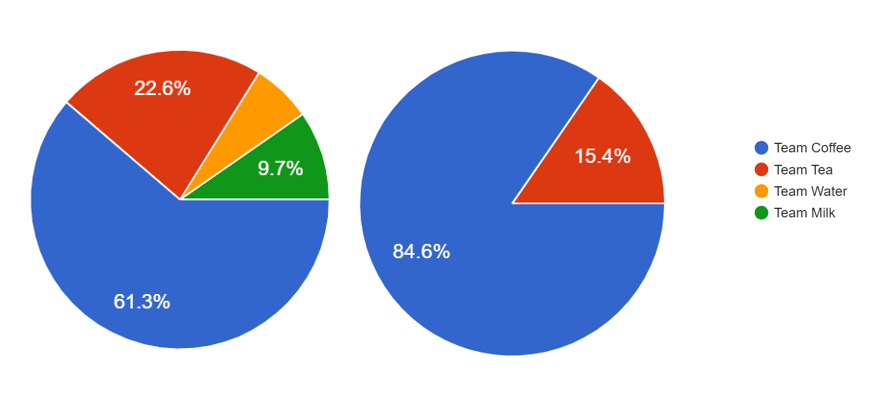 In both classes—but especially in the class of 2024—the majority of students seem to prefer coffee, myself included! But some also like to keep it light and refreshing with a cup of water and milk by their side, which I arguably think is more hardcore than Team Coffee.
Horoscope signs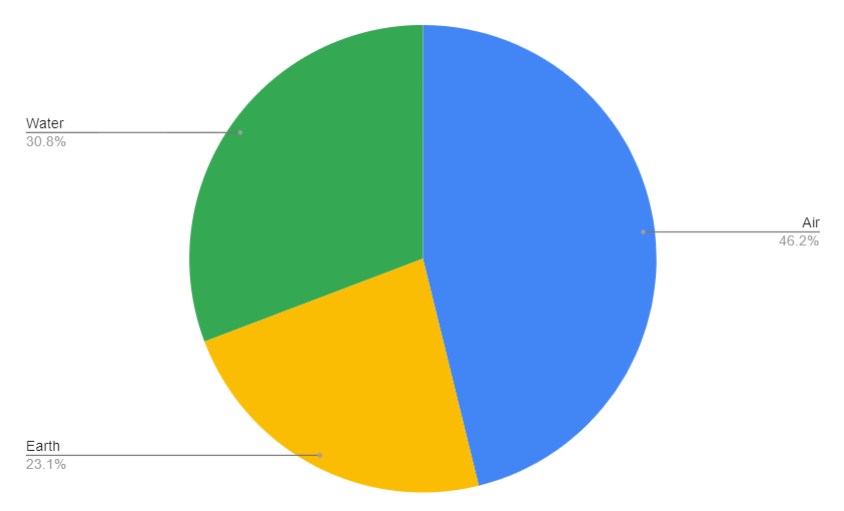 As one can observe, both classes have a fairly well-balanced proportion of the four types of horoscope signs i.e Water (Pisces, Cancer, Scorpio), Earth (Capricorn, Taurus, Virgo) Fire (Aries, Leo, Sagittarius) and Air (Aquarius, Gemini, Libra), which shows that we have many different personalities working and interacting with each other in our classes. From my personal experiences, the horoscope signs can sometimes have differing approaches to thinking, even in academic settings. So if this is true, then it has led to many insightful and attention-catching discussions in class. On another note though, I was a little surprised that neither class consisted of a higher proportion of water signs (still, ~30% is quite a substantial proportion), due to my intuitive assumptions that I would expect more water signs in anything health-related than other signs.
Favourite food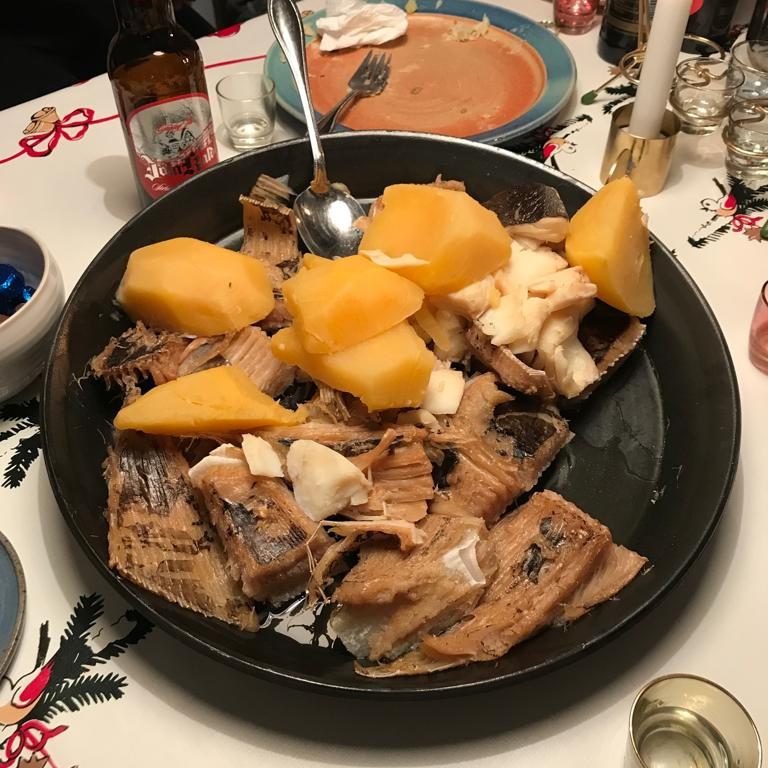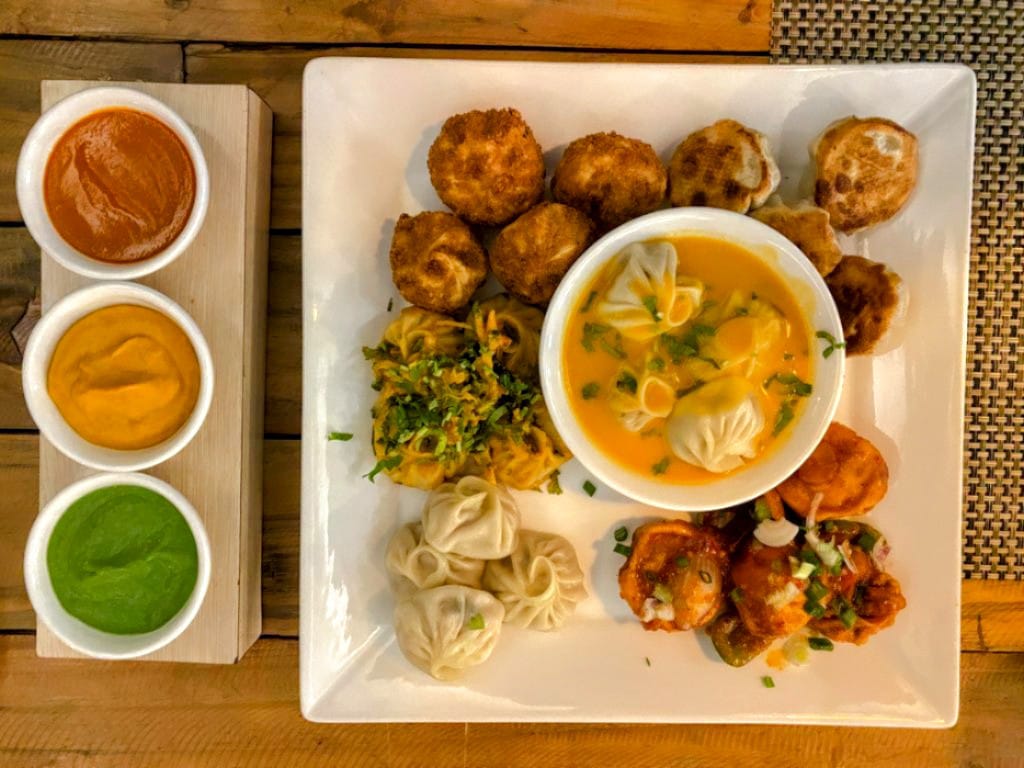 Notably, 50% of responses from the second-year cohort and 10% of the responses from the first-year cohort listed sushi as their favourite dish. Pasta, a dish that is fairly easy to customize and/or make on a whim, was also a common dish that the two classes enjoy, yum! Regional cuisines like jollof rice with fried plantain and chicken, khichuri, momo, ceviche, lomo saltado, pea soup (Swedish :)), dolma, kimchi, moussaka, and plokkfiskur, were also mentioned. Owing to how global the classes are, our taste palettes seem to be equally as diverse and sophisticated!
Favorite study spot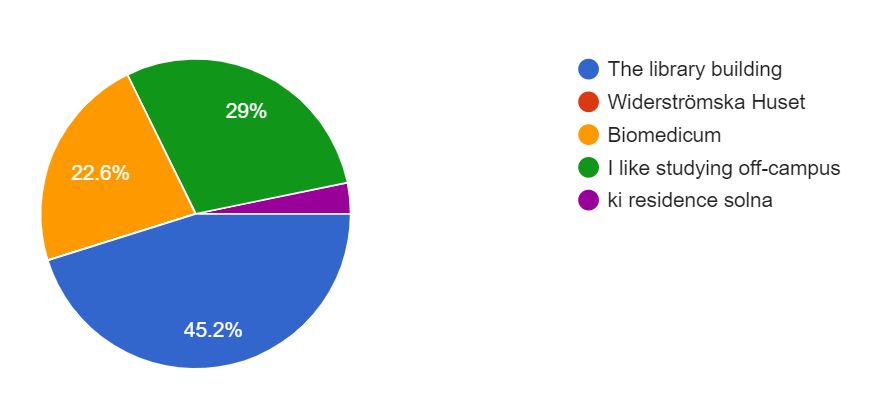 Many of us enjoy studying inside the library building due to the availability of a large number of tables and study rooms that are inside of the building! Our class also likes spending time inside the very modern, chic, and architecturally interesting Biomedicum with its holed roof and indoor greenery, where they also sell very tasty vegan kanelbullar (cinnamon buns).
Halloween costumes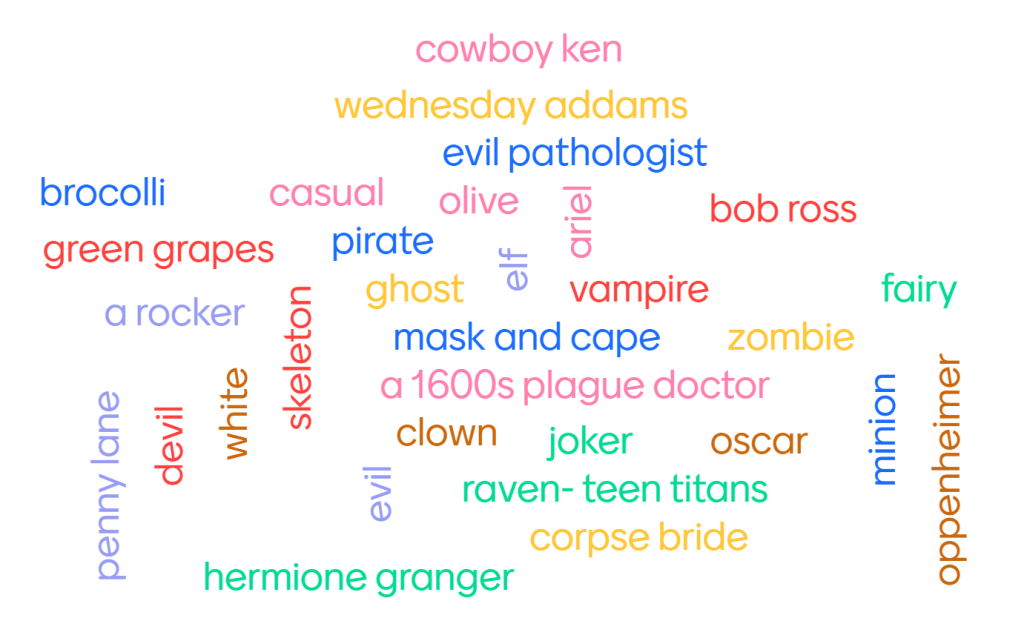 Halloweekend is over, but if people decide to get spooky on the 31st, we'll be sure to see some scary, unique, and trendy outfits! For instance, some people will dress up as vegetables, which is perhaps frightening for younger children, while it also is in line with the health promotion aspect of the program. We can also see that some people will stick to the theme of public health, and dress up as pathologists and plague doctors from the 1600s. We can also expect to see classical costumes like skeletons, clowns, and ghosts. Perhaps the most intimidating costume idea that is listed to me, is "evil". Public health students also have a sense of humor and keep up with pop culture, as we can see costume ideas like Oppenheimer, Ken, Bob Ross, and Wednesday Addams, to name a few. Out of all of the fun costume ideas, I am most excited to see people dress up as my classmate(s) Oscar!
I hope you were able to get a better idea of the people in the PHS classes in several different aspects! Stay tuned for future blogs where I will be introducing them more. Until then, stay warm and cozied up because winter is approaching fast!

Hej! I am Risa, a Japanese Master's student in Public Health Sciences starting my studies in 2023 at Karolinska Institutet. Having been interested in the multidisciplinary, globally applicative, and cooperative nature of the public health field, paired with my familiarity with KI's global reputation, I've always had the desire to study at KI. I enjoy curating playlists, petting cats, and going on scenic walks around Stockholm in my free time.