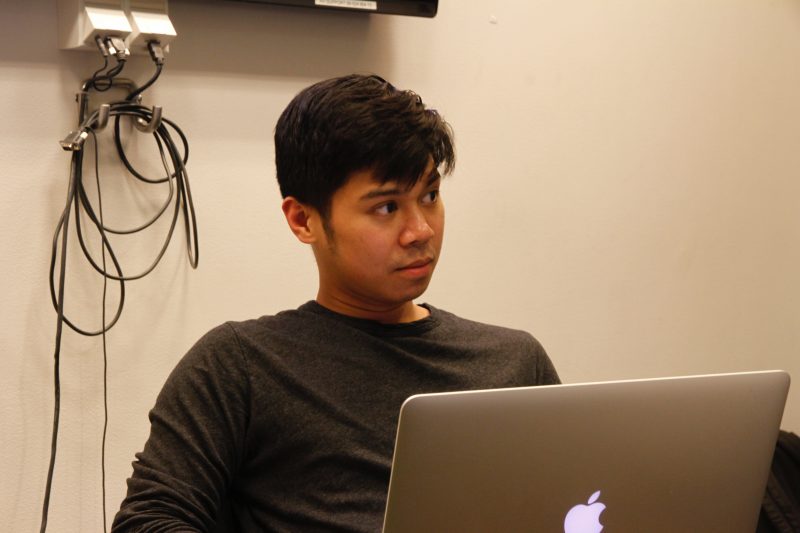 Chris Garcia, Project Leader of iGEM Stockholm 2018 – #HumansOfKI
iGEM Stockholm is a team of students from universities around Stockholm who spent 2018 developing Biotic Blue, an enzyme-based solution for cleaning antibiotics from waste water. I managed to steal a moment from the busy schedule of KI Master's student Chris Garcia to speak with him about his role on the project.
What is iGEM? How and why did you become a part of it?
iGEM stands for International Genetically Engineered Machine, and it's one of the largest science competitions in synthetic biology held annually in Boston, USA. I decided to join iGEM since it involves like-minded people who are both innovative and competitive which is the kind of atmosphere that I find interesting and want to be part of. Also coming from California where the growing industry of technology and innovation plays a big part, I thought iGEM would be a great way to practice and prepare myself when I decide to go back to the industry.
What was your role on the team? What did that entail?
My role was as one of the team leaders of this year's iGEM Stockholm team. Being a team leader is almost like being a founder of a startup company. As a team leader, you're
involved in a lot of different things such as recruiting your members, setting up the team, raising money for your project, pitching your ideas to the companies, developing your idea, organizing events and many more.
Did your university experience prepare you for iGEM? In what ways? How was it different?
I think in a certain way university have prepared me for iGEM, especially in the scientific aspect of the competition which was an integral part. However, I found iGEM required more than what I have had in my university experience, in that it is more comprehensive than just your laboratory research that you typically conduct in a university. iGEM requires you to go beyond the confinement of the lab and to essentially apply it in the real world and the community which is what we call in iGEM 'Human Integration'.
How did KI support you and the iGEM team during the project?
Karolinska Institutet have supported us financially which we have used to pay for our registration for the competition. In addition, one of our PIs has also provided us with scientific expertise and tools during the summer.
What is your favorite memory from your year with iGEM? The most valuable thing you learned?
My favorite part would be the final Giant Jamboree since its pretty much the time when we showcase all the hard work our team have proudly created throughout the year. The most valuable thing I learned is persistence.
How can students join this year's team? Why should they?
Everyone is encouraged to join the iGEM team and they can do this by sending their CV or contacting one of our SGEM members which runs our iGEM Stockholm alumni association. If you're looking for an innovative and a creative environment or just simply want to apply your scientific skills outside the university, I would say iGEM is a great and unique opportunity to do this.
iGEM Stockholm 2018 were hugely successful, winning the Prizes for Best Environmental Project and Best Integrated Human Practices and being nominated in 5 other categories. If you're interested in joining, you can sign up at sgem.igem.se. For more information about iGEM, visit igem.org. If you have any questions, you can email them at info@igem.se.