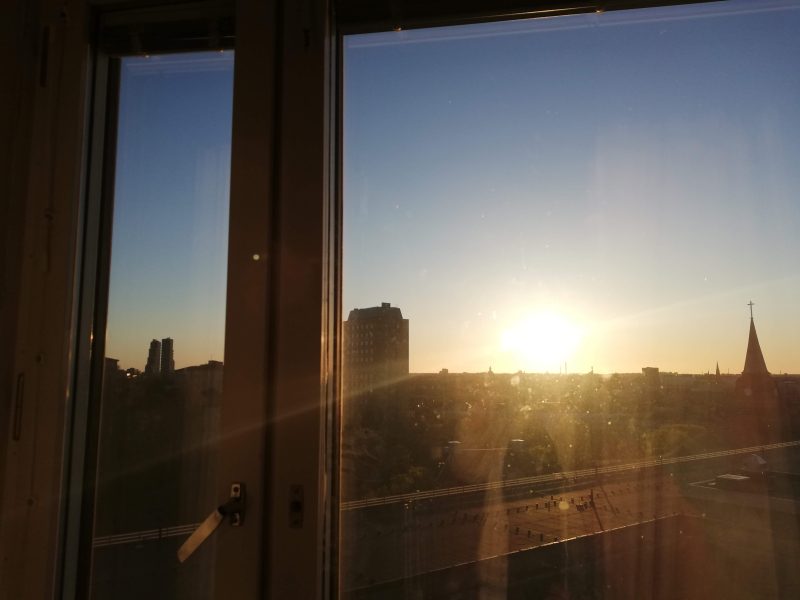 My experience being hospitalized in Sweden
It's been a while folks! From the title of this blog, you can tell it hasn't been all rainbows and unicorns… It's true, I was hospitalized for a while in one of Stockholm's best hospitals, Capio Sankt Görans Sjukhus, being treated for an acute case of cholangitis (i.e. inflammation of the bile ducts) and consequently having surgery to remove my gallbladder and flush out any leftover gallstones that had escaped and were causing all sorts of issues in my liver and gastrointestinal tract.
While this first paragraph can already sound like quite a scary time, I actually had a relatively positive experience during my stay at this hospital in Stockholm's neighbourhood of Kungsholmen. This is all because of the excellent care I received from the medical professionals – physicians, nurses, and support staff – that made my stay a much more bearable burden.
I felt that I wanted to share with you my experience being hospitalized in Sweden because it's a unique and unexpected event that hopefully most of you won't ever have to go through while studying at KI. However, if you do happen to be in need of medical care while you are studying in Sweden, I thought maybe it would be interesting to give you some insight into what that care could look like. Especially if you are away from your family and friends who reside in your home country, it can be difficult to not know what to expect during a health scare such as the one I just described.
A country's healthcare system can be very different depending on where you are coming from, even coming from Canada – where universal healthcare is a right, – I still felt that there were a lot of differences in how I was treated here versus back home. So I wanted to write this blog to note some of those differences and detail my personal experience being hospitalized and looked after at Capio Sankt Görans Sjukhus in Kungsholmen.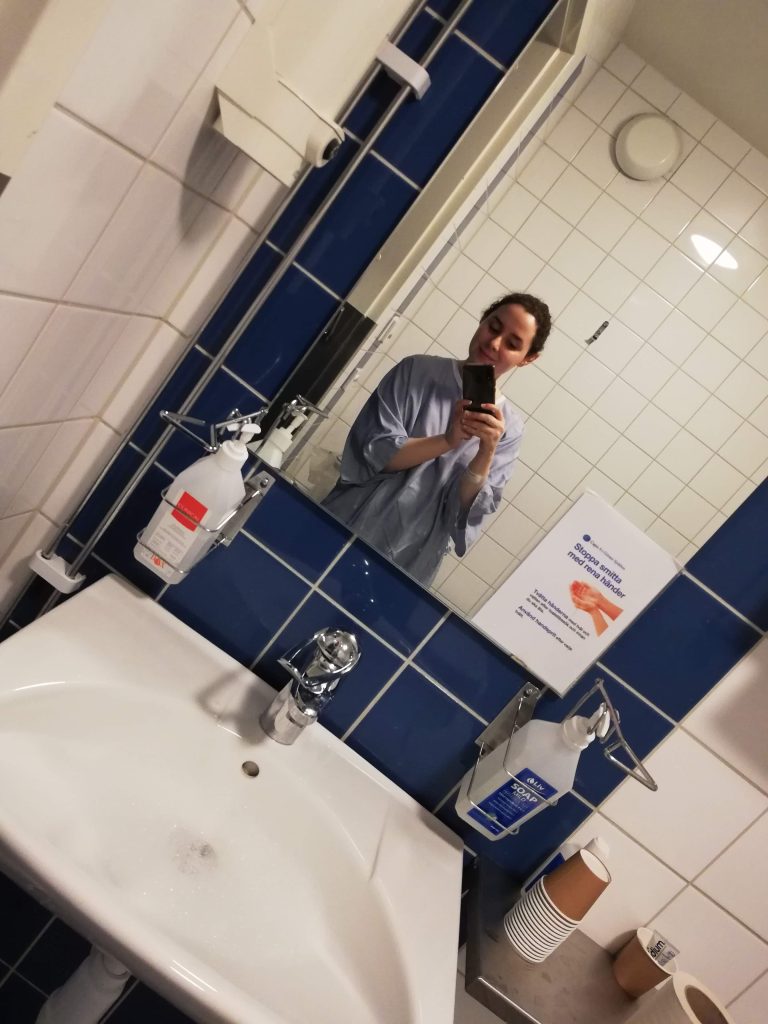 Story Time!
After rushing to the emergency, suffering from an acute chest pain and not being able to hold any food down without vomiting (sorry TMI), the doctor looked over my blood work and decided to keep me hospitalized for further testing (e.g. CT scan, MRI scan). This meant that I would sleep over at the hospital for what turned out to be a week and a half!
Considering that I had left work on Friday to go directly to the hospital's urgent care, the only things I brought with me were my school backpack and lunch tote bag. I did not have any change of clothes and I didn't have any flatmates that could bring me any, since I live alone and had my apartment keys with me.
When I was told I would stay hospitalized for observation and further differential diagnostic testing, the "transporters" (this is what I'm calling the support staff that drive us patients around the hospital and otherwise move around the premises using mini scooters haha – hospital culture shock #1) took me to the sleeping ward, where the nurses "checked me in" and gave me patient garments that were too oversized for my petite body lol. But hey, at least, they were fresh clothes and served well for pajamas!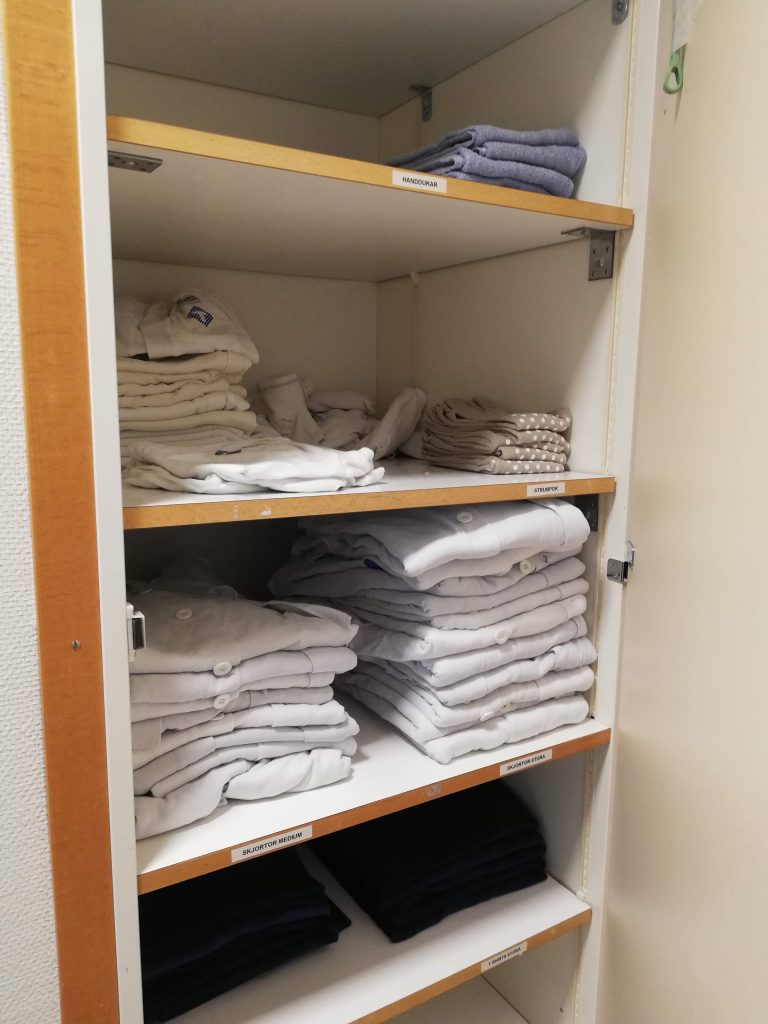 I was given a bed inside a room with 3 other beds (hospital culture shock #2). This set-up was different from back home because usually you would have your own private room, but after I got some ear plugs from the nurses to shut off my heavy-snoring neighbours, I was fine with it. For the majority of the time I was there, I only really had one regular "neighbour", while the other passing patients were going in and out of care within a day or so.
Pretty soon, Ward #38 became my new home, and its staff could not have been more caring, respectful, patient and helpful. I was treated with such kindness that I genuinely cannot say anything bad about my time there.
The nurses were also the first friendly faces I saw every morning, when they came to draw blood from my difficult-to-find veins at 5.30am. The needle bruises and IV and antibiotic injections were only manageable because they took great care when inspecting my arms and piercing my skin more than twice a day.
The nurses were also incredibly patient, god bless them (they are saints!), when I asked repeatedly every meal if I could have chicken JUST THIS ONE TIME PLEASE hahaha. Of course, I wasn't supposed to eat anything that would trigger another inflammatory reaction, but that didn't mean I wasn't gonna try!! The kinder nurses would try to cheer me up with the occasional chocolate mousse dessert or ice cream bowl (hospital culture shock #3). Otherwise, soup and yogurt got old reallll fast for me lol.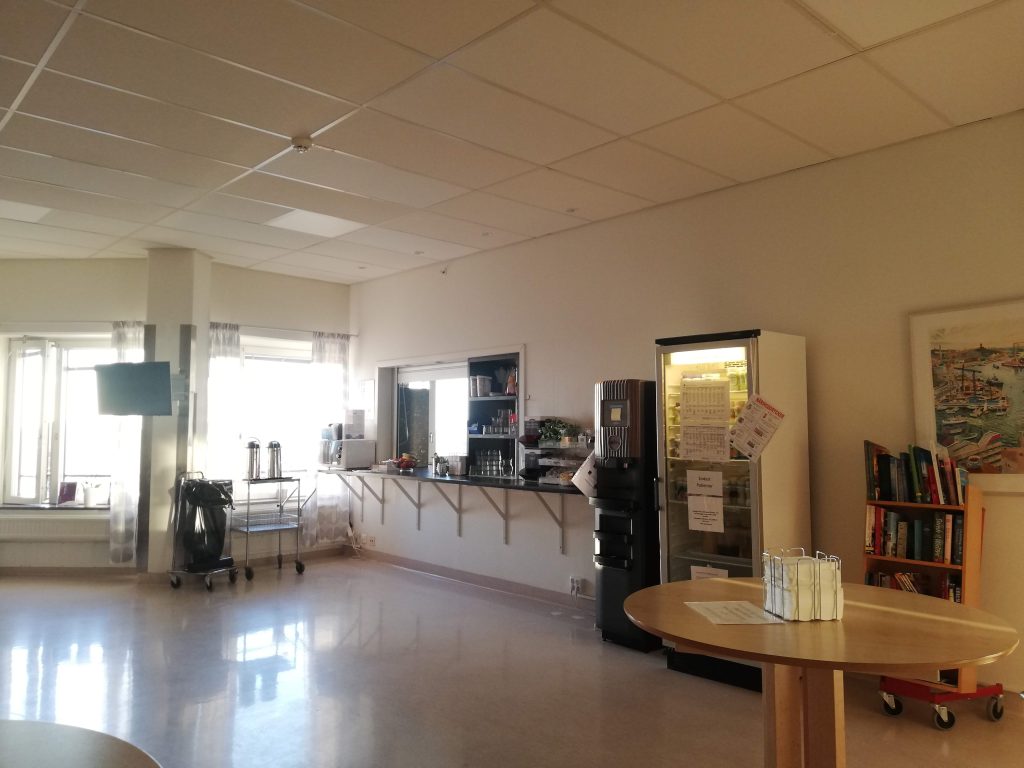 Thankfully, my friends Javier and Michelle helped me with some groceries, which included some soups I liked better than the hospital ones, some "fruit soup" (very Swedish thing), some sweet yogurts and smoothie options to ensure that the rest of my stay at the hospital would be slightly more flavourable and less lacking. For friends like them, as well as Ugne who visited me at the hospital, alongside Maya and Johannes who drove me to and from the hospital and were my emergency contacts, I am incredibly grateful. To everyone who checked in, in particular Cecilie who brought me groceries again when I was already at home recovering from surgery, I thank you all for your supportive words and acts of kindness, it meant a lot to me to know I could count on you during this difficult time <3. I truly have the BESTEST of friends!!!!
Of course, I must also acknowledge the brilliant doctors who would come to talk to me twice a day, with news about my case and what consensus or discord there was about my official diagnosis. Coming from a pre-med background, I could appreciate their transparency and openness to discuss my medical prognosis with me, even if my hospitalization end date and healing process was for the most part still a big question mark. That was until, of course, I recovered well enough for the surgery option to be brought up and then it was a matter of time until my "lower-priority" surgical procedure would finally happen (after being postponed twice, third time is the charm, that is).
Halfway through my hospitalization, the doctors allowed me to leave the hospital for a couple of hours at a time so that I could go home and pick up a few clean clothes and hygiene things I felt I needed. I also was able to attend my last CBT therapy session with my support group for a few hours one morning, after getting my blood drawn and getting my regular dose of antibiotics delivered. My mom could not believe that they would let me leave without being discharged (hospital culture shock #4) but I think that generally Swedish people trust that you can look after yourself and self-manage your health.
Generally, I was also very grateful that my thesis supervisors were super understanding of my medical situation! It was stressful to have something so debilitating health-wise happen at the end of my thesis, while I was supposed to be wrapping things up and starting to write my report. After I informed my thesis course coordinators and PI at KI about my health status, they were very flexible and warranted me a thesis extension so I would be able to recover properly from my surgery and still graduate on time!
I feel like this is very important to note because I know lots of you would also be concerned with your studies if you were in my position, so I'm glad I can detail that given my case and the medical documentation I was able to provide, KI was very accommodating and allowed me to take the time I needed to heal and finish my thesis at a slower pace.
Finally, I would like to conclude this account by saying that of course, I'm incredibly privileged to be a dual citizen and have access to free healthcare within the EU and here in Sweden while I study. I know that some of you struggle with finding medical insurance, and Lauren has written a good blog about this, if you would like to learn more about your options. Lauren also wrote a blog about Stockholm's healthcare services. More about support from KI is also discussed in Isabella's blog about "Leaves of absence from KI and caring for your health whilst living in Sweden".
Alright, that's all for now, I will be posting more blogs soon, just wanted to give you this update and justify my absence a little.
Take care everyone, remember you can't go out there and change the world unless you look after yourself FIRST and FOREMOST! <3 <3 <3
Hej! My name is Francisca. I come from the faraway land of the supreme maple syrup, aka Canada. I'm the blogger for the Master's Programme in Molecular Techniques in Life Science at Karolinska Institutet. I love to write about my experience as a student in my programme, a newcomer to Stockholm, and a rookie at life in general. In my free time, I enjoy playing tennis, making music, sketching the city's landscapes, and reading about anything and everything that interests me.