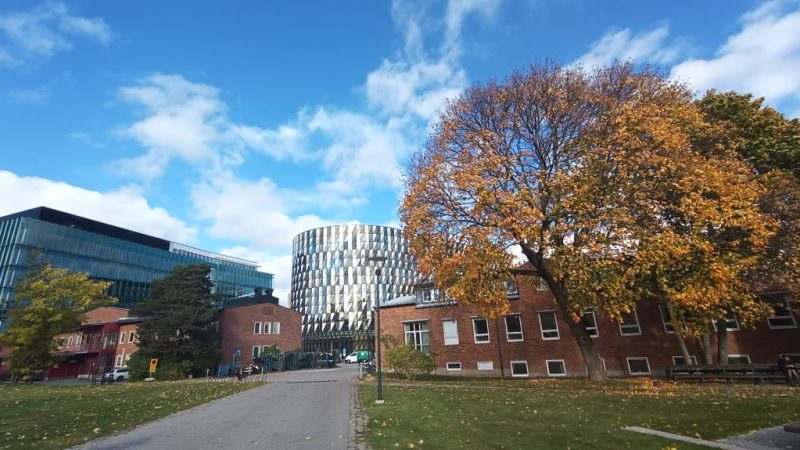 My first month at KI as a master's student in Biomedicine
As a 22 year-old who had never stepped foot outside her country for over a month, the idea of moving to and studying in Sweden was both terrifying and exhilarating at the same time. From the language barrier to the impostor syndrome that came along with attending Karolinska Institutet, anything that could potentially stress me out was stressing me out. But minutes turned into days, and the days flew right by me. Before I knew it, I had spent a whole month in Sweden as a graduate student at KI, and this blog is about my experience so far.
Introduction week
Before lectures began, we took part in KI's Introduction Week from August 22- August 26 on campus Solna. The week started off with a three-days intensive Swedish course, which was offered free of cost to international students studying at KI for a minimum of 8 weeks. Unfortunately, due to delays regarding my residence permit, I reached Sweden on August 24 and as a result, could not participate in the Swedish course. While I would encourage you to enroll for this complimentary course if the opportunity is available to you, this blog written by Inika gives you a rundown on other ways you can learn Swedish, so make sure you give it a read!
On August 25 we had the Welcome Ceremony at Aula Medica, followed by a study fair. Here, we were welcomed by the president of KI and got to mingle with many other students. At the study fair, we also had the opportunity to collect our complimentary KI bag-packs (one of the highlights of the day, truly)! It was during this ceremony that I met many of my friends (who are still somehow tolerating me more than a month later), classmates, and students from other global programmes, so it was a great opportunity to mingle and socialise!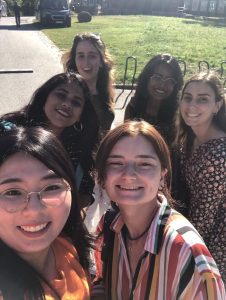 Course #1: Frontiers in Biomedicine
Our first course of the programme was called "Frontiers in Biomedicine" and served as an introduction to the master's programme. With lectures spanning a total of 5 weeks, we were introduced to a new topic or "track" every week. For us, these tracks covered metabolism, cell biology, immunology, tumour biology and neuroscience.
For a good chunk of this course, we were working in groups- different groups for each track. I personally found this approach refreshing because each student had their own perspective to the same research question or topic, which allowed us all to expand our knowledge and work together harmoniously. As the cherry on top of the cake, the lectures that we attended as part of each track were incredibly informative and interesting, and I'm sure I was learning new things on an hourly basis.
Stockholm and friends
As a group mostly comprised of people who had never lived in Stockholm before coming to KI, we made sure to spend time together and visit new places regularly. Since we usually had weekends free, we went exploring quite a few times!
Right before classes began on August 28, a few classmates from the first year MSc. Biomedicine batch went to Skinnarviksberget to enjoy a lovely view of Stockholm.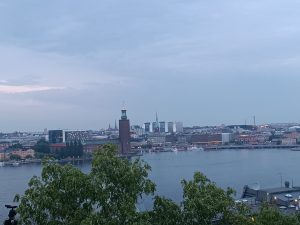 We also visited cultural and food festivals held at Kungsträdgården, went for a picnic to Djurgården, celebrated birthdays on rooftop bars with a breathtaking view, and even went second-hand shopping in Södermalm. Our class also hosted an "international dinner", where students prepared foods from their native countries for an international feast! For a more extensive overview of the different kinds of things you can do in Stockholm (and Sweden, in general), be sure to visit KI's student blogs!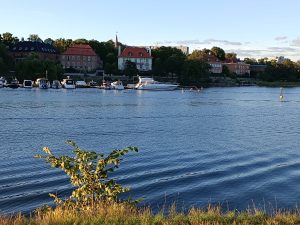 All in all, my first month at KI was equal parts exciting, fun and overwhelming. I met amazing people, learnt a plethora of new things, and started to get used to a new country. It has been as rewarding as it has been challenging, but if you asked me to, I'd do it all over again in a heartbeat.
Here's to the first month, and hoping the ones that follow are just as memorable!

My name is Naomi, and I am from India. I am a master's student in Biomedicine. I have always been drawn towards research and knew early on that a career built around it was the one for me. So as a result, here I am! I enjoy spending time with my friends and exploring the city with them (though the introvert in me also loves some alone time). I hope I can be of some help with my blogs!