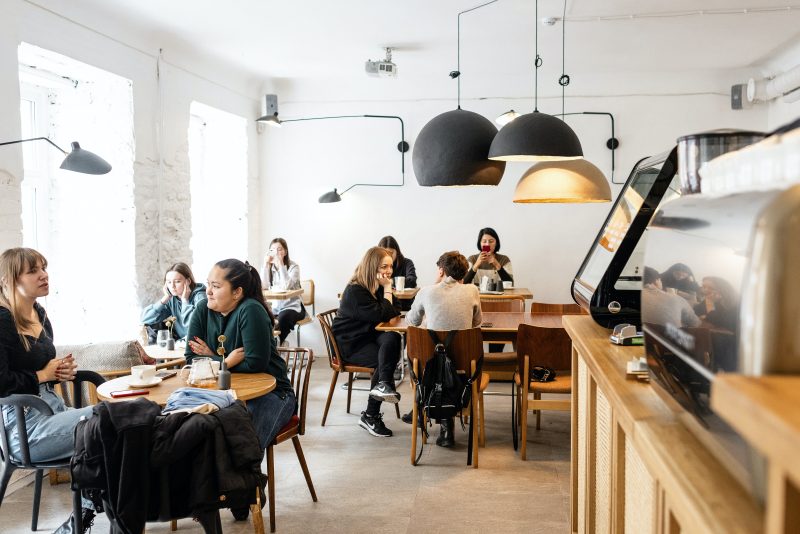 The price of food in restaurants and cafés on campus
Now that the application period is over, most people are probably thinking about the technicalities of studying at the Karolinska Institutet. For example: what would you eat? How much winter clothes will you technically need? How much does a night out in Stockholm cost?
Well while those questions are subjective, I can show you the different types of café and cafeterias that we have around campus. This blog will therefore address your questions surrounding the food available at KI.
Cafés
Café Jorpes
Open Mondays- Fridays from 8:00 – 16:00
Café Erik Jorpes is located in Aula Medica on the first floor opposite the reception desk. Their menu has breakfast options, desserts, lunches and drinks with prices like the following:
Coffee: Single shot- 32 SEK, Breakfast: yogurt 28 SEK or overnight oats 35 SEK. Lunch: Quinoa salad with shrimp 105 SEK or whole sandwich for 29 SEK. To see the exact prices for this year zoom into the pictures.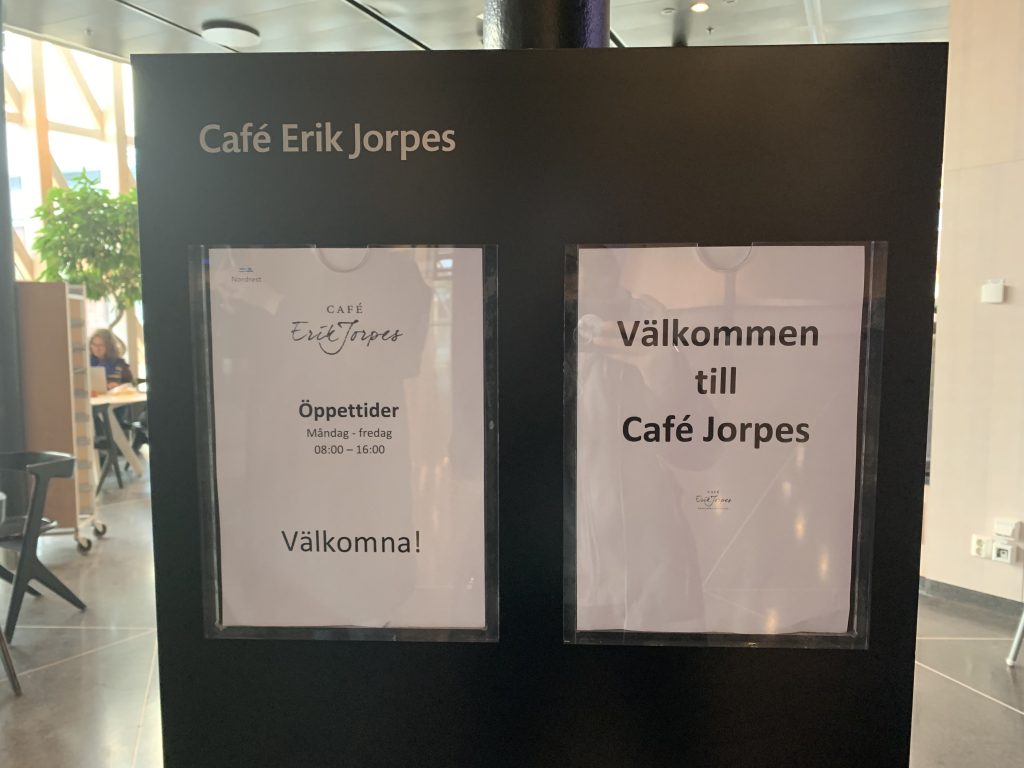 This café offers free bread for those who buy the soups and salads, as well as refills on milk for the coffee.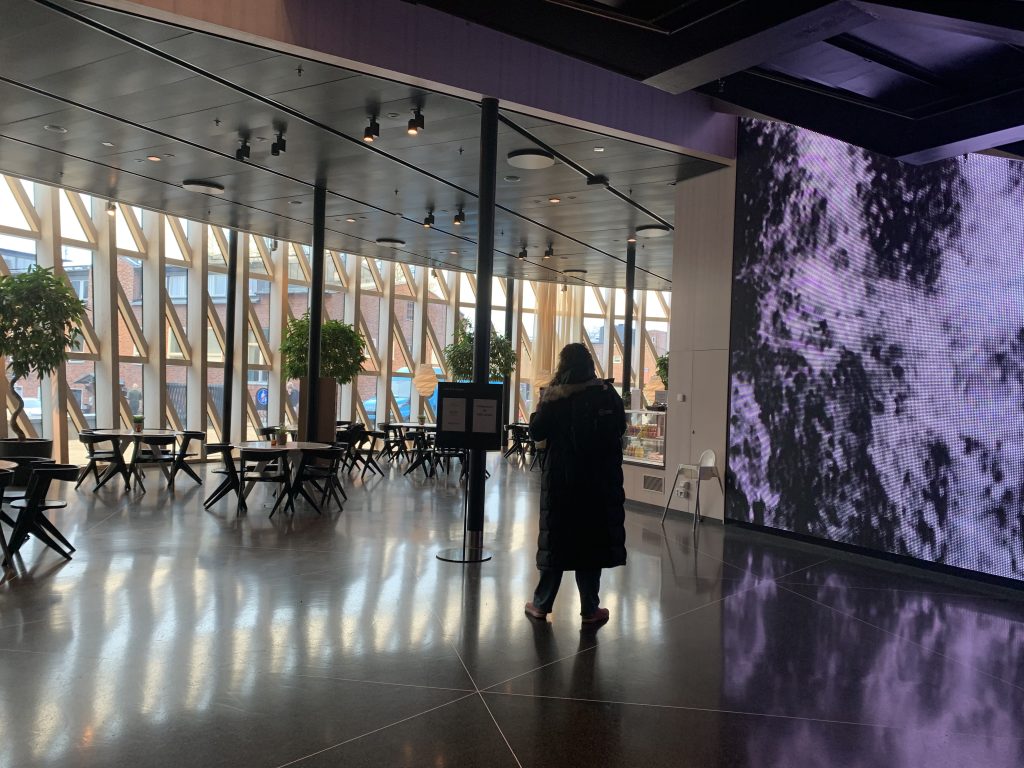 Café SoSmart
Open Mondays to Fridays 7:30 – 16:00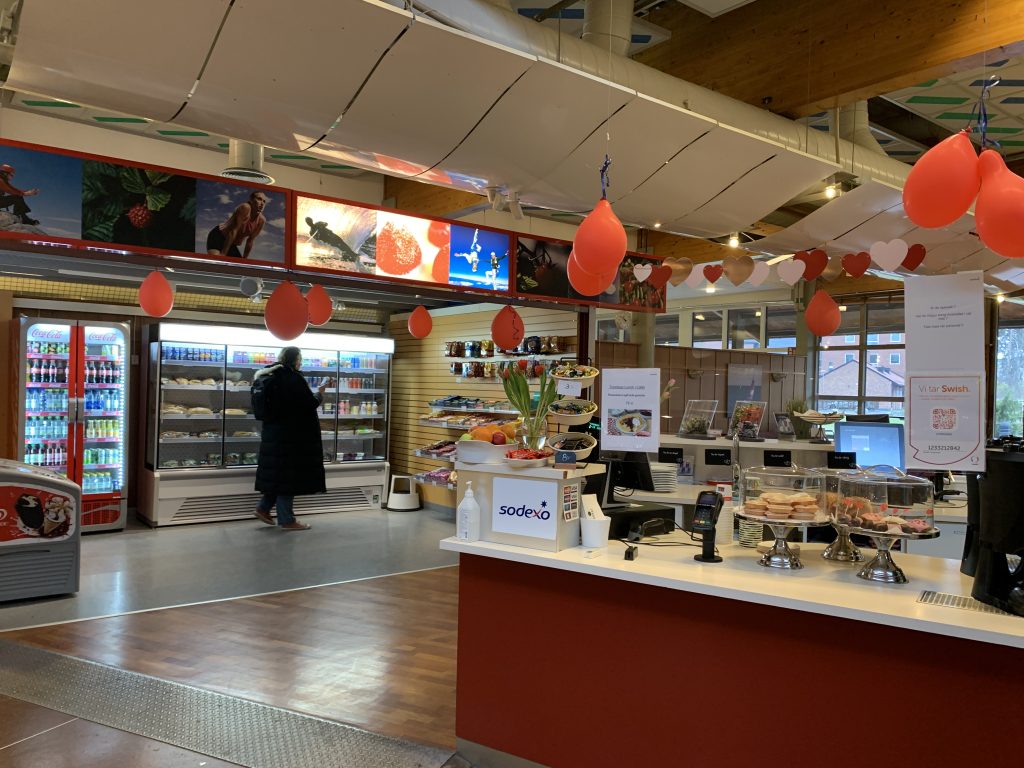 Café SoSmart is Restaurang Jöns Jacob's associated café, both of which are in the cafeteria building close to the gym and the library.
The café has a range of sandwiches and a lot more desserts than most other cafes on campus, as well as a wider range of snacks in the little convenience store it is attached to. This might sound a bit confusing but this is what it looks like: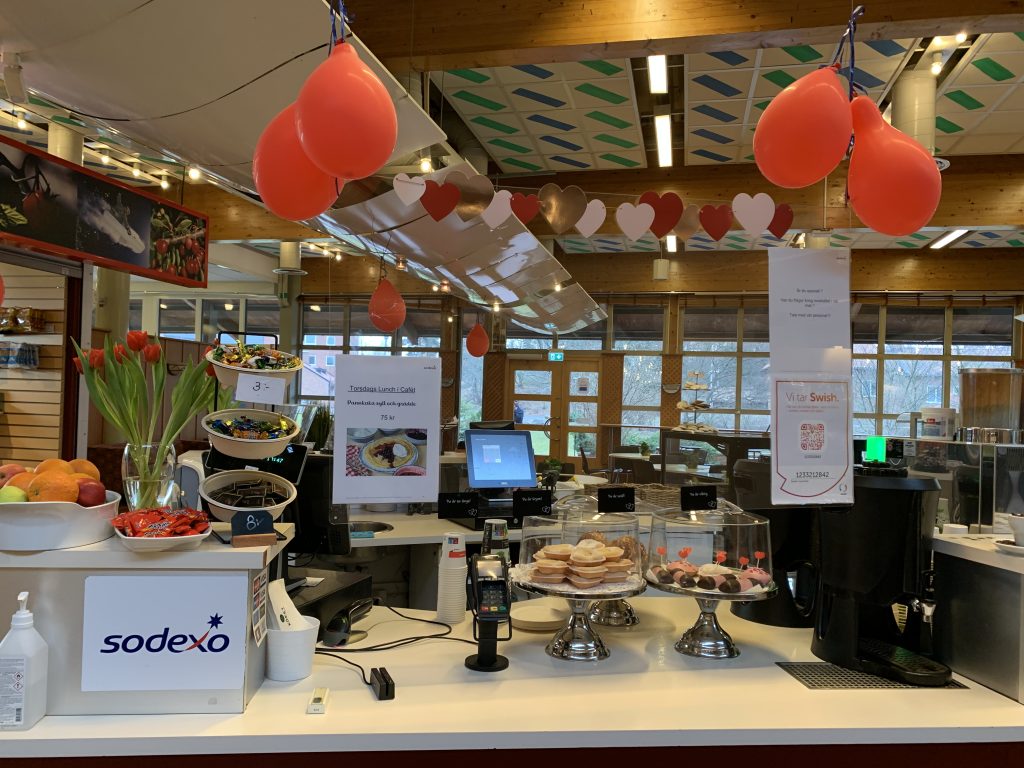 Unfortunately there was no sign with the prices posted, but I will try to do an in-person interview and find out for you guys. For reference though, a snicker bar is 15 SEK and a chocolate ball is 25 SEK.
Café Biomedicum
Open Monday – Friday 8:00 – 16:00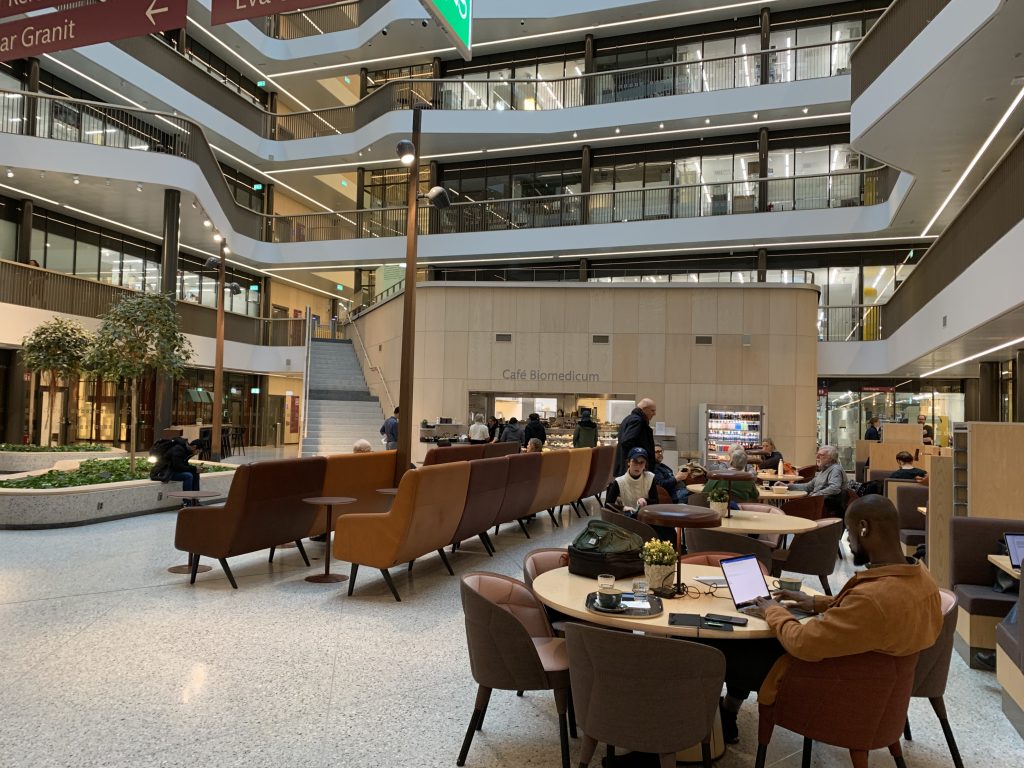 If you are in the MSc. for Global Health. This might become your favourite café. It is said to have the cheapest coffee in all of KI but also it is the place we go to when we need a coffee break during class. I highly recommend the kokoskakor which set me back around 28 SEK. The lunches here come with a salad bar and complementary bread. To lay out some prices for a comparative analysis:
Coffee: Brewed coffee-10 SEK. Breakfast: cheese and veggie sandwich- 29 SEK. Lunch: falafel salad (price unknown), soup 75 SEK. The menu is more extensive than this so I recommend you check out the pictures.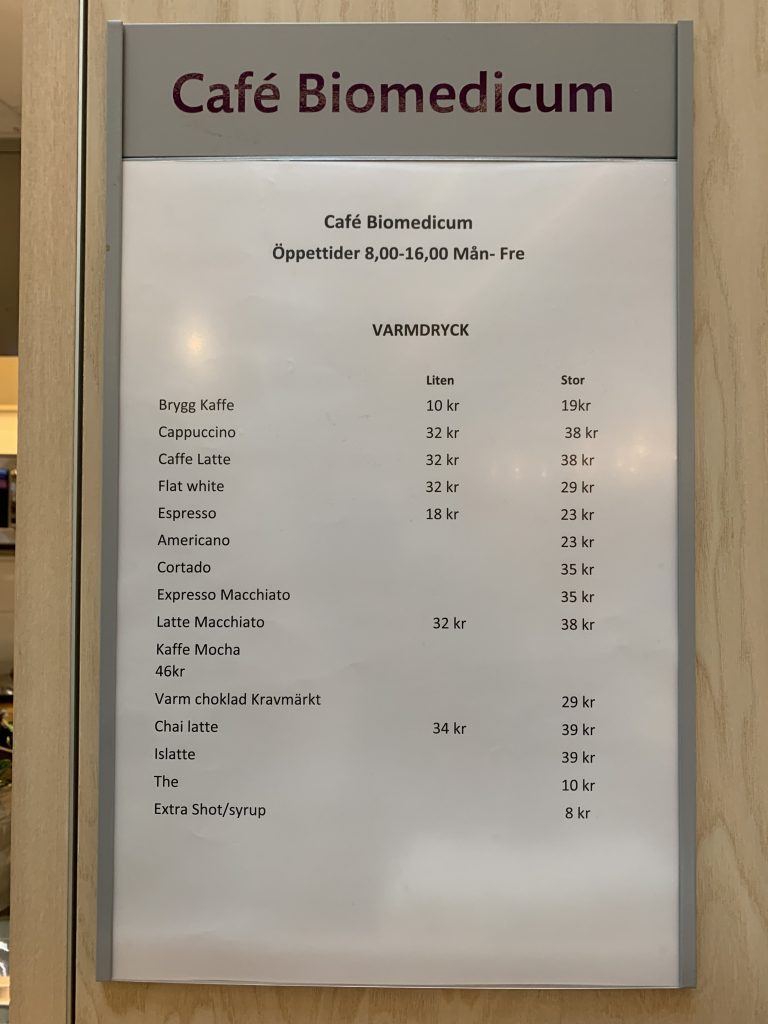 Café Delta- in the SciLifeLab building
Open Monday to Friday 8:00 – 15:30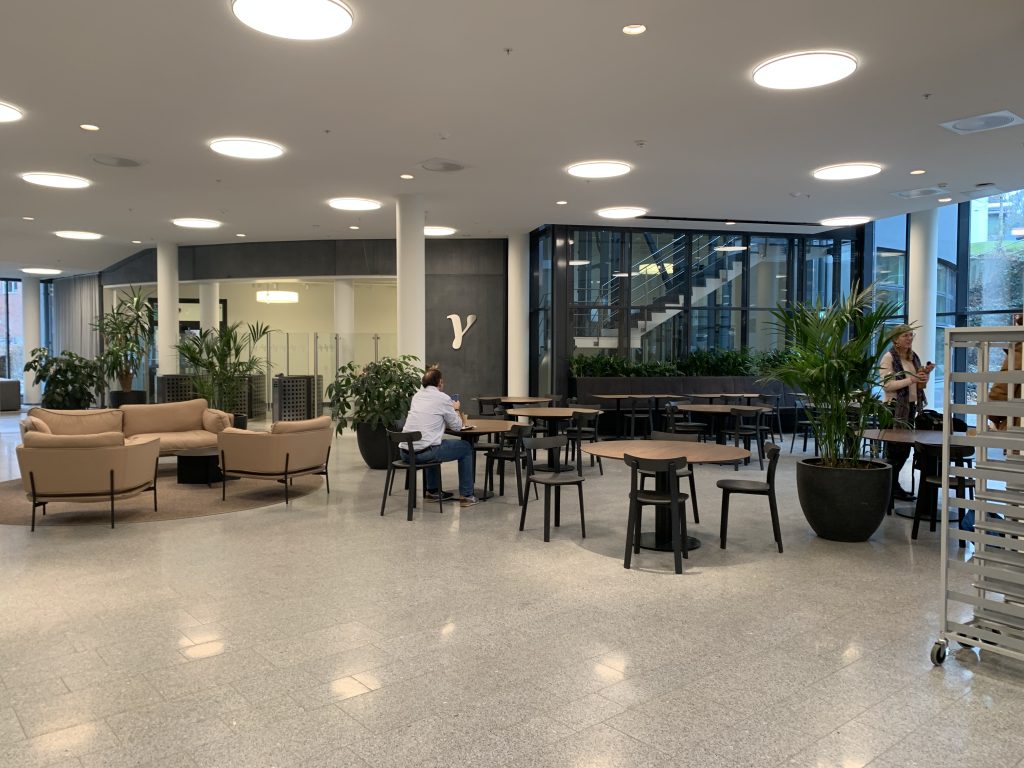 This café is located in the SciLifeLab building opposite the building for the department of Global Public Health. It is the most convenient place to get food when our classes are in this building. This café collaborates with the Restaurang Jöns Jacob in the main cafeteria so they have actual meals for lunch as well as the regular salads. They also have a tiny salad bar and bread. The dessert options however, are limited but, the food is made on site, fresh every day.
Lunch prices- 105 SEK which is only served from 11:15 – 1:30, but includes salad, bread, butter and a drink.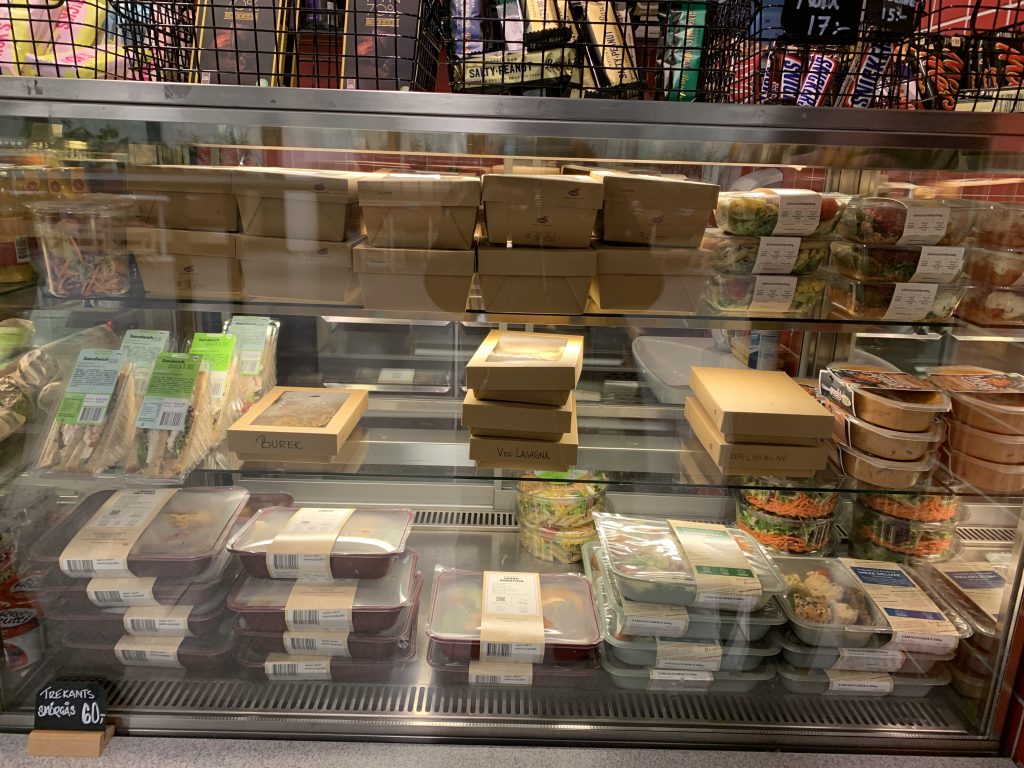 Restaurants
Restaurang Nanna Svartz
Open Monday – Friday 11:00 – 13:30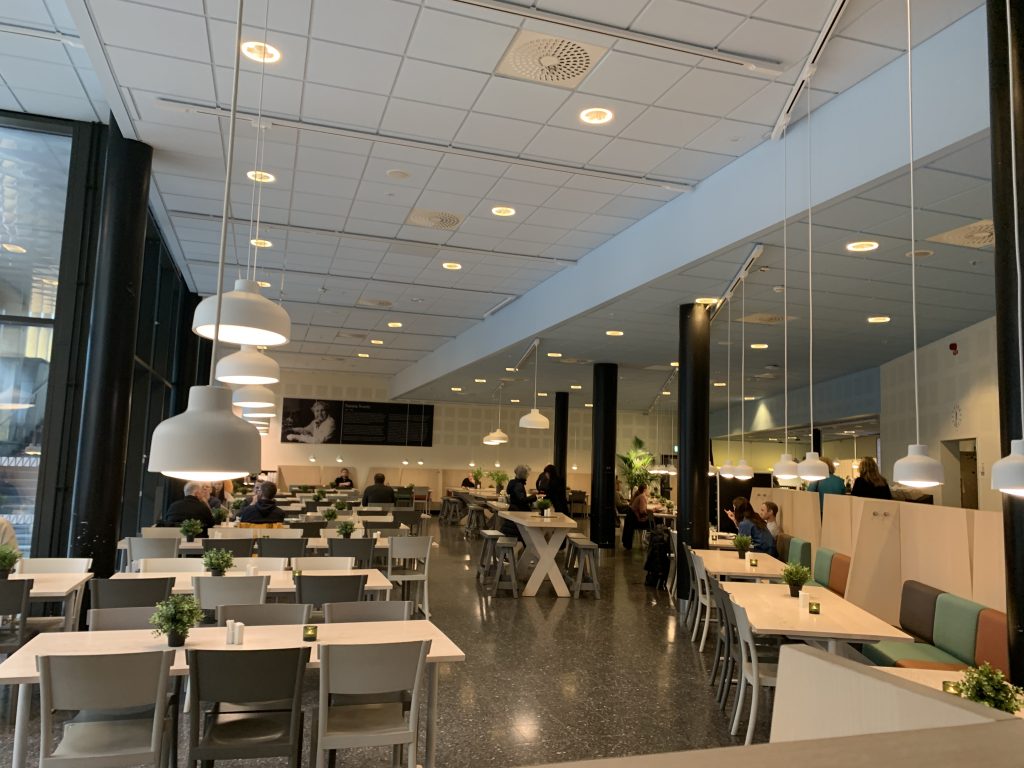 I will begin the restaurant section with my favourite on campus restaurant. Restaurang Nanna Svartz is located on the basement floor of the Aula Medica building and is only open for the lunch hour. This restaurant is really popular with the hospital next door and for good reason. The seating area is huge and the food is delicious. There is also a large, well stocked salad bar, as well as a variety of complementary bread. A coffee machine with different options, and still or sparkling water on tap. The menu changes every day and there is always at least one vegetarian option, so check the weekly menu to see which item best suits you. If none of the meals sounds appetising the restaurant also has salad options on sale at the counter. There are no desserts to be found here unfortunately, but there are many types of drinks.
Prices: The vegetarian meal of the day is 110 SEK, the regular meal of the day is 115 SEK and the salad of the day is 115 SEK. These prices are great because of the complementary salad bar.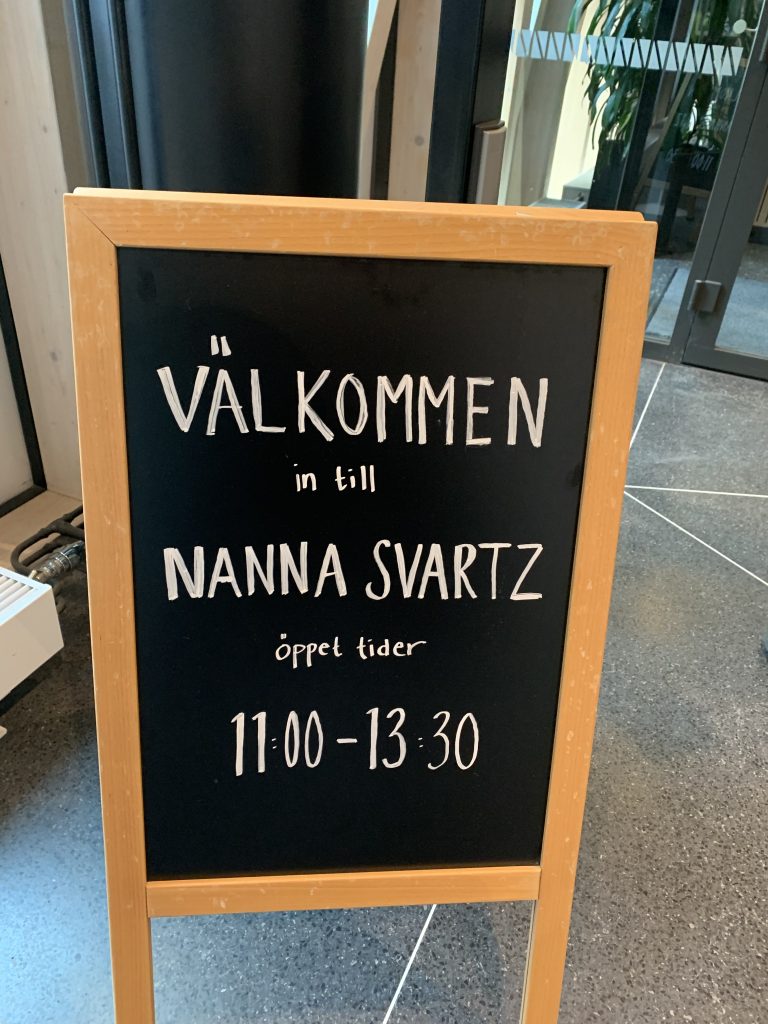 Restaurang Jöns Jacob
Open Monday- Friday 11:00 – 13:30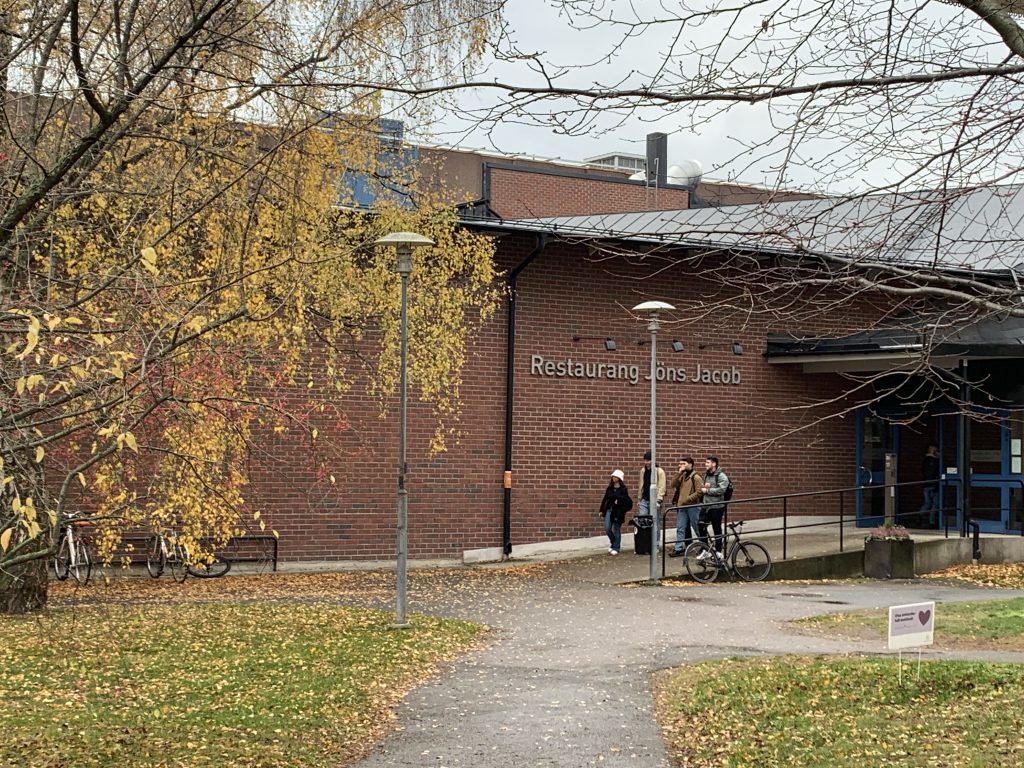 Arguably, campus Solna's most famous restaurant located in the cafeteria Jöns Jacob. This place is massive, with an even larger salad bar to accommodate the many students, as well as complementary bread and side dishes. The lunch is also the cheapest here at 105 SEK for any of the three types of meals it serves each day. Of course the menu also changes every day. Most students prefer this restaurant because it is close to the library, the study hall, and most of their classes. The seating area is also massive with sofas, booths, regular tables and of course Café SoSmart nearby for dessert.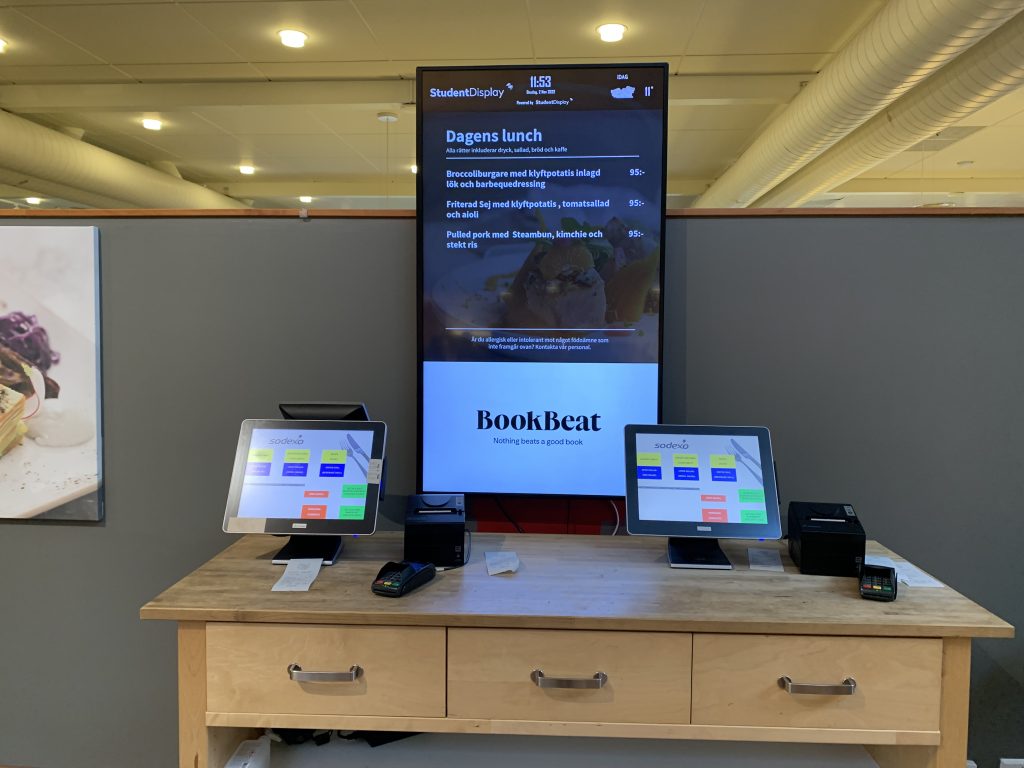 Food Trucks
Food trucks
Open: Monday to Friday (time varies but usually from as early as 11:00 – maybe around 13:30. It depends on the food truck owners).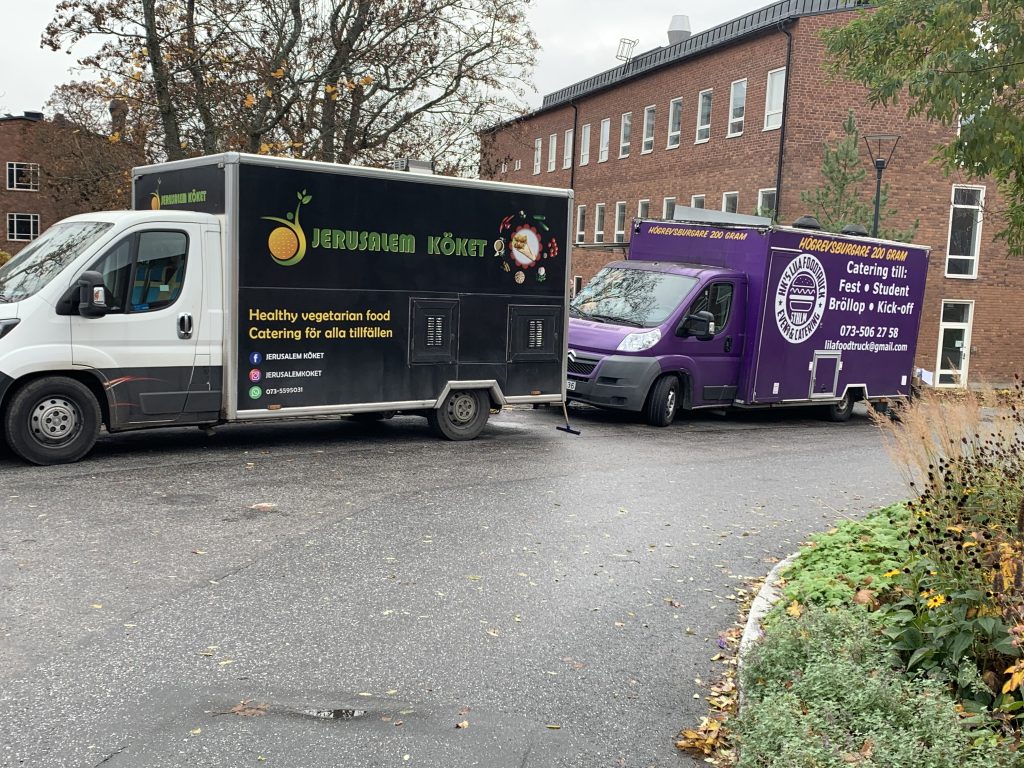 I was going to list each type of food truck and speak about their prices and the type of food that they have but that won't be possible in this blog. The campus Solna invites 1 or 2 food trucks every day to park near the middle of campus and sell food to the staff and students at their own rates. The food trucks change every single day and sometimes the same food truck might not be seen for weeks making it difficult for me to compare them all. However, be aware that since the prices are street prices, the food here is a bit more expensive but might be worth it for the occasional splurge.
To find out which truck will be coming on what day use this website that was given to me by a nice PhD student who I still wish to thank! (Shoutout to the PhD student from Lebanon who helped us first years out in September of last year): Food truck website. Just scroll to the Campus Solna picture.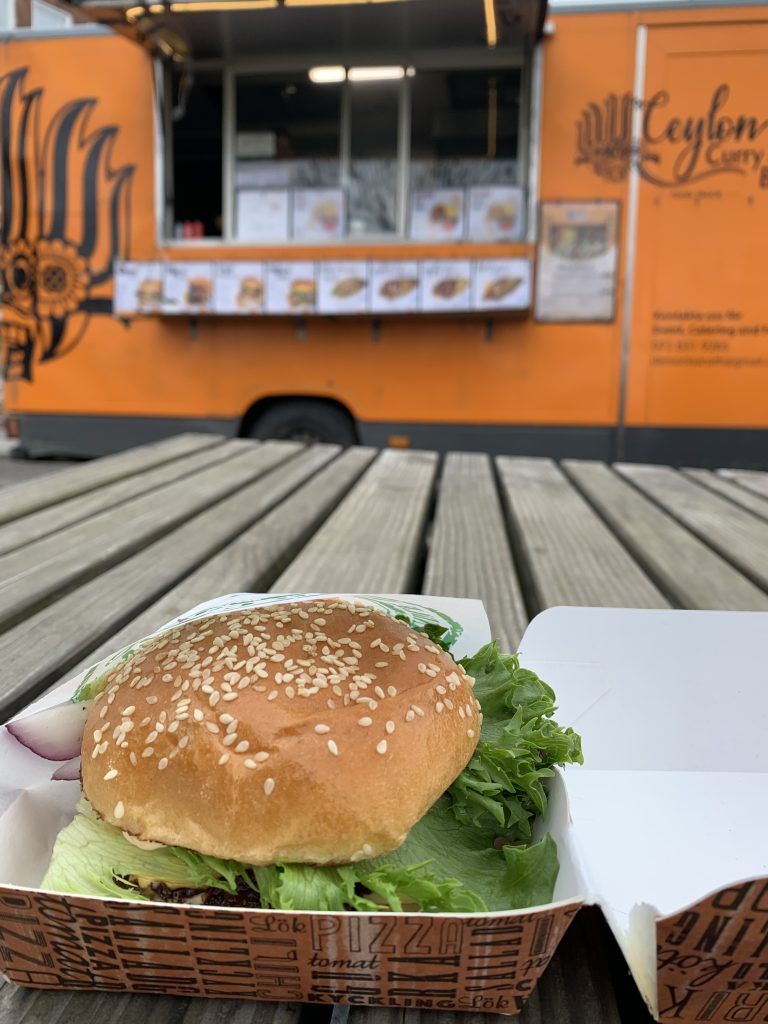 This is my comprehensive list of food around campus besides the vending machines. While it is possible to eat on campus for breakfast , lunch and dinner, it will still run you around 100 SEK a day so cooking is still a much cheaper option. However, the food is cheap and so it is a good alternative to food in restaurants off campus.
Important notes: Sweden is a cashless society so for all of these places you will have to pay with your credit card/ apply pay/Swish. Swish is a Swedish type of payment which uses your phone number and the Swish app to send money. This services is unavailable to those of us without a personal number since it requires a bank ID. Also, if you are worried about being able to afford things in Sweden, check out this blog by DA Fausta on extra ways to earn income in Sweden.
Hi, my name is Zaynab and I am from Trinidad and Tobago, a country in the Caribbean. I am currently studying a Master's in Global Health here at KI and am a blogger for the DA team. I look forward to sharing my experiences at KI and I also hope to expose students from the Caribbean to university life here in Sweden.