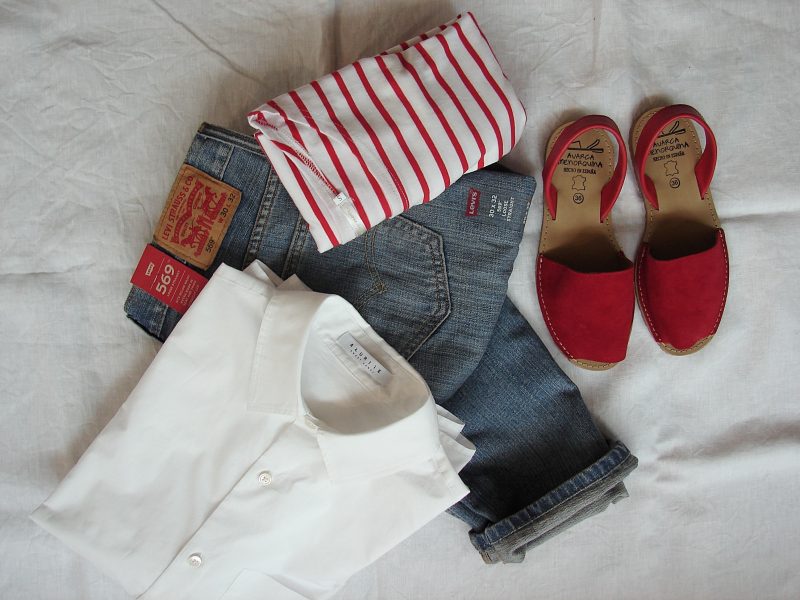 Your guide to clothes in Sweden
What's in this blog?
Winter essentials
The classics
More (miscellaneous) stuff
Check the weather
Styles & colours
Clothing at KI
Your own clothes
I get a lot of questions from Sweden visitors about what clothes to bring, and what Swedish weather is like. So with my infinite wisdom, I decided to write a blog.
Having lived in the Stockholm/surrounding region for 5 years now, my strategy has been to build a wardrobe out of some essentials that I can use in many ways. Of course, I'm not saying you should come to Sweden for a 2-week visit with all these things! This is my basic wardrobe for getting me through a whole year, and I've accumulated this stuff over time.
I've also jotted down some more general advice and observations at the end of this blog, so just skip forward if you want that.
Winter essentials
The winter is one of the things you should plan for, especially if you have lived somewhere more… warm and bearable. It is really pretty, and with the right attire, you should have no problems! Other than the potential seasonal depression, slipping on ice, dealing with the darkness, and drowning in Christmas and holiday cheer. Without further ado, let's get into it!
Hat: A warm one (woollen is good) to keep your ears and head warm.
Scarves: Extremely important for the winter! They can be so effective that they can compensate for thinner/less warm jackets, and they're super cute. I'm a big fan of infinity scarves and neck warmers because they're very conveniently sized.
Gloves: Thick and not so-thick-ones – you're likely going to need both. I like skiing gloves or mittens for the former, and leather gloves for the latter. There are also touchscreen gloves, to prevent your fingers from freezing when you want to check the bus schedule or the map.
---
The classics
Tops
Full sleeved shirts: good both solo and as a layer.
Sweaters/hoodies are fantastic for extra warmth.
Half sleeves and tank tops are good to deal with the summer, which is surprisingly intense. Most Swedish homes don't have air conditioning or fans, so be prepared.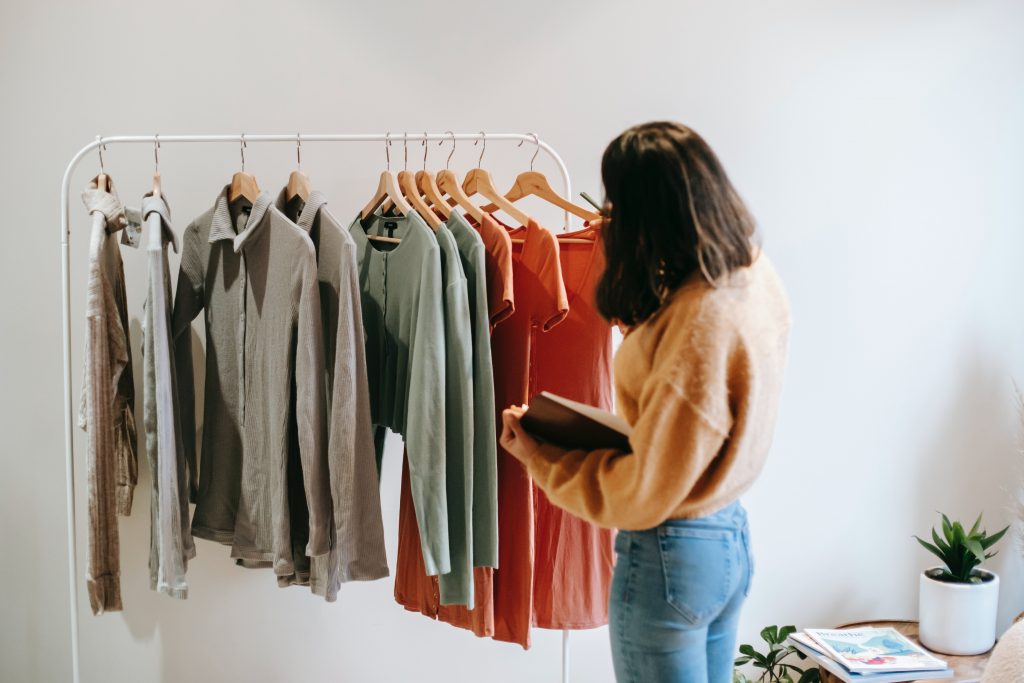 Pants
Regular trousers: jeans, loose-fitting pants, etc.
Leggings to have underneath or with skirts/dresses.
Sweatpants and joggers are great for lounging around 🙂
Shorts are nice for summertime!
Hiking trousers: good for outdoors stuff, have lots of pockets, and won't get ripped if you walk through a bush.
Snow pants: very important if you want to go sledging, skiing, or do anything that involves going up north in the winter.
Jackets
You have quite a few options! Layering is great because then you can use the same jacket with different variations. If your legs get cold, a long jacket might be nice. If you plan on biking or running a lot though, you would be better off with a thinner and shorter jacket.
Winter jacket: Stadium, XXL, Decathlon are all stores I find to have a good selection. The jacket I use the most is a ski jacket I bought online though, so look around 🙂
Spring/Autumn jacket: I like leather or thin waterproof jackets.
Waterproof jacket/raincoat: long ones will protect your thighs and butt and short ones are just convenient, so choose what you like!
Summer jacket: denim is good here, but basically anything light will do the trick.
---
And more…
Socks: both cotton and wool socks! Knit socks are great for the winter. And make sure to have both short and long socks.
Shoes:
Warm boots for down to –15° C (or colder if you plan on travelling north)
Autumn/spring boots: bonus points if they're waterproof or resistant.
Summer shoes for everyday wear in the (you guessed it) summer.
Slippers/sandals for beaches, summertime, etc.
Fancier sandals and heels if you like the vibe!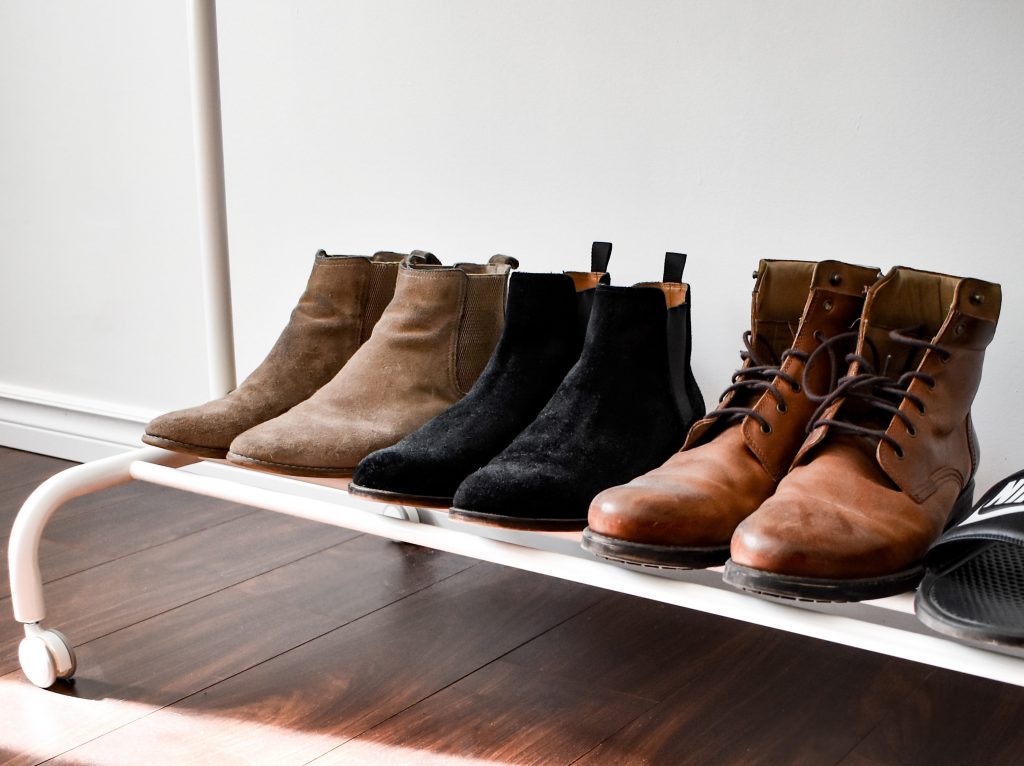 Swimwear: good for pools and lakes, both in the summer and winter. Read Helen's blog about winter bathing for a rundown.
---
Check the weather!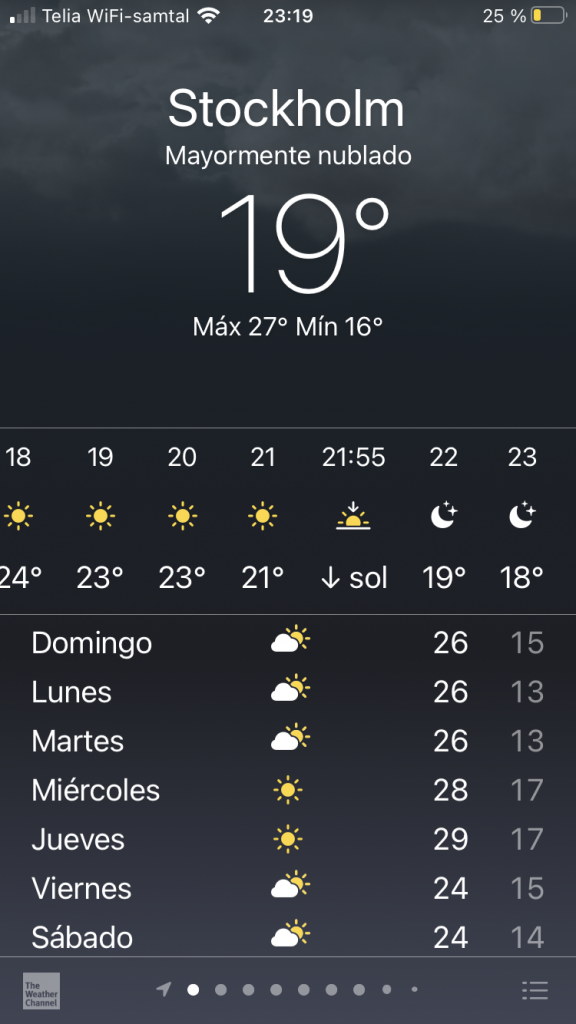 I never did this when I lived in India because I travelled by car and the predictions weren't super accurate. In Sweden though, the weather app basically dictates when I hang out with friends, my outfit for the day, my workout routines, and so on. So add Stockholm to your "weather favourites"!
Styles & Colours
I find that a common theme running through styles I see on the Swedish streets is pretty simple and minimalist. Block colours (especially white/blue/yellow/red) seem quite popular.
I do see non-western clothing, but it's not super common on the streets or public transport that I usually traverse. Most of the year though, people's actual outfits will be tucked away underneath the jackets and scarves, so do take this with a grain of salt.
Clothing at KI
We're pretty casual at KI, so you're basically free to dress however you like. I only see suits in big ceremonies and maybe in career-based events. Shirts and ties are also uncommon – I can just picture a tie dipping into test tubes and getting caught in centrifuges. I think practicality and comfort are valued most highly, so choose your outfits depending on the type of day you're going to have!
Your own clothes
If you've lived internationally – especially if you're coming from outside Europe – you may miss some more traditional clothing or ways of dressing. For example, I lament the fact that my appreciation for Indian clothing skyrocketed only after I came to Sweden where saris, lehengas, and salwar kurtas aren't very practical in rainy weather or when I'm biking.
But! Bring your fancy traditional clothes if you like them. You'll find communities and occasions to use them, I promise. Moreover, if it works well for you on a daily basis, then go for it – it only adds to the richness of life in Stockholm.
Finally
Did I miss anything? Perhaps you have some clothing that is indispensable to your life? Or have you had a different experience with clothes at KI or in Sweden? Comment below!
🖤 Inika
Featured image by Junko Nakase on Unsplash
Hello, Inika here. I'm a third-year Biomedicine bachelor's student at KI. I'm from India and a little bit from Sweden. As a Digital Ambassador Blogger, I'll be writing about my programme, things happening in and around KI, and giving insights into university life.