My experience with SSSB
I would like to share my personal experience of was being able to find a good apartment through SSSB website. Before arriving to Sweden, I managed to secure a rental apartment through KI housing department.
Fee paying students are generally limited to live at KI housing for just one year period (first year) whereas my master degree is lasted for two years. Without a doubt I had to move out and arrange the rent by myself for the second year.
Thanks to the advice from senior students and accommodation guide on KI website, I was fully aware of the need to queue up on SSSB as soon as possible and save up for the maximum credits (Days).
SSSB registration
To register fully with SSSB, I had to proof that I am the current student. For that I needed to have Swedish personal number (population registry) along with completed registration on Mecenat (paid the fees). We can start the registration on SSSB upto 3 months prior to the course start date (meant collecting queue days). At that time, you can queue with default personal number until you get the real one.
Bidding Journey
I did start my bidding starting from late March (although the first year is due to finished in early June). However, I failed to win any biddings until June as chasing for bigger apartment with cheaper price was also the daunting task. 😀
Similar to auction, it is an exciting activity and would require some firm decision of which apartment you want to sought after. Based on witnessing the pattern of winning bids over certain apartment buildings, I did chose the selection of places where I focused on bidding.
Total number of attempts: 7 times
Total number of queue days for my winning bid: 321 days
Moved from KI Housing Solna to Flemingsberg (Röntgenvägen)
After winning the bid, I was given 7 days to contact the current tenant of the apartment and view the place prior to signing the contract. (If I do not like it outside, I was allowed to refuse to sign the contract. However, it can be done only one time without resetting my queue days). I did like the apartment and hence signed the contract shortly afterward.
Thereafter, I sent notice to KI housing and terminated my existing contract. (One month notice required). Despite doing in urgency, there was the overlap of 15 days between the old and new contract (meant I had to pay for both tenancy agreement).
It was quick and easy process. Overall experience was smooth.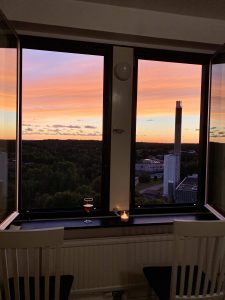 Bidding Tips
Based on my personal experience, here is my tips:
Avoid leaving the bidding task near to the end of your current tenancy contract. It does take time and a bit of luck to secure the winning bid.
Study the patterns of winning bids of the apartment of your interest and figure out whether your queue days are close enough or far way off. (there were a few who did manage to win with the significantly low queue days. But it is very rare).
Bid more than one apartment (is applicable up to three) at the same time. i.e. Do not bid just only one which is quite challenging.
I personally prefer bidding one or two days just before the end of each bidding round. That would generally give me the chance of bidding the one that I could likely to win.
Avoid bidding at seasonal period. i.e. Most people will search very near to the end of their current study year (or tenancy contract) or start of the study year. That meant you will have significantly higher number of other people joining the bidding against you.
Alternative options for house hunt
Although I did mainly use SSSB for my apartment search, please do check out KI page on much more details of searching with alternative options. Also strongly recommend you to read there for tips and guidance to avoid making mistakes.
Here in this post, I have summarised the options (reference to KI Page) as following:
SSCO (Stockholm Federation of Student Unions)
Subletting
5 key things to consider
When searching through any of the above channel, here is the basic key factors to consider:
Apartment Location
Transportation to and from University
Rental fees
Additional incentive (some apartment come with offer of free rental for summer 3 months)
Furnished or Unfurnished
Good Luck with your search….
Hej! I am Naw, currently attending MSc Health Economics, Policy and Management. Originally from Myanmar (aka Burma), one of the South-East Asia countries. Before joining KI, I completed my first degree in Medicine and then attained MSc in Clinical Dermatology from University of Hertfordshire, UK. Recently I also completed an executive learning program known as "SouthEast Asia Leadership in Medicine- SEAL" at Harvard Medical School. I love international traveling and learning different cultures. Follow me to see lot of blogs related to Asian students, personal experience on my course and exciting traveling experience. ;)